Fall 2010 Music Reviews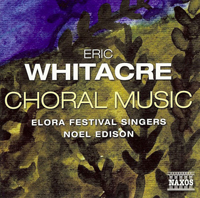 Eric Whitacre: Choral Music
Naxos 8.559677
Even before his YouTube Virtual Choir recording of "Lux aurumque" (Light of gold) became an international hit, Nevada-born Eric Whitacre, 40, had become the golden boy of American choral music. The reasons for his fame are abundantly clear on this new, budget CD from Naxos. His music, with its easily assimilated, almost otherworldly strangeness and ethereal beauty, touches a deep core within our being.
Naxos's recording with the Elora Festival Singers of Elora, Ontario, Canada under their founder Noel Edison, presents a representative sampling of Whitacre's work. They include "Sleep," a mostly soft, haunting journey that comes over you and, almost without your knowing, inhabits your every cell, and "Lux aurumque," which is almost too gorgeous for words. I especially favor a rendition by Cantus, a small, all-male choir headquartered in Minneapolis. The Elora Festival Singers boast a truly radiant soprano section that can easily float the highest notes. They also have wonderful control of dynamics. What they did not have, unfortunately, is an engineer who could capture sufficient detail in St. John's Church of Elora. The clarity of Polyphony's marvelous Whitacre recording, Cloudburst and Other Choral Works (Hyperion), is missed. And having to access lyrics to eight of the ten pieces on Naxos' website is a drag. Regardless, the beauty of the performances, and the spiritual elevation of Whitacre's music are self-recommending.
Márta Sebestyén: I can see the gates of heaven…
World Village 450009
Imagine my surprise when I began to play what I naively assumed was a disc of Spanish music, only to discover the sounds of overtone chanting began to fill the room. Through them came another voice, low and haunting, with a special beauty that comes from inner illumination. I had entered the world of Hungarian folk singer Márta Sebestyén.
Sebestyén, now 53, was seven when her economist father, who was then visiting a professor in the United States, brought home a large collection of the Smithsonian's ethnic music recordings. Hooked, she began to learn the songs. In 1970, at age 12, she won a folk song contest dedicated to Béla Bartók, the composer who singlehandedly rescued scores of Hungarian folk songs from oblivion. Her prize, granted by noted Hungarian ethnomusicologist Lásló Vikár, included recordings from the folk music archives of the Hungarian Academy of Sciences. Forty years later, two songs collected by Bartók and another by Vikár appear on Sebestyén's eight-selection World Village CD. At her side are the famed duo Balázs Szokolay Dongó (bagpipes, shepherd's flutes, fujara, tárogató, saxophone, overtone chanting) and Mátyás Bolya (oriental fretless lute and zithers).
This is Sebestyén's first recording in nine years. The wait is incomprehensible, given the haunting beauty of her contributions to the movie The English Patient. Trying to describe the scents and colors of ancient musics, treated with reverence and respect, lessens the joy of discovery. Do not miss this disc.
Cameron Carpenter: Cameron LIVE! …..the CD …..the DVD
Telarc TEL-31980-00
Organist Cameron Carpenter is a trip. Intentionally setting himself apart from other organists, the under-30 artist has built an international reputation for daring interpretations and audacious behavior. Carpenter's DVD intersperses serious performances of Bach and others with spoken commentary. His trademark white spangled pumps dance on the organ's pedals faster than Fred Astaire could whip Ginger Rogers around the stage. With fingers equally liquid, he is definitely a phenomenon who cannot be ignored. But there are big questions about his showmanship, taste and judgment.
To these ears and heart, things come to a head when Carpenter follows Shostakovich's Festive Overture with a theater organ rendition of Schubert's great song, Der Erlkönig (The Erl King). To convey the full impact of this gruesome saga, he pulls out all the Wurlitzer's stops. The lowest notes growl, wind sounds whisper, and some bars sound like a merry-go-round gone berserk. It's as though the DNA of Virgil Fox and Franz Liszt (one of Carpenter's big influences) had been combined, and injected into the cadaver of the defenseless Franz Schubert. It's perfect as accompaniment for The Cabinet of Dr. Caligari or some similar silent horror flick.
If you care an iota about the organ, you must experience the Cameron Carpenter phenomenon. You may very well fall in love with what he's doing.
Marilyn Crispell / David Rothenberg: One Dark Night I Left My Silent House
ECM CD: B0014318—02
Little discussed beforehand… unrehearsed… sounding as though 'twas ever evolving, which indeed it was. Its own new music, far more than a fusion of jazz and classical, it's the product of two artists alive in the moment, open to whatever happens within and between. That's what came about when clarinet player David Rothenberg and pianist Marilyn Crispell got together in March 2008 in Nevassa Studio in Woodstock, near Crispell's home, for their first joint session with ECM producer Manfred Eicher. In some tracks, Crispell and Rothenberg are soft and mellow. The mood suits the clarinet and bass clarinet, which in his hands have an irresistibly round, warm, and luscious sound. Crispell is often less romantic, sometimes more. She can be very straight up and down, whether on piano, the beat-up soundboard of an old baby grand, or percussion. At times, she sounds like she's channeling George Crumb or Elliot Carter. No Liberace here.
Rothenberg has said, "Marilyn said something about wanting to get away from the keyboard, more into the realm of pure sound… I know that in general I'm always thinking about how to balance the lyrical and the free, how to come out of some tradition but try to sound like something never heard before. It's an easy conceit yet nearly impossible to realize."
Realize it they have. Words end, the music continues.
Aaron Larget-Caplan: New Lullaby
Six String Sound 888-01
Sometimes a CD sounds so unpretentious, so simple, and so lovely that you just want to reach out and cradle someone in your arms. That's what I did with our pooch, Daisy Mae Doven, as guitarist Aaron Larget-Caplan wove his spell. A faculty member at the New School of Music in Cambridge and co-founder of the monthly 3rd Wednesday Concert Series, Larget-Caplan began his Lullaby Project in 2006. The call for new lullabies of all sorts received an enthusiastic response. Soon after the first lullaby arrived from composers young and old, his house burned down. Two months later, his wife, who teaches body physics and sacred geometry, sustained major injuries in an accident. If anyone needed lullabies, it was Larget-Caplan.
Thankfully, lullabies kept coming. All 14 lullabies on the CD were first premiered at Harvard, the New School of Music, St. Paul's Church in Brookline, or the Ogunquit Museum of American Art in Maine. All composers provide short introductions to their babies in the liner notes.
Every lullaby is different. "Disturbed, a Lullaby," is by David Leisner, one of Larget-Caplan's teachers at the New England Conservatory of Music. As its title reveals, it is a lullaby for a troubled time. Carson Cooman, who wrote "Unfolding the Gates of Dawn: A Morning Lullaby", writes: "Though lullabies are usually thought of as 'night music', this lullaby is for the morning."
In short, some of these non-stereotypical songs are one giant crib away from your usual innocuous cradlesong. Happy or sad, placid or perilous, I find them universally engrossing. And thanks to Larget-Caplan's discernment and sensitive playing, even the most provocative is pretty much lovable. Move over, Daisy Mae. There's room on the couch for two.
Jason Victor Serinus is a holistic author, bodyworker, whistling virtuoso and music critic (http://www.jasonserinus.com) who resides in Oakland, CA. Please send music review copies to Jason at 2749 E. 17th Street, Oakland, CA 94601 or email jserinus@planeteria.net.