Fall 2011 Music Reviews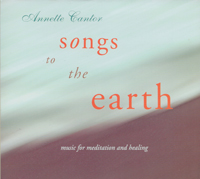 Annette Cantor
songs to the earth
Source Being Productions
It took me awhile to realize that the extremely evocative, beautiful voice of Annette Cantor that elevates this album of seven songs for meditation and healing is the same voice that, years ago, helped make master musician Deuter's Garden of the Gods one of my favorite New Age albums. Both artists, as it turns out, were born in Germany and live in Santa Fe. Cantor's migration, however, came after a period of operatic training in Vienna.
Cantor composed her songs — a mixture of Christian Gregorian and Native American chant with more than a passing nod to the music of India — during a year of healing cancer while taking long walks in the high desert. Her music is as rooted in the earth as it invokes the forces that transcend all. To the sounds of Patrick Shendo-Mirabal's Native American flutes and vocals, Mike Chavez and Gregory Gutin's grounded percussion, and Michael Kott's evocative cello, Cantor's voice soars. Her Christian/Native American blend may seem more than a little curious to people whose culture and land have been taken from them by various and sundry cross-bearing missionaries and soldiers, but the integrity of Cantor's faith, and the deep connectedness of her vision, resound of profound truth. On this very special album of songs dedicated "to our earth with respect and reverence," the sounds of Cantor's wide-ranging voice reach deeply into the sacred core of our shared being.
Jon Anderson
Survival & Other Stories
Gonzo Media Group HST079CD
Is it possible that yours truly, who has hardly listened to rock 'n roll since tripping weekly to the Beatles in the summer of 1967 and truly believing in the existence of tangerine trees and marmalade skies, all while participating in an SDS (Students for a Democratic Society) summer organizing institute in Chicago and preparing for the revolution, is all of a sudden, just as the empire seems to be crumbling under the weight of its own internal contradictions, falling in love with the voice of former Yes lead singer Jon Anderson? Anderson, who is almost a year older than I, as if anyone could be that old and go through lord knows how many years of drunken rock 'n roll carousing and cigarette and joint smoking and still have a voice, is celebrating his return to health (after a bout of asthma and acute respiratory failure in the summer of 2008) by releasing his solo album, Survival & Other Stories. The themes are spiritual and eclectic, the lyrics inspiring, and the oft-joyous effort facilitated in part by contributions culled from the Internet. One song praises Buddha, Jesus, and Master Mohammed; another thanks Divine Mother Audrey Kitagawa (carrier of the teachings of Sri Ramakrishna); and a third is just a little too Christian-God-the-master (and all that) for comfort. Nonetheless, the spirit of this album is so positive, the energy so uplifting, and Anderson's naturally high, slightly ragged tenor voice so amazing, that all I, and probably you as well, can say is "yes."
Puente Celeste
Nama
MA Recordings MO84A
Rarely is a recording of South American music so full of life, yet so mellow that you can play it in either foreground or background and feel equally refreshed. Inquisitive recording engineer Todd Garfinkle, whose label MA Recordings specializes in superb recordings of exotic originals and whose music crosses the boundaries between jazz, classical, world and more, recently journeyed to Argentina to record music collective Puente Celeste. Formed in 1997 by Argentine percussionist Santiago Vazquez, whose ever-inventive MA Recording Sera una Noche remains fresh, the group currently includes wind player Marcelo Moguilevsky, guitarist/singer/songwriter Edgardo Cardozo, bassist Luciano Dyzenchauz, and Vazquez (here playing percussion, table, mbira, guitar, and singing on one track).
Recorded in April 2010 at the Goethe Institute Buenos Aires, the up close recording was made using only two custom-made microphones. The musicians are clearly having loads of fun: they whistle, wind, chime, beat and accordionize on an improvised track named "Generala," and smile to themselves on Dyzenchauz's "Pinche Tirano." Vazquez's tongue-in-cheek "Calma" is anything but. Search in vain for the female soloist on the opening track, "Chiquita;" the extremely mellow, sweet, samba-like voice seems to be that of its composer, Edgardo Cardozo. You'll enjoy what sounds like a finger piano/harmonica duo on "Mundos que ce Tocan," and Moguilevsky's perfect pitched, vibratoless whistling on several tracks. "Generala," is a bit of divine madness, with a hint of Nina Rota's fanciful soundtracks for Fellini refracted through a South American lens. I keep playing this delightful CD over and over, discovering new things each time.
Terri Lyne Carrington
The Mosaic Project
Concord Jazz CJA-30016-02
How could you not love a CD that begins with the lines "Change your mind, change your skin… cash a check, change your sex…"? So does co-composer Nona Hendryx intone the opening verses of her extremely catchy song, "Transformation," with accompaniment from such gifted artists as Anat Cohen, Geri Allen, Sheila E., Linda Taylor, Patrice Rushen, Tineke Postma, Hailey Niswanger, Chia-Yin Carol Ma, and Ingrid Jensen. By the time percussionist, vocalist, and producer Terri Lyne's Carrington The Mosaic Project has played through its 14 jazzy, soul-filled tracks, we've also heard the voices of Esperanza Spalding, Cassandra Wilson, Shea Rose, Dianne Reeves, Gretchen Parlato, and Dee Dee Bridgewater.
If this compendium of vibrant female jazz artists were not enough, Sweet Honey in the Rock pillar Eleanor Johnson Reagon's "Echo" even includes spoken commentary from veteran activist/educator Angela Davis. Men as diverse as Irving Berlin ("I Got Lost in His Arms") and McCartney/Lennon ("Michelle") do leave their mark. But basically, in Carrington's words, this is an album of women "coming together to support and celebrate each other from a musical and social perspective."
With so many greats on the roster, it's no wonder that Carrington's liner note consists of only four, grammatically challenged paragraphs. Describing The Mosaic Project as "cross generational, cross cultural and though jazz in nature, somewhat cross genre, which is pertinent because jazz has increasingly pollinated," she gives us a delicious sampling of gifted artists on an inspirational roll.
Maneesh de Moor
Signatures on Water
Sounds True MMO1734D
From the sounds of Signature on Water, Maneesh de Moor is a major New Age composers who truly taps into a higher source for inspiration. If you seek meditation music that transcend the clichés of airy ambiance, synthesized choruses, and overdubbed nature sounds that lead to ennui rather than nirvana, this is it.
De Moor, born in the Netherlands and "currently travelling," has become known for his collaborations with Deva Premal & Miten and a number of other spiritually centered artists. Grounded in classical piano and pop music, he brings his MDM sound expertise to full flower in Signatures on Water. Composed in November 2009 in the south of Portugal, this self-described "five-phased backdrop for meditation and healing" uses keyboards, gongs, bells, and synthesized sounds to help listeners transcend everyday thoughts and emotions. Even if the very concept is paradoxical – if you wish to still the mind so that it does not cling to thoughts, why would you substitute sound for silence? – de Moor's journey is structured to take listeners deeper and deeper.
The first three tracks, "Mindfulness," "Galaxies Within," and "Silent Mirror" propose to lead you to a state of serenity. The fourth track, "OM," introduces exactly that, inviting you to join in if so moved. "Compassion" offers a glimpse of "the infinite substance of which this universe is composed." Speaking personally, this music works. Not only does it relax me to the core, but it also helps open my heart and elevate my spirit.
Jason Victor Serinus is a holistic author, bodyworker, whistling virtuoso and music critic (www.jasonserinus.com) who resides in Oakland, CA. Please send music review copies to Jason at 2749 E. 17th Street, Oakland, CA 94601 or email jserinus@planeteria.net.