Fall Harvest Healthy Eating Recipes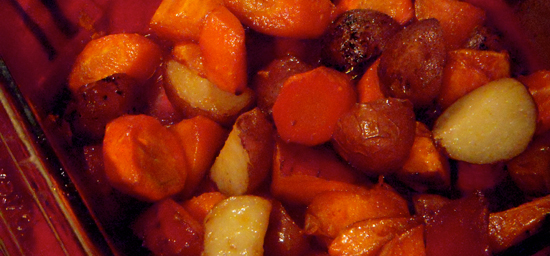 All foods have their season, their time to display themselves in all their glory. And each season contributes a unique energy to these foods. Summer brings an expansive energy to foods to help cool us.
That's replaced by a strong, contracted energy in winter to warm us. The earth provides us with what's appropriate for the season.
Just as plant growth follows nature's lead, so do our bodies. Our eating and cooking styles follow the season. Our body's energy patterns create cravings according to the seasonal cycle. Think about the hot days of summer. What does your body crave? It looks for fruits, leafy green salads and light cooking styles. What about those cold, icy winter days? Does your body yearn for the same foods as it does in July? It's craving the warming energy of long cooking stews, soups and a variety of root vegetables.
With fall and winter holidays rapidly approaching, it's a great time to tune into what your body is craving and satisfy it with wholesome, natural foods. Reward your body by feeding it delicious, whole, unprocessed foods. It's worth the investment.
Include some (or all) of these recipes at your holiday dinners. Make sure there's a balance of healthy, whole foods to select from. This holiday season, give thanks and celebrate the natural gifts of the earth. Celebrate the energy of the season.
Sweet Gingered Corn
Here's a perfect Thanksgiving side dish. Unlike everything else at the table, this corn is light and refreshing, but packed with a sweetness. Of course it's nice to use fresh corn cut from the cob, but frozen kernels work fine. Choose only organic corn, otherwise you're likely getting something that's genetically modified. Energetically, corn strengthens the heart and circulatory system. Indians used corn fasts for spiritual development. You may also dry the corn silk and steep it in hot water for a tea that strengthens the kidneys.
Hint: Olive oil doesn't work well in this recipe. Its strong flavor competes with the mellow taste of corn. If you have no corn oil, try canola, which has little flavor.
Ingredients
2 tablespoons corn oil
1/2 teaspoon cumin powder
1 1/2 teaspoons grated fresh ginger
2 medium tomatoes, coarsely chopped
3/4 cup onion, finely diced
1/2 teaspoon salt
2 tablespoons maple syrup
4 cups corn kernels
Directions
Heat the oil in a large skillet over a medium flame. Add the cumin and ginger and sauté for 1 minute, stirring constantly. Add the tomatoes, onions and salt and bring to a simmer, cooking for about 4 minutes, or until nearly dry.
Add the maple syrup and corn and return to a gentle simmer. Cook, stirring frequently, for 10 minutes, or until corn is heated through and flavors developed.
Seasoned Roasted Vegetables
Roasting vegetables adds a sweetness unmatched by other cooking methods. Energetically, baking/roasting has a very drying effect on the body. The hot oven evaporates moisture in the food — like being in a dry sauna. The longer you sit in it, the dryer you become. Balance baked foods with lots of liquids.
Hint: Cut the vegetables similar sizes so they finish cooking at the same time. Leftovers are great cut up and added to a nice miso broth. It's soup that practically makes itself.
Ingredients
1 pound Yukon gold potatoes, cut into small chunks
3 carrots, cut into thick rounds
2 parsnips, cut into chunks
12 brussel sprouts, cut in half lengthwise
1 turnip, cut into chunks
1 medium sweet potato, cut into small chunks
1 rutabaga, cut into chunks
2 onions, cut into wedges
6 tablespoons extra-virgin olive oil
4 cloves garlic, crushed
1 teaspoon dried oregano
1 teaspoon dried basil
1 teaspoon fresh rosemary
1 teaspoon dried thyme
1 teaspoon salt
Fresh ground black pepper, to taste
Salt, to taste
Directions
Preheat oven to 425 F. Place the vegetables in a large bowl.
In a small bowl, whisk together the oil, garlic and seasonings. Pour the marinade over the vegetables and toss well to coat evenly. Let the vegetable sit for 5 minutes.
Transfer vegetables and marinade to a baking sheet with edges. Roast for 15 minutes, then use tongs or a slotted spoon to toss the vegetables. Roast for another 15 minutes, then toss again and cook for 10 minutes more.
Vegetables should be tender and caramelized. Salt and serve immediately.
Mushroom Gravy
This is good gravy! It's outstanding on anything you'd be tempted to ladle gravy over. Shiitake mushrooms are one of my favorites for this recipe. Not only do I love the flavor, but they a good source of calcium, iron and B vitamins, and contain all nine essential amino acids. Studies also show they lower cholesterol, have anti-cancer properties and stimulate the immune system.
Hint: For the mushroom mix, try a combination of white buttons, enoki, Portobello, lobster and shiitake.
Ingredients
1/4 unbleached white flour or whole wheat pastry flour
2 cups onions, diced
1 tablespoon extra-virgin olive oil
2 cloves garlic, minced
1/2 teaspoon dried basil
1/2 teaspoon dried oregano
1/2 teaspoon dried thyme
1/2 teaspoon sage
1/2 teaspoon salt
4 teaspoons nutritional yeast
1/2 teaspoon sesame oil
2 1/2 cups mushrooms, diced (any variety, or a mix)
2 tablespoons soy sauce
1 1/2 cups plain rice or soy milk
Directions
Place the flour in a large saucepan and, stirring constantly, gently brown it over medium heat. Place flour in a small dish and set aside.
Add olive oil to saucepan, and sauté the onions and garlic in the olive oil over medium-high flame for 3 minutes.
Add the herbs, salt and nutritional yeast, then cook for an additional minute, stirring frequently. Add sesame oil, mushrooms, soy sauce and soy or rice milk. Simmer for 2 minutes.
Reduce heat to medium and cook, continuing to stir, for 3 minutes, or until the gravy thickens. Reduce heat and simmer on low for 5 minutes. Serve warm.
Cornbread Stuffing
This cornbread recipe is more labor intensive than opening a box and adding water, but it's well worth the effort. Don't be intimidated by the number of ingredients. It doesn't take long. It's good energy and no artificial anything. This is a great side dish on its own, or make it into a main course by adding tofu. Try cutting a block of tofu into four or five slices, lightly oil a baking pan and place a layer of tofu slices on bottom. Top with a layer of stuffing and add another layer of tofu. Brush top lightly with olive oil and bake until lightly browned. Serve with
Hint: Make the cornbread ahead of time and toss it in the freezer. When you're ready, take it out and turn it into stuffing.
Ingredients
Cornbread: (makes enough for two recipes of cornbread — one to eat and one for stuffing).
1 1/4 cups whole-wheat pastry flour or unbleached white flour
1 3/4 cups yellow cornmeal
4 teaspoons baking powder
3 teaspoons chili powder
1 1/2 teaspoons salt
1 teaspoon dried thyme
1 teaspoon dried sage
1 3/4 cups soy or rice milk with
1 teaspoon lemon juice added
3 tablespoons extra-virgin olive oil
1/2 cup corn kernels (fresh or frozen)
1/4 cup onion, diced
2 tablespoons brown rice syrup
Cornbread stuffing:
1 1/2 tablespoons extra-virgin olive oil
2 medium onions, diced
1/2 cup cooked brown rice
5 cloves garlic, minced
5 stalks celery, diced
1/4 cup carrots, grated
3 cups mushrooms, chopped (Portobello, shiitake, white or any combination you like — add a wide variety for additional flavor and interest)
1 tablespoon dried sage
1 tablespoon rosemary
1 teaspoon celery seed
1 teaspoon dried marjoram
1 teaspoon salt
1/2 teaspoon fresh ground black pepper
1/2 cup chopped parsley
1 loaf cornbread, crumbled
2 teaspoons mirin
2 teaspoons soy sauce
2 teaspoons cider vinegar
1/2 cup vegetable broth
Directions
To make cornbread, preheat oven to 375 F. Lightly oil two 9×9-inch baking pans with olive oil.
In a large bowl, sift together the dry ingredients. Make a well in the center of the bowl and add the rice syrup, rice milk and olive oil. Add onion and corn kernels. Stir until well mixed.
Pour the batter into the oiled pans and bake until cornbread is golden, about 20 minutes. Place on a wire rack and cool completely. Wrap one for freezer if not using.
To make the stuffing, preheat oven to 375 F.
Combine the olive oil and onions in a large skillet and sauté over a medium-high flame until the onions are translucent, about 6 minutes.
Add the rice, garlic, celery, carrots, mushrooms, sage, rosemary, celery seed, marjoram, salt and pepper. Cook, stirring frequently, for 10 minutes. Stir in parsley and cook for 30 seconds. Remove from heat.
In a large bowl, combine crumbled cornbread, mirin, soy sauce, vinegar, and the contents of the skillet. Add enough broth to moisten stuffing enough to hold together when pressed into a ball. Don't make it too soggy.
To serve as a side dish, transfer to an oven-proof bowl and bake for 10 minutes, or until heated through. Or use to stuff vegetables such as bell peppers and mushrooms.
Chocolate Fudge Pie
Although a craving for sweets is usually the body's message that it isn't being supplied with enough whole grains and vegetables, sometimes you just have to have it. This pie's combination of cashew butter — by far the richest of all nut butters — chocolate chips and cocoa powder is heavenly and decadent. Think creamy smooth, buttery fudge with a mousse-like consistency.
Hint: When melting chocolate chips in a double boiler, don't leave the burner on too long. It is sufficient to bring the water to a boil, then turn off the heat. The residual heat will melt the chips. Too much heat scorches the chocolate.
Ingredients
2 cups dark or nondairy chocolate chips (Dark chocolate is naturally dairy-free, though be sure to check labels.)
12-ounces soft, silken tofu
1 cup cashew nut butter
1 teaspoon vanilla
1 tablespoon cocoa powder
1/2 teaspoon cinnamon
1 pie crust — make a graham cracker crust or buy a frozen healthy version at your natural foods store
Directions
Bring several cups of water to a gentle boil in the bottom half of a double boiler. Add the chocolate chips to the upper part of the boiler and remove boiler from the heat. Stir until the chips melt, about 2 minutes.
Transfer the melted chocolate to the bowl of a food processor. Add the tofu, cashew butter, vanilla, cocoa powder and cinnamon and puree until very smooth.
Pour the filling the pie crust and smooth the top with a butter knife. Chill in the refrigerator for 2-3 hours before serving.
Autumn Apple and Butternut Soup
This soup is for when the leaves begin to change color and the air takes on the crispy chill of fall. It's a great combination of two of the season's best offerings — apples and butternut squash. The soup is hearty and creamy and the squash has a very calming and soothing energy. And, apples have the most balanced energy of all fruits. It's a great combination. Buy organic apples and squash and cook it peels and all for extra nutrition. Note: in this soup, the peels can dull its otherwise brilliant color — you decide which is most critical for you for the meal you're preparing.
Hint: Substitute pumpkin for the squash. In the fall most grocers stock small, sweet baking pumpkins. Kabocha is my favorite.
Ingredients
2 1/2 pounds butternut squash, peeled, seeded and cut into
1-inch chunks (roughly 8 cups)
1 medium onion, diced
2 medium apples, peeled and cut into large chunks
4 carrots, cut into large chunks
5 1/2 cups vanilla rice milk
2 cups corn kernels
2 tablespoons soy sauce
1/4 teaspoon fresh ground pepper
1 teaspoon cumin
1/2 teaspoon cinnamon
Pinch nutmeg
Pinch ground cloves
2 tablespoons brown rice or maple syrup
4 tablespoons sweet white miso
Directions
Place the squash, onion, apples, carrots and rice milk in a large stockpot. Bring to a gentle boil over a medium-high flame. Watch carefully, as rice milk boils over easily.
While pot heats, add corn, soy sauce, fresh ground pepper, cumin, cinnamon, nutmeg, cloves and brown rice syrup. Mix gently to combine.
When the rice milk boils, reduce to a simmer and cover. Cook for roughly 20 minutes, or until vegetables are soft when poked with a fork.
Use a ladle to transfer the vegetables to a blender or food processor, along with roughly 1/3 to 1/2 of the liquid. Puree until vegetables form a thick soup. Add the miso and puree again for 20 seconds to combine.
Return the vegetable puree to the stock pot and mix to combine with remaining liquid. Simmer for 5 minutes to let flavors combine. Serve hot.
For a variation with a twist, stir in 1 cup of sweet white wine, such as a Riesling, about 3 minutes before serving.
Michelle Hirschlives in southern New Hampshire and teaches whole food cooking classes. She is a graduate of the world renowned Kushi Institute. Michelle can be contacted at mphirsch@yahoo.com.
See also:
How To Prepare Fresh Pumpkin Easily
Celebration Of Autumn Menu
Find New England holistic Nutrition practitioners in the Spirit of Change online directory.