Fast-Food Packaging Contains Chemicals Banned Around The World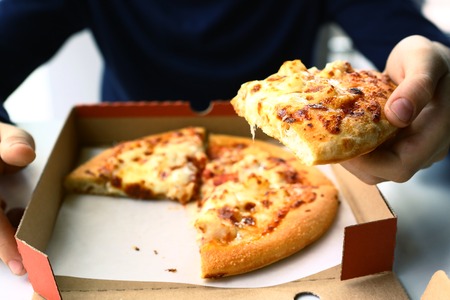 Grease-proof packaging has helped make pizzas, burgers and tacos on-the-go a less messy proposition. However, a new study in the ACS journal Environmental Science & Technology Letters has found that some fast-food packaging from across the U.S. contains a variety of fluorinated compounds — a few of which have been linked to potential health effects.
Mitigating the problem of pharmaceuticals in drinking water has been an ongoing health issue for decades. But levels of a widely used class of industrial chemicals are now officially linked with cancer and other health problems — polyfluoroalkyl and perfluoroalkyl substances (PFASs) — exceed federally recommended safety levels in public drinking-water supplies. Part of those toxic levels comes from waste.
According to the Agency for Toxic Substances and Disease Registry, some studies in humans have suggested that long-chain, per- and PFASs, are associated with developmental problems in children, decreased fertility and an increased cancer risk. In 2000, the U.S. started phasing out some long-chain PFASs, which had commonly been used in a wide range of products to make them stain-resistant or waterproof, for example. But other countries still produce them, and some manufacturers have replaced them with shorter-chain PFASs or variations of long-chain PFASs. The potential health effects of these smaller compounds are unclear, although preliminary studies have raised concerns. Previous research has shown that substances in food packaging can migrate into food and, when discarded in landfills, could contribute to elevated levels of PFASs in the environment. How much depends on type of PFAS, temperature and other factors.
The U.S. Food and Drug Administration (FDA) announced in early 2016 that it would withdraw its approval for three chemicals used to make grease, stain, and water repelling food packaging and consider banning seven food additives used in both "artificial" and "natural" flavors.
To find out how widely used PFASs are in fast-food packaging, Laurel Schaider of the Silent Spring Institute and her colleagues tested more than 400 paper wrappers, paperboard containers and cups from fast-food restaurants across the U.S. They detected fluorine — an indication of fluorinated compounds — in nearly half of the food contact papers overall and 20 percent of the paperboard containers. Wrappers for Tex-Mex food, desserts and breads were the most likely to contain fluorine.
PFOA is a processing aid for manufacturing fluoropolymers, which are used in the electronics, textiles and automotive industries, to name a few, for their heat, water, oil and stain resistant properties.
A more detailed analysis of a subset of 20 samples found that perfluorooctanoic acid (PFOA), a long-chain PFAS currently being phased out in the U.S., was among the packaging compounds. Determining what the findings mean for consumers is difficult, however. The PFASs occurred at a wide range of concentrations, suggesting that some of them were not specifically added to the packaging but came from older, recycled materials or other undetermined sources. The researchers say this could lead to the persistence of some of the compounds, even if phased out, for many years to come.
Drinking tap water contaminated with PFOA is also serious health risk. The highest measured levels of PFOA in human blood in the US, other than factory exposures, are in people who have consumed PFOA contaminated tap water in West Virginia and Ohio. These people had PFOA levels in their blood 100 times higher than the levels found in the water, and far higher than the average person in the US.
"These compounds are potent immunotoxicants in children and recent work suggests drinking-water safety levels should be much lower than the provisional guidelines established by EPA," said Elsie Sunderland, senior author of the study and associate professor at both the Harvard Chan School and SEAS.
This article was republished from Prevent Disease.
See also:
Make Sure The Products You're Putting On Your Body Are Not Toxic
What Are Nanomaterials And Why Are We Eating Them?