Food For The Natural Living Pleasure Of It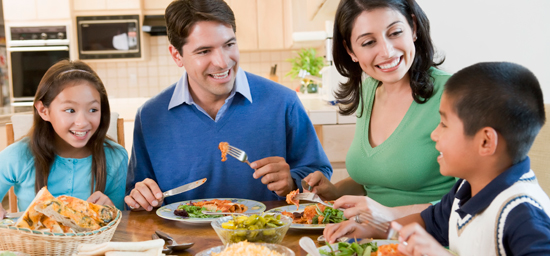 Simple pleasures. They're as varied as the experiences when we feel completely balanced, at peace and in a state of joy. For some it's stretching out lazily and becoming completely absorbed in a great book. For others it's walking solo at dawn on a deserted beach and watching a glorious sunrise. Or, maybe it's snuggling next to your sleepy child, reading a bedtime story and watching him fall asleep safe and secure.
One of my most valued simple pleasures is the preparation of food. Early in my studies at the Kushi Institute I learned the importance of using the highest quality and freshest foods available and preparing them simply and in accordance to the season. Being surrounded by the sounds and scents of foods being prepared is comforting and grounding. Cooking, experiencing the glorious colors, feeling the various textures and savoring each exquisite flavor are all part of the pleasure. Add to this mixture being surrounded by people you love and there is nothing more satisfying.
Think about it. Is anything so extraordinary as cutting into a fresh, ripe peach at the height of the season and watching the sweet juices escape from a perfect fruit? Or perhaps looking at a grain of brown rice and being in awe of its simple perfection. Our approach to food — the selection, preparation and consumption — strongly influence our physical, mental and spiritual well-being.
For your health, commit to preparing one meal a day just for the pleasure of it. Learn the joy in selecting foods that inspire you, prepare them with love and calmness and eat them in peace and with thanks to the growers and harvesters. It will create balance in your life and those around you.
RECIPES
Sauteed Tempeh And Vegetables
Tempeh is one of the most versatile, highly digestible foods around. It's high in protein and other nutrients and has a nutty flavor and chewy texture. This is a great recipe for using leftover rice/noodles. Try adding leftover vegetables and reduce the cooking time by five minutes.
Ingredients
Olive oil
1 package tempeh, cut into cubes
2 cups assorted vegetables, cut into small pieces (I like carrot, daikon, broccoli and corn cut off the cob)
2 cups leftover brown rice or noodles
Tamari (to taste)
Directions
Lightly coat a large frying pan with oil
Toss in the tempeh and sauté over low heat until lightly browned (about 5 minutes)
Add the vegetables and sauté five minutes
Add the rice and sauté an additional 5 minutes. Cover pan and cook for 5 minutes
Add a small amount of water if necessary. Season with tamari and cook 1 minute
Broccoli And Tofu Cream Dressing
Besides being beautiful to look at, broccoli is great for supporting healthy lungs, stomach and spleen. Partner that with the great taste and nutrition of tofu, and the powerful healing properties of umeboshi plums and you have a delicious warm weather dish that's easy to prepare.
Ingredients
1 pound soft, silken tofu
2 umeboshi plums
1 bunch broccoli, cut into flowerets (save stem for soup or peel and cut into chunks)
Directions
Place tofu between several layers of paper towels and let excess water drain for about 15 minutes. Place drained tofu and plums in a food processor and pulse until mixture is smooth and creamy.
Pour one half inch of spring water in a medium pan. Add broccoli and simmer until the broccoli is bright green and still crisp (about 3 minutes). Remove broccoli with slotted spoon (reserve water for miso soup) and place in serving dish. Spoon tofu dressing over top or toss together.
Boiled Mustard Greens With Spicy Sauce
This was a favorite recipe I learned at the Kushi Institute. The flavor is sweet, strong and hearty and is helpful in ridding the upper body of excess mucus.
Ingredients
4 cups mustard greens, thinly sliced
1/4 cup spring water
1/4 cup tamari
1/2 teaspoon grated ginger root
Directions
Place 1/4 inch of water in a medium pot and bring to a boil. Toss in the mustard greens and cook for 3 minutes, stirring frequently. Greens should be bright green and slightly crisp.
In a small bowl, thoroughly mix the water, tamari and ginger. Place greens on a serving dish and spoon sauce over. Serve immediately.
Amaske Pudding
Amasake is a fermented sweet, thick, creamy beverage made from brown rice. It's cholesterol free, a good source of fiber and aids in the digestion of other foods. The kuzu is helpful for general fatigue, reducing high blood pressure and migraine headaches. Try using the almond flavor for a great pudding that makes a delicious and nutritious dessert.
Ingredients
1 quart amasake
6 tablespoons kuzu (diluted in enough water to make a smooth paste)
Directions
Place the amasake in a medium pot over medium heat
Add the diluted kuzu and stir constantly with a wooden spoon to prevent lumps
Cook until mixture comes to a boil
Simmer another 2 minutes and remover from heat
Place in serving dishes and chill
Note: for variety, add berries or fruits such as peaches to the amasake before adding the kuzu.
Michelle Hirsch lives in southern NH and teaches whole foods cooking throughout New England. She is a graduate of the world renowned Kushi Institute where she also worked developing curriculum. She can be contacted at mphirsch@yahoo.com. Visit Michelle on Saturday March 26 at Whole Foods Market in Bellingham, MA where she will be offering a cooking class and book signing for her new book Venturesome Vegetarian Cooking! To register, call Whole Foods at 508-966-3331.