Four Simple Ways To Minimize Holiday Arguments And Stress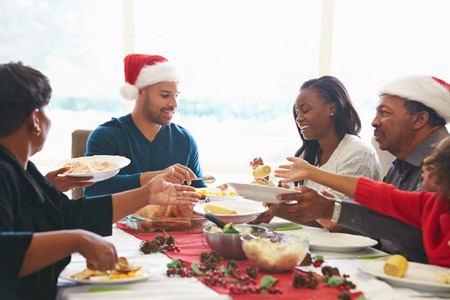 Are your holidays merry and bright or filled with chaos and stress? If you are like most, it's a combination accompanied by a mixed-bag of emotions.
In a recent study conducted by OnePoll, 88 percent of participants feel stressed when celebrating the holidays and the average couple will have seven arguments throughout the season.
Do you know the feeling? Perhaps the key is to take a step back and change our perspective so that we can bring focused attention and be present to what matters most this holiday season. Here are 4 tips to navigate the holiday chaos with a little more ease.
1. Trim down the multi-tasking. Cooking, baking, cleaning and wrapping presents all at the same time while trying to keep all your guests happy is no joke. We do this all the time. Multi-tasking is our go-to mode especially during this time of year.
The problem is when our mind is all over the place and someone interrupts to ask a question, complain or whine our blood starts to slowly boil. It might take a while, but when it reaches that tipping point — that's it! We might erupt and lash out.
Since we are focusing on NOT having arguments, perhaps streamlining, or better yet, simplifying your plans might keep the multi-tasking to a minimum. We know that focusing on a single task leads to better productivity and results, but the reality is it can be hard to do especially this time of year. Instead, think about how you can trim your tasks down. Even if you just went from five things at once to two or three, it would go a long way to helping you feel a little saner during this magical time of year.
2. Listen with your body. When we are busy, we tend to not make eye contact when someone is talking with us. We are listening but not with our full attention span. Essentially, we are not giving that person the respect they deserve in that moment. This can end up being a precursor to one of those infamous holiday arguments.
Emotions are running high. Schedules are jam-packed. Sugar highs and crashes all around us. It's important to listen and we can do that by using our body. Turn and face them. Use eye contact. Hear what they are saying and then respond instead of interrupting. If we want to minimize the chaos and stress we need to do our part.
3. Expect the unexpected. Brace yourself. Not everything will go according to plan this holiday season. There might be travel delays at the airports or on the freeways. There might be guests who arrive two hours late to dinner. Whatever the case, expect the unexpected.
You can't plan for every scenario. You can't expect everything to go perfectly. You can only do what you can do, so it's better to have a go-with-the-flow attitude, otherwise it might be a holiday version of Fight Club in your house. The important thing is to breathe and don't take yourself so seriously in these moments.
Using apps such as Calm, Headspace or Think Up could really help you set the tone of your day so you can handle anything unexpected that comes your way! Alternatively, you can simply recite a few positive affirmations.
Example: Everything is happening as it should be.
Example: I am handling anything that comes my way today with calm and ease.
If all else fails, find a room, closet or take a walk outside to get away for five minutes to collect your thoughts.
Remember what's important. The presents and the family drama are not what's important. It's about being in the moment and enjoying it. Let's be real. How many more holidays are you going to get with your friends and family? No one knows. We do not know what the next day will bring, so instead of getting wrapped up in the nonsense, focus on building memories and traditions that will be remembered for years to come. Have fun, be silly, let loose and be playful.
Most importantly, be grateful for what you have and who you are with during this holiday season. I guarantee you that there is someone out there that is wishing that they were surrounded by something other than silence.
One way to focus on what really matters is to create a tradition around gratitude. Create a family journal and each year around the holidays have each person write what they are grateful for, date and sign it. That way you can look back at the blessings this life has given you year after year. This can truly become a special family keepsake passed down from generation to generation.
Alison Brehme is a recovering workaholic who left the corporate world to pursue the dream that she can have a thriving professional and personal life without having to choose between the two or her health! Learn more at www.letitbe.club.
See also:
15 Tips For Commercial-Free, Fun-Filled Family Holidays
Older Than Calendars: The Spiritual Meaning of Christmas