God Working Through Dog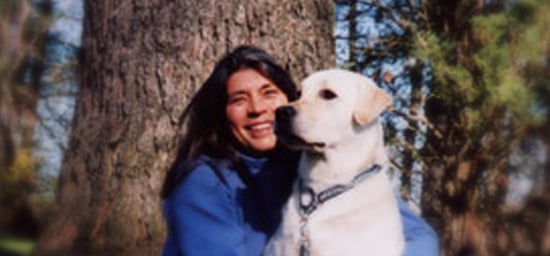 He has the heart of a lion and the soul of an angel. He laughs, he smiles, he winks. He dreams of walks on the beach, snacks and his beloved tennis ball. He lives to please, to play, to heal, to teach.
He arrived on this planet on February 4, 2002, first born in a litter of nine. Our first encounter came when he was two weeks old. At the very instant we met, he reached right in and grabbed my heart. Growing up as the daughter of a veterinarian, I have shared my life with many animals over many years, but none have touched my soul as this one.
He is Brady, meaning "spirited one," in the Celtic languages. When I took him home seven weeks later I knew I had been entrusted with the care of one of God's very special animal friends, a kind, gentle, gifted yellow Labrador retriever. Although he loved me through a profoundly dark and challenging time in my life, I knew he was sent to do the same for many others. Brady was born to serve and I understood that I was charged with the responsibility to ensure he had the love, training and service experience he required to prepare for his life as a healer.
When he was a year old I entered him into a therapy dog program, never doubting it would be me who he worked with, taking him to hospitals, nursing homes, schools and rehabilitation centers. God had another plan. Brady's assignment was to work with my partner, who is the assistant director of a residential treatment program for women who are building new lives as they recover from alcohol and drug addiction.
A predictable day in Brady's life begins with rising early with me, breakfast and a brisk walk. Once home he waits patiently by the door, leash and tennis ball ready for the words, "Let's go." Turning into the parking lot of the treatment center, he sits up, releases a puff of air, and picks up his ball in anticipation of the car door opening. As he enters the hallway he charges for the living room where he feels the joy coming from the residents as they say in unison, "Brady's here!" He greets every resident, visits each staff member's office and beelines it to the kitchen where he will spend quality time with the cooks! He attends groups and house meetings. He spends one-on-one time with residents, takes naps and always finds a willing playmate. He attends graduations and welcomes new residents and their families with an open heart.
Brady's intuition with respect to the needs of the residents has landed him a position in a weekly group. He has been given the role of the "talking stick." Whoever Brady sits in front of at any given time must share, and inevitably they are the ones whose hearts are closed and need it the most.
One exceptionally heartrending day, Brady was napping in one of the offices when he heard heaving, grief-stricken sobs coming from upstairs. What he was hearing were cries of a lifetime, echoing from a woman who has suffered extreme trauma, with no family, all alone. She has endured unbearable losses, been a lifetime substance abuser and spent years in prison. There were two counselors attempting crisis intervention with no positive results and she continued to slip further into her grief. They were unable to console her. No words were available in our language to reach her in the depth of her sorrow. At that very moment, Brady ran upstairs into the room and nuzzled his face into the sobbing woman's leg. He sat next to her without words, without expectations, questions or judgment. He gazed into her with his soulful brown eyes, a strong loving presence. Instinctively she reached down and began to stroke his velvety, golden fur. His tail wagged while he continued to sit with her, and as she continued to stroke him her sobs began to lessen and in time stopped. The counselors quietly sat in awe as Brady brought her from extreme crisis to a place of safety, into the now. Brady was able to reach places that no human being could access. He touched her with unconditional love.
The dog and the woman have since forged an intimate bond. She is the first person he seeks out when he arrives, he naps with her in the afternoons, they walk and play together. Her protective shield melts more each day she spends with Brady. She can feel his love deep in her soul; his spirit plays with her child; he brings light to her eyes. He has brought life into one who did not want to live.
Brady's light shines on every life that he touches. He makes a difference in their lives each and every day, with unwavering dedication. As Brady matures and our lives change, so may his assignments. Our hearts are open and ready for the call. I am so very blessed to be the caregiver to one of God's greatest gifts, to be loved unconditionally by Brady, a dog who is as close to an angel as I have ever known.
Time now to hug my dog!
Kay Bice is a freelance photographer and writer living in Massachusetts.