Going Green At Home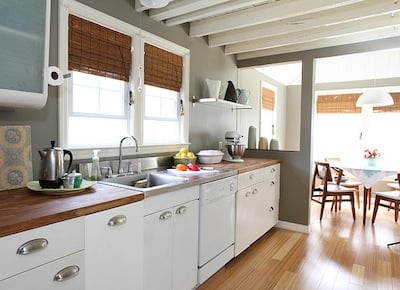 Conserving energy in the home is something on every homeowner's mind. With the prices of gas, the poor job market, and the raising expense of day-to-day life, a little energy efficiency wouldn't hurt anyone. In fact, it's a great idea for anyone looking to increase the value of their home and save money each month in the process. Yes, there are temperature-regulating walls and all sorts of other things you can do to your home that will drain your bank account so fast you won't have time to catch up. There are, however, plenty of ideas that are cost-effective and not too terribly hard to do.
Hardwood Flooring
The first thing to consider is ripping up all that old, pet-stained carpet and replacing it with hardwood flooring. I know what you are thinking: "I thought you said cost-effective." Well, I did. Bamboo is the fastest growing plant on Earth. Why is this relevant? Because it means that bamboo flooring is cheaper than any other hardwood option. As the fastest growing plant on Earth, bamboo is the also the most eco-friendly option for hardwood flooring. Plus, it is truly a beautiful wood that is more durable than other options. Hardwood flooring even increases the value of your home over tile or carpet. But for those of you who refuse to give up on carpet, there is also an eco-friendly option: recycled plastic carpeting.
Window Blinds
Did you know that opening your blinds during the day will decrease your heat bill by 10% year round? On top of that, you can replace your old blinds with nice, eco-friendly alternatives. One option is woven wood shades. These are probably more ideal for a home in a four-season state than for a home in southern California due to the amount of light and heat that they allow in.
There is also the faux wood option. Foamwood blinds are more resistant to moisture and mildew, and they are more eco-friendly than the former option. Finally, there are recycled, or natural blinds. These blinds are made from recycled bits of bamboo, grass, and jute, so they are the most eco-friendly option. Although the name "recycled" may not be appealing, they are quite lovely, and are worth some investigation.
Paint
Do you have an unfinished basement that you'd like to turn into a usable space? Instead of dry walling and painting, take a look at a more eco-friendly option. Generally, concrete has a rather neat-looking texture; you just don't want it to look like the driveway. Try soy-based concrete stains. They also work well for garage flooring if you utilize that space for something other than cars and tools. Soy-based concrete stains are 60% cheaper than acid stains and nowhere near as taxing to do yourself. Now, you can get it in the same color options, blending abilities, and layering options as any other type of paint!
Light Bulb Replacement
LED bulbs and CFL bulbs both save up to 80% of the energy that standard incandescent bulbs use. They also last much longer. But which is the better option? LED bulbs are quite a bit more expensive than CFLs, so the choice is clear, right? Wrong! LEDs have an average life span of 50,000 hours compared to CFLs which average 8,000 hours. In addition, CFLs contain mercury, which we all know is no good for our bodies or the environment. LEDs contain no mercury. The average carbon dioxide emission from a CFL bulb doubles that of an LED bulb. If that's not enough convincing, LEDs use half the wattage that CFLs use.
Buying LED light bulbs in bulk would offer you the chance to replace every bulb in your home. Doing so would pay for itself through reductions in your energy bill over the course of 2 years! How much more convincing do you need?
Ashley Andrews is a San Diego-based freelance writer who blogs on a wide range of green living, business, health and technology topics.
See also:
Going Green With Literal Green
Healthy Home Walk Through