Gov. Charlie Baker Signs Law Guaranteeing Birth Control Without Copays In Massachusetts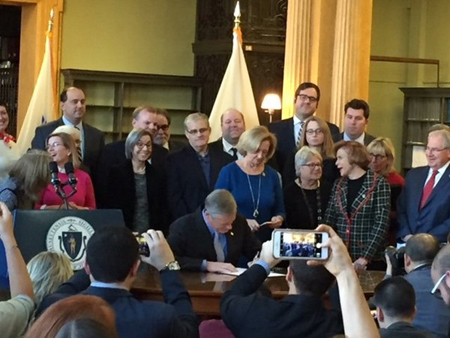 Massachusetts Gov. Charlie Baker signed a law on Monday requiring state insurers to cover birth control without a copay.
"This legislation will ensure no woman in Massachusetts, irrespective of what goes on in Washington, will worry about whether her health care services and rights will be affected here in the commonwealth," Baker, a Republican, said after signing the bill at a ceremony in the State House library.
Currently, under the Affordable Care Act signed by former President Barack Obama, insurers are required to cover contraceptives without cost-sharing. But Republican efforts to repeal the ACA mean the future of that requirement is uncertain.
The main impact of the Massachusetts law will be to impose a state-level requirement so that women continue to get free birth control even if the Affordable Care Act is repealed or changed.
The law will also guarantee birth control access to women without copays despite a policy put in place by President Donald Trump that lets any employer with a religious or moral objection to birth control deny contraceptive coverage to employees. The Massachusetts bill includes a religious exemption for churches. Read more…
This article was republished from MassLive.
See also:
How Planned Parenthood Has Helped Millions Of Women, Including Me
With Abortion Rights In Balance, Health Groups In Rural States Take Stand For Access