Green Tip of the Month: Thrift Stores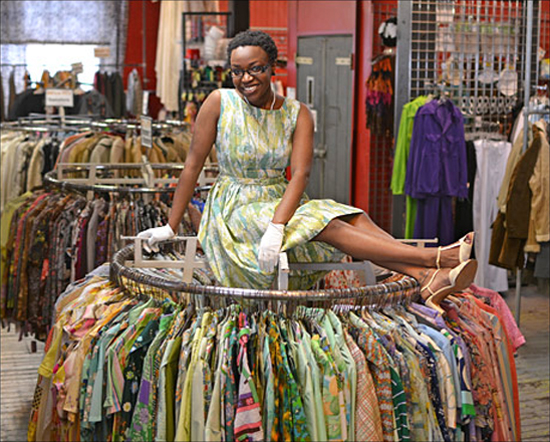 Photos – above: Garment District, below left: Poor Little Rich Girl, below right: Second Time Around
Be a responsible consumer and look stylish at the same time!
According to the Union of Concerned Scientists, about 10% of Americans' personal contributions to greenhouse gas emissions are attributed to material purchases.* Maybe in 2013 we can all make a resolution to spend that 10% a little more consciously?
Thrift shops and second hand stores offer our material goods a second life, save us at least 50% on clothing, accessories, furniture and appliances, and provide us with unique, fun and fashionable wardrobes.
Mythbuster: Thrift stores are not just for Halloween costumes and theme parties. With a little patience you can source your entire closet with deals and steals. You can find thrift stores closest to you using Yelp or Google maps, but here are a few SBN staff favorites from our Harvard Sustainability Office:
The Garment District: 200 Broadway Ave, off of Kendall Square. Shop by the pound ($1.50/lb) or search the racks!
Poor Little Rich Girl: Between Inman and Kendall.
Second Time Around: Several locations throughout greater Boston area.
Closet Exchange: Located in Needham.
Salvation Army: Make sure the store is listed as a retail location, not simply donation center.
SOWA vintage market: More like a flea market, featuring antiques, vintage and collectibles.
Cambridge Antique Market
Organize a clothing swap with friends or coworkers, or designate an area of office space as a "swap space" free-for-all!
Aside from reducing demand and buying used clothes, remember to also recycle!
The Massachusetts Department of Environmental Protection lists sites and locations for recycling various material goods.
Harvard Recycling and Surplus Store, Thursdays, 11-2pm, 175 North Harvard Street, Allston
H&M now accepts clothes for recycling — any brand. Earn a $5 gift certificate towards an H&M purchase when you participate.
Drop off your old tennis shoes at Karma Yoga Studio near Harvard Square (shoe recycle bins are near the stairway) or Niketown on Newbury Street (shoe recycle bins are near the elevator).
* Cooler Smarter: Practical Steps for Low-Carbon Living, Union of Concerned Scientists, p. 22,60,161.
The Sustainable Business Network (SBN) of Massachusetts engages business and community leaders in building economies that are green, local, and fair. Visit www.sbnmass.org to learn more or join the network. Show your love for local food by donating here to help SBN bring back the Boston Local Food Festival for its 4th year.