Growing Gardeners at Growing Places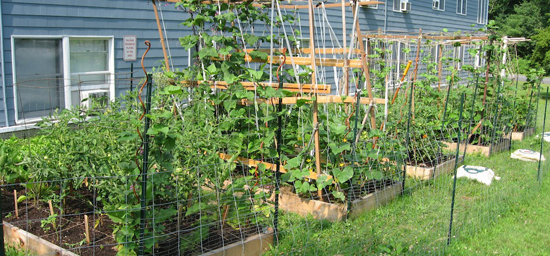 A garden provides nourishment, both physical and emotional, and gardening, itself, can be transformative for body, mind and spirit. This is why clients of Growing Places Garden Project, a non-profit organization based in Clinton, MA, feel so fortunate to be recipients of donated gardens and the support to grow their own fresh, healthy food year after year.
Kate Deyst and Cindy Buhner founded Growing Places in 2001 after reading an article in a 1997 issue of Smithsonian about Dan Barker, founder of the Home Gardening Project Foundation, who began donating raised-bed vegetable gardens to needy people in the Portland, Oregon area. The seed of an idea germinated and they decided to do something similar in Massachusetts. Their mission was to improve food security and provide nutrition education for people of limited means in Massachusetts by "growing" proficient gardeners who can maintain gardens on their own.
That first year Kate and Cindy identified five eligible clients, gathered up some tools, and with their own hard work, dedication and a lot of trial and error managed to build five gardens and turn Growing Places into a reality. The next year, four of the initial five gardeners were ready to plant again and twenty new gardens were launched. By 2010, 290 households had been served in 22 communities of North Central Massachusetts, including multiple community gardens, hospital gardens and group home gardens. 118 gardens were active for the 2010 growing season. Additional gardens have also been installed in schools providing children with hands-on education in growing their own food at school. Now heading into its tenth year, Growing Places is a testament that through the process of learning to grow, care for and harvest food one garden at a time, people become more aware of their nutrition and health and how to provide for their own food security needs.
Growing Places builds residential, container and community gardens that are environmentally friendly and designed to conserve water and be maintained without synthetic fertilizers or pesticides. They are intended to grow enough produce for a 1-4 person household, customized for individual dietary and personal preferences, and designed so they can be maintained independently by the third season. A typical garden consists of three 4' by 8' raised beds. Growing Places supplies seeds and seedlings, offers gardeners guidance and assistance with planting, and gives advice on harvesting, storing, and using the garden's produce. In the first season, staff and volunteers prepare sites at clients' homes, assemble bed frames and fill them with composted soil, seeds and seedlings. A Garden Mentor helps establish goals and priorities and monitors progress throughout the growing season. In the second year, the garden beds are reconditioned and more seeds and seedlings are brought in, as well as any technical support needed to keep growing. Lifelong support and advice is offered through workshops, the website and regular newsletters.
In an ongoing effort to help people eat nutritiously and improve their physical health, Growing Places partners with Share our Strength, a national non-profit organization weaving together a net of community groups and food programs to catch children facing hunger and surround them with nutritious food. Growing Places offers the SOS's "Cooking Matters" nutrition-based cooking classes to current and prospective gardeners in the communities they serve. The 6-week, teacher-led curriculum is designed to promote making healthy food choices, even with limited resources, and teach lifelong cooking skills and practical nutrition information. An after-school program is offered that extends nutrition education and cooking experiences to a wide range of at-risk children. The program introduces children to more nutritious eating and shows them how to make easy, nutritious meals and is also a way for Growing Places to access new families who qualify for gardens.

Building gardens requires intense physical work so maintaining a large volunteer labor force is crucial for success. Additional volunteers help staff the cooking, nutrition, and after-school programs, as well as various administrative duties. Volunteers come from community organizations such as churches, schools, and scout troops, or are individuals who have heard of the program and want to become involved. Truck and heavy equipment operators also volunteer their time and equipment. Encouragingly, the 2010 volunteer base increased by 69% to over 230 people. Despite this success, the need for volunteers is great, as due to lack of staff the program still had to turn away 27 families in 2010 who requested and qualified for gardens. When you join in Growing Place's mission of "Feeding Families Together" as a volunteer or donor, you may be surprised at all the benefits you reap yourself!
For more information please visit www.growingplaces.org or call 978-598-3723. Your tax-deductible contribution can help provide a garden for someone this season. Donations can be mailed to Growing Places Garden Project, PO Box 17, Clinton, MA 01510.
Photos: The Clinton Community Garden was established in 2005 in partnership with the Clinton Parent Home Childcare Program. In 2008, the Clinton/UMass Hospital joined in as a partner and offered more land so that the community garden could expand. Today this community garden has over 30 beds that provide fresh produce to local families directly as well as through a food pantry and senior center.