Happy 20th Anniversary Spirit of Change!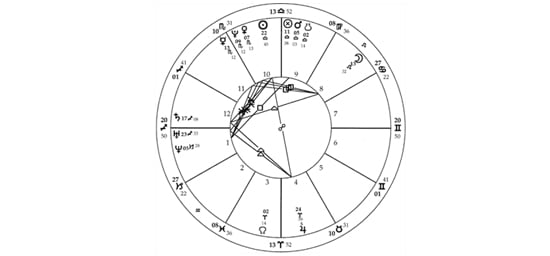 Astrology, the most venerable of sciences, provides profound insights into man's life on Earth.
While it is well known that horoscopes can be drawn up for individuals, "birth" charts may also be erected for businesses, countries and events. Before beginning an endeavor those in the know often consult an astrologer to choose an auspicious time. Occasionally, our natural instincts kick in and we make wise choices. Such good fortune was in play when Spirit of Change was launched.
Although the exact moment the first issue appeared in stores (i.e., was born), is hazy, October 16, 1987 has been put forward as the magazine's "birthday." In my astrological practice if the birth time is unknown I draw up a 12:00 PM chart. Let's take a look at what the stars were saying on that day twenty years ago.
The noon horoscope bears testament to SOC's role in educating and informing its readers. The Sun, symbolizing both the magazine and the publisher, was in Libra, the sign of fair play and diplomacy. The tone of the magazine has always been instructive without being preachy. Showing compassion for the human condition and respectful of its audience, SOC almost always displays Libran tact.
The Sun stands in close opposition to Jupiter, the planet of education, philosophy and publishing. Sometimes called the Greater Benefic, Jupiter also represents faith, optimism and luck. In the trailblazing fire sign Aries it connotes leadership, courage and expanding horizons. Unlike most other planets, even in a "hard" aspect Jupiter usually has an agreeable effect. The Sun/Jupiter opposition represents a positive outlook; the sense that life is only going to get better. For this groundbreaking magazine, readership demographics and topics of interest are unlimited.
On October 16, 1987 the Moon was in Leo, favorably aspecting the Sun, Saturn, Uranus, and Jupiter, but at odds with a group of planets in Scorpio, Venus, Pluto and Mercury. Venus, as the ruler of the Libra Sun, takes on special importance. Close by Pluto and Mercury, Venus offers popular appeal, missionary zeal and persistence. These qualities have enabled SOC to endure and become a respected part of the New Millennial landscape. Such staying power is no small feat in today's rapidly evolving world.
Venus is also enhanced by Pluto's powers of perception and transformation. Having Mercury in the mix places the Winged Messenger in the role of moral compass. The trio contributes the quality of an informative and caring voice. This is the chart of an institution that really makes an important difference in people's everyday lives! It is also worth noting that the union of Mercury and Venus often shows the ability to attract income (Venus) through the dissemination of information (Mercury).
Another important pairing is the union of tradition-minded Saturn with forward thinking Uranus in Sagittarius. This conjunction enables SOC to function as a bridge between the past and that which is yet to come. Down to earth, relevant articles about healing, diet, and ecological issues are common throughout these pages. So too are contributions from visionaries who employ new ideas and technologies. Because Sagittarius is a sign ruled by Jupiter there is once again an emphasis on providing thoughtful material that is practical and points to a safer, saner world, befitting a magazine called Spirit of Change.
Because it is exact by degree, the square from Mars in Libra to Neptune in Capricorn may be the most challenging angle in the horoscope. While this aspect promotes a very active imagination, it may indicate difficulties trusting business partners or finding a permanent "home." Honesty and sincerity are the cure.
Transiting Jupiter, now visiting its own sign of Sagittarius, is especially supportive this autumn. The giant of our solar system promises a growing audience and well-deserved acclaim. Explorations of foreign lands and life's more mysterious side are sure to be a part of future issues. As Jupiter enters Capricorn and engages the SOC natal Neptune in early 2008, we can look forward to many more fine articles on healing, the natural world, the occult and fine arts. — E.L.
Eric Linter offers a complete range of astrological services including his Daily Astrology Reading at www.spiritofchange.org. Consultations are available in person, by phone or on audiocassette. Contact Eric at 508-541-4112 or email ericlinter@aol.com.