Healthy Cooking: Keen for Quinoa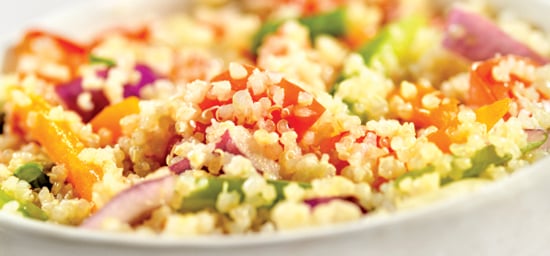 Add quinoa to your summer meals for tasty, healthy eating that's quick and easy to prepare.
This time of year is typically when we try to find ways to maximize our outdoor time and minimize kitchen time. What if I told you there's an ultimate fast food that's so versatile it allows you to produce tasty, healthy, whole food meals in less time than you'd spend picking up take out? This powerhouse food will also save you money and supply your body with the nutrients it needs to repair cell damage, all while giving you extra time to enjoy family, friends and favorite activities. It's also one of the most picnic friendly foods around. What more could you ask for natural living simplicity?
I'm talking about quinoa (keen-wah). It's the small, mighty seed (often referred to as a grain) native to South America. Referred to as the "gold of the Incas," it supplied their warriors with incredible stamina, so much so, that the Spanish invaders feared it, burned down the fields and forced the Incas to grow wheat instead. Quinoa was "rediscovered" in the '70's and has been gaining in popularity ever since. It contains all nine essential amino acids, making it a complete protein and truly a super food.
Preparing quinoa is easy. Just put the seeds in a fine mesh strainer (don't use a colander or the seeds will fall out) and rinse under running water for a few minutes. You'll initially see a little "foaming" as you rinse. Just rinse until the water runs clear. It's an important step as it removes the saponin which coats the seeds. Saponin is naturally occurring in some plants and, due to its bitter taste, is nature's way of ensuring that the birds don't eat the crop. You can find boxes of quinoa at the store that say "no rinsing necessary," but I always do — habit I think. Once the seeds are rinsed, simply add two cups of liquid (water or stock) for each cup of quinoa. Bring it to a boil, reduce the heat to a simmer and cover. In 12–15 minutes you have the perfect addition to a number of dishes or just dig in and enjoy it "as is" in all its luscious, fluffy, chewy, nutty glory.
To add extra flavor to your quinoa, you may dry roast it before adding the liquid. To dry roast, heat a heavy pan (cast iron is ideal) and add your rinsed and drained quinoa. "Saute" the seeds until they start to pop, usually about 3 minutes. Remove from the heat, add your liquid and cook as directed above.
If quinoa is new to you, try some of the recipes listed here. Once you try it, I guarantee you'll be hooked. Also, try substituting quinoa for the grain called for in any of your favorite recipes. If you're concerned that folks you're feeding will be reluctant to try something new, try tossing a handful of quinoa into favorite soup and stew recipes.
Bowl-You-Over-Breakfast
One of the best ways to start your day – packed with protein — this breakfast will easily give you the energy you need to get through your morning. Vary the fruit by using what's in season. When using fresh berries, I'll omit the dried fruit and just toss on the fresh berries once it's in my bowl. Time saving tip: consider cooking extra quinoa at dinner and using the extra for breakfast. Just toss the cooked quinoa in a pan with some almond milk and heat. It easily beats out instant oatmeal for taste and nutrition.
1 cup quinoa, rinsed
2 cups water (or half water, half almond milk)
1 teaspoon cinnamon
1/4 cup dried fruit (I like cherries or blueberries)
3 tablespoons nuts (I like a mixture of walnuts and almonds)
Agave nectar or maple syrup (optional)
Combine the quinoa, water (or water/almond milk), cinnamon and dried fruit in a saucepan and cook over medium high heat until mixture comes to a boil. Cover and reduce heat. Simmer for 12 to 15 minutes. Top with agave nectar or maple syrup if desired.
Quinoa Sushi Roll
In our house sushi rules. We serve it frequently as an appetizer or main course and I've experimented with many versions ranging from rolling them with soba noodles, whole grain mixtures, rice and quinoa. I have to admit that this version is one of my favorites. It's hard to beat the nutritional boost and flavor and any leftovers make a tasty lunch the next day.
1 cup quinoa, rinsed (dry roast after rinsing for extra flavor)
2 cups water
1/4 teaspoon salt
1 tablespoon cashew butter
1 tablespoon mirin (or 1 teaspoon of agave nectar)
1 tablespoon rice vinegar
4 sheets nori
Variety of fillings cut into thin matchsticks (avocado, cucumber, carrots, daikon, scallions, sweet potato, smoked tofu, etc.)
Place rinsed quinoa in a medium saucepan and add the water and salt. Cook for 12–15 minutes or until all liquid is absorbed. Remove from heat and place quinoa into a large bowl (the larger the size and the lower the sides, the better; it helps cool the mixture down faster). Stir in cashew butter, mirin and rice vinegar and let cool.
Prep your workspace by putting a clean cutting board on your counter. Place a glass of water nearby along with a sharp, serrated knife. Place a sheet of nori on your cutting board (short end facing you). Starting at the short end nearest you, place three or four heaping tablespoons of quinoa on the nori and spread it evenly towards the far end of the nori sheet. Cover about two thirds of the sheet with the quinoa.
Select your favorite fillings and place in a single layer over the quinoa until you reach half way down the nori sheet (some quinoa will not have filling covering it).
Starting at the end nearest you, tightly roll the nori sheet over the quinoa/filling layer. When you reach the bottom third of the nori sheet (nothing on it), dip your finger in the water and run it along the uncovered portion of nori to moisten it. Once moist, continue rolling tightly. Your roll will now be sealed and ready for cutting. Cut with the serrated knife. Each roll should give you six pieces of sushi.
Note: You may use raw veggies for the filling, leftover cooked or lightly blanched. You may also lightly blanch collard leaves and substitute those for the nori.
Powerhouse Tabouleh
A great tabbouleh is a welcome addition to any picnic. This version kicks up the nutrition and gives a little different twist to an old favorite. Try this as a side dish, as a topping for a salad or sandwich or on its own as a light lunch. It's an ideal "make a day ahead" dish. The flavors only improve for the next day's enjoyment.
1 cup quinoa, rinsed (after rinsing, dry roast for extra flavor)
2 cups water
Pinch of sea salt
1 red onion, minced
1/4 cup sweet red bell pepper, diced
1 cup parsley, minced
1 large tomato, chopped
1 cucumber, chopped
2 cloves garlic, minced
1 quarter cup fresh mint, chopped
3 tablespoons olive oil
4 tablespoons fresh lemon juice
Freshly ground pepper to taste
Place quinoa and water in a medium pan and bring to a boil. Reduce heat, cover and simmer for 12–15 minutes or until all liquid is absorbed. Toss all remaining ingredients except for the olive oil and lemon juice in a large bowl and toss. Add the cooked quinoa to the bowl and toss. Mix the olive oil and lemon juice together, add to the bowl and toss everything to coat well. Taste and adjust seasonings. Chill for at least three hours to allow flavors to develop.
Salad Days of Summer
When temperatures are high and a craving for a cool, crispy, creamy salad hits, it's hard to beat this one. It's more substantial than plain mixed greens and has a good mixture of tastes and textures. Make good use of seasonal veggies and substitute any that are in season. Eat as is, stuff it into a pita pocket or roll in flat bread. Make extra quinoa when preparing another meal and you can produce this delicious meal in less than 10 minutes.
2 cups cooked quinoa
2 cups black beans (leftover or rinse and drain canned beans – chickpeas are also good)
1/2 cup green peas (shelled fresh or frozen)
1/2 cup sweet corn kernels (removed from cob or frozen)
1 carrot, diced
1 stalk celery, diced
1 tomato, chopped
1 scallion, chopped (or 2 tablespoons chopped chives)
1 small cucumber, diced
3 tablespoons fresh lemon juice
3 tablespoons olive oil
3 tablespoons apple cider vinegar
Dash of hot sauce (or to taste)
Salt and pepper, to taste
1 head Romaine lettuce leaves, chopped
Oregano (optional)
Place quinoa, beans and all the vegetables in a bowl. Toss lightly. Combine lemon juice, olive oil and vinegar. Add hot sauce, salt and pepper to taste. Place chopped lettuce leaves on plate and top with the quinoa/bean mixture. Sprinkle oregano over top if desired. Note: substitute your favorite vinaigrette dressing if desired.
Keen for Curry
I love mild curry dishes and this one has become one of my favorites. I've always served my curry dishes over some type of brown rice (basmati, jasmine, etc.), but have recently begun serving it over quinoa. It's very easy, fast and delicious.
1 tablespoon coconut oil
1 medium onion, chopped
2 cloves garlic, minced
1—2 tablespoons curry powder (taste as you go and adjust according to preferences)
1/2 teaspoon cayenne
1/2 teaspoon freshly grated ginger
Sea salt and pepper, to taste
1 (15-ounce) can coconut milk
1 can chickpeas, drained and rinsed
1 cup cooked quinoa
1 large sweet potato/yam, cooked and cubed
Heat coconut oil in a large skillet over medium heat. Add onion and garlic and sauté until onion is translucent. Add the seasonings and stir well. Add the coconut milk, quinoa and sweet potato and mix well. Simmer for 10 minutes and serve.
Note: I usually steam extra veggies (sweet potatoes, broccoli, etc.,) when prepping dinner and keep them in the refrigerator for the next day's meal. It really doesn't take much extra time and you get a delicious meal the next day with little effort.
Quinoa Pudding
Finally — a healthy, nutrient rich dessert that tastes great. If you're a fan of rice pudding or tapioca, you'll likely make this frequently. Enjoy it as an after dinner treat, for breakfast or as a snack. Once you know the basics of making the pudding, variations are endless. The basics include four easy steps: 1. Start with cooked quinoa. 2. Add a milk-type liquid. 3. Add a sweetener. 4. Add flavoring.
1 1/2 cups milk-type liquid (hemp, almond, coconut, etc., select your favorite)
1/3 to 1/2 cup sweetener (agave, maple syrup, brown rice syrup, etc.)
2 cups quinoa, cooked
Flavorings: dried fruit (cherries, raisins, blueberries, etc.), orange or lemon zest, cinnamon, chocolate chips, cocoa, nutmeg, vanilla, chopped walnuts and/or almonds, pinch of sea salt.
Place liquid and sweetener in a saucepan. Add quinoa and mix well. Add flavoring (if adding vanilla, wait until the end of cooking). Cook over low heat until all liquid is absorbed. Remove from heat. Serve warm or chill in refrigerator. Note: if you want the chocolate chips to stay whole, only add them when adding the vanilla. If you add them during the cooking process they'll melt into the pudding. Top with fresh fruit, chopped nuts, etc., if desired.
Michelle Hirsch lives in southern NH and teaches whole foods cooking throughout New England. She is a graduate of the world-renowned Kushi Institute where she also worked developing curriculum. Michelle is the author of Venturesome Vegetarian and can be contacted at mphirsch@yahoo.com.