Healthy Cooking: Tempting Tempeh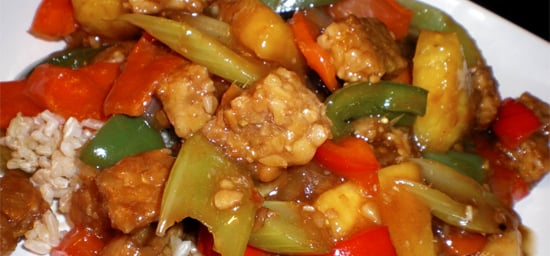 Now here is one powerhouse of a food! If you're looking for ease of preparation, versatility and great taste all rolled into one healthy food choice, this one's for you. It has it all. And, it's adaptable to foods suitable for any season.
Tempeh is a fermented soybean product that usually has grains, seeds, beans and/or vegetables added to it. The texture is chewy and it has a mild, nutty flavor that takes on flavors of whatever it's cooked with. Tempeh has 50% more protein than ground beef and is high in fiber and other nutrients and is low in fats and sodium and is free of cholesterol. If you haven't tried it yet, try it tonight. It's a great substitute for chicken, beef, veal and seafood and can be used in any of your favorite recipes calling for these ingredients. Or, try some new meal ideas in this issue! Either way, tempeh is sure to become a regular player in your meal plans.
For a quick and easy meal, season tempeh as you would any meat (sauces, spices, etc.). Just select your favorite topping and slice the tempeh thinly. Toss it under the broiler until lightly browned and use it for sandwiches. Cut it into cubes and toss into soups and stews, or puree it for delicious sauces and gravies. Crumble it and use in place of ground beef.
Try tossing cooked tempeh cubes into a food processor with some almond oil, lemon juice, brown rice vinegar, garlic, dill, parsley, sea salt and water to make a creamy dressing, spread or dip. Vary the amount of liquid for the consistency desired.
Tempeh cut into cubes or strips and fried, baked or broiled is great to toss into salads, sauces, burritos, sushi filling, tacos, shish kebabs, pizzas, soups, stews, chili, noodles, stir fries, fajitas and rice.
Store tempeh in the refrigerator. If you won't use it by "sell by" date on the package, freeze it. It doesn't take up much space in a cooler. That, coupled with its versatility makes it an ideal choice for camping and cooking on the road.
If a recipe does not indicate that the tempeh should be cooked in a specific way, always steam or simmer it for 15 minutes. Do not eat tempeh raw; it needs cooking to release its flavor and maximize digestibility. Taste and texture variations can also be achieved by simmering it for up to 30 minutes
in a seasoned broth or sauce before frying, broiling or baking.
Tempeh helps reduce cholesterol, prevent and relieve cancer, strengthen the kidneys, bladder and reproductive organs and is high in protein, calcium, iron and B vitamins. Any way you slice it, it's a tasty, good-for-you food that's fun to make.
OTHER RECIPES
Tempeh "Cheese Ball"
I've never been a big fan of cheese balls, but when my friend showed up with this a few years ago it was a big hit with everyone. It doesn't take long to make and it's a snack that's packed with nutrition.
Ingredients
8 oz. tempeh, cut into 1" pieces
2 tablespoons Dijon mustard (or whatever flavor you prefer)
2 tablespoons nutritional yeast
1-2 tablespoons shoyu
Water
2 tablespoons celery, finely chopped
1/4 cup scallions, finely chopped
Directions
In a small saucepan with enough water to cover, bring tempeh to a boil. Cook 15 minutes.
Drain and puree with mustard and shoyu. Mix in celery and half of the scallions (or chives).
Wet hands with water. Shape mixture into 2 balls and roll them in the remaining scallions. Serve with crackers or baked pita wedges.
Tempeh Breakfast Sausage
These are just plain good sausages. Make an extra batch and freeze them. They'll make a great in-a-hurry sandwich or you can thaw and crumble into any recipe you have that calls for sausage. I've tossed them into soups, casseroles and even crumbled over salads.
Ingredients
8 oz. tempeh
1/3 cup water
2 tablespoons whole wheat pastry flour
1 tablespoon olive oil
1 tablespoon dark miso
1/2 teaspoon sage
1/2 teaspoon thyme
1/4 teaspoon marjoram
1/4 teaspoon garlic powder
1/4 teaspoon cayenne
Olive oil for frying
Directions
Steam the tempeh for 10 minutes and set aside until cool enough to handle.
Grate the tempeh on the coarse side of a grater. Combine the grated tempeh with the rest of the ingredients and mix well.
Pressing firmly, shape into 6 flat cakes. Add more flour if mixture is too moist.
Lightly coat a frying pan with olive oil and fry sausages until browned. Add enough oil to the pan to keep patties from sticking.
Drain on a paper towel. If freezing patties, separate each with waxed paper first.
Sweet and Sour Tempeh
The kuzu in this dish adds a smooth texture and shiny gloss to the sauce. As a thickening agent it's hard to beat. Its thickening power, taste, texture and healing qualities are unequaled. It's also gluten-free. To work, it has to be diluted, added to the dish and cooked for 1-2 minutes. Kuzu is great for digestion, fatigue and circulatory problems. It's also effective in reducing high blood pressure and the symptoms of flu, fever. Use kuzu in place of arrowroot or cornstarch in your recipes. It's a healthy choice.
Ingredients
10 oz. tempeh cut into 1 inch cubes
1 cup apple juice
2 cups water or vegetable stock
1/2 cup onion wedges
1/2 cup carrots, diagonal cut
1/2 cup celery, diagonal cut
1/2 cup broccoli, cut into chunks
Brown rice vinegar
Shoyu
2-3 tablespoons kuzu, diluted in 2-3 tablespoons water
1/4 cup scallions, sliced
Directions
Place tempeh in a pot and add the apple juice and water. Bring to a boil. Cover and reduce heat to medium low. Simmer for 20 minutes.
Add the onions, carrots and celery. Simmer 1 minute. Add the broccoli and simmer for two minutes.
Reduce the heat to low and add the diluted kuzu, stirring constantly until thick. Add a small amount of brown rice vinegar for a mild sour taste. Add shoyu to taste and cook 1 minute longer.
Remove, place in serving dish and garnish with sliced scallions. Serve over rice or noodles.
Stuffed Peppers
Growing up, stuffed peppers were a regular dinner item in our home. Using tempeh instead of ground beef boosts the health benefits of this tasty dish. Any left over are easy to pack for lunch.
Ingredients
1 batch of either of the sausage recipes above
2 tablespoons olive oil
1 medium onion, chopped
1 clove garlic, minced
1 cup cooked brown rice
1/2 to 1 cup tomatoes, chopped
6 small bell peppers, tops removed and cored
Directions
Heat oil in pan. Sauté the onions and garlic in the oil.
Toss together with the steamed, seasoned tempeh from one of the sausage recipes.
Add the brown rice and tomatoes.
Stuff the mixture into the peppers, place in a lightly oiled baking pan, cover with foil and bake at 375 degrees for 30 minutes.
Italian Tempeh Sausage
If you've never used nutritional yeast before, give it a try. It's not the same as the yeasts used in brewing or baking. It's inactive and can't ferment anything. It's claim to fame is the cheese-like flavor, protein and B vitamins it adds to a dish. And, it's fat free!
Ingredients
2 8 oz. packages tempeh, cubed
1 teaspoon dried basil
1 teaspoon dried oregano
1-2 cloves garlic, diced
1 small onion, diced
1 teaspoon ground fennel
1 teaspoon dried thyme
1/2 teaspoon crushed red pepper flakes
1/4 to 1/2 teaspoon pepper
1 tablespoon nutritional yeast
1/2 cup whole wheat flour
1/2 cup shoyu
1/4 cup olive oil Olive oil for frying
Directions
Place the tempeh cubes in a steamer basket and steam for 15 minutes. Set aside to cool.
Crumble the cooled tempeh into a bowl and add the basil, oregano, garlic, onion, fennel, thyme, pepper flakes, and pepper and toss well to coat. Add the remaining ingredients and stir well.
Line a cookie sheet with waxed paper. Take 1/4 cup measuring cup and pack it full of the tempeh mixture with a spoon. Flip the measuring cup over onto the waxed paper lined cookie sheet. Or, for a more rustic looking sausage, scoop a few tablespoons of the mixture into your hands (dampen with water so it doesn't stick) and form into patties. Form the mixture into 10 sausage patties and chill for 1 hour.
Lightly grease a skillet with some olive oil and brown the sausages on each side, about 5-7 minutes per side. Once cooked, sausages may be frozen for later use. Reheat them in the oven until heated through.
Braised Tempeh
The toasted sesame oil adds a rich, smoky, nutty, outrageously delicious taste. It really enhances the flavor of this dish.
You can eat as is, or use this cooked, seasoned tempeh in another dish. I like this cooked tempeh cut into cubes and tossed with macaroni, tofu mayo, chopped celery, onions and seasonings and making a great summer salad dinner with it.
This is also great served as a sandwich with your favorite fixings (tofu mayo, mustard, sauerkraut, lettuce, catsup, etc.).
Ingredients
1 tablespoon toasted sesame oil
1 teaspoon dried coriander
1 clove garlic, minced
1-4 tablespoons water
1 tablespoon shoyu
8 oz. tempeh sliced into 8 half inch slices (cut into four equal pieces, then split each into two)
Directions
In a skillet, heat oil over medium low heat. Toss in garlic and coriander and sauté for 30 seconds.
Place tempeh slices into pan. Mix shoyu and water and pour over tempeh. Cover and cook 5 minutes. Turn tempeh over and cook another 5 minutes.
Michelle Hirsch lives in southern New Hampshire and teaches whole foods cooking classes throughout New England. She is a graduate of the world renowned Kushi Institute where she currently works on curriculum development. Michelle can be contacted at mphirsch@yahoo.com.