Healthy Cooking Timesavers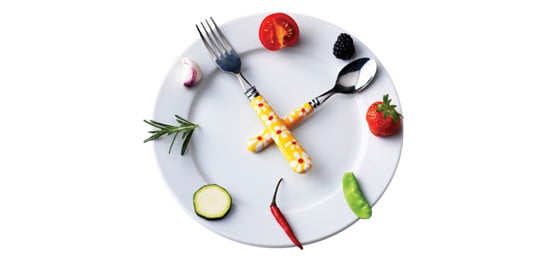 If you've been struggling with a hectic schedule and find yourself reaching for takeout menus more often than you'd like, try some of these quick and easy meal prep ideas that have worked for me. As great as fresh, whole ingredients are, sometimes corners have to be cut and timesavers are a must. Here's my list of go-to ingredients and tips that help me survive hectic weekday nights without sacrificing taste, nutrition or cost.
BABY GREENS. I've been including greens, usually kale and collards, in most meals for the past 20 years. I've always bought several bunches of each and washed and cut them as needed for each dish. About six months ago I discovered containers of baby cooking greens in the produce department and resisted the urge to select my usual greens and give these a try. I have to say, they are amazing!
I now buy containers of baby cooking greens and mixed baby kales each week. Both are organic (kale is on the dirty dozen list for pesticide use, so always opt for organic), and incredibly tender, sweet and ready to use. Having baby greens on hand means no excuses for not including this nutritional powerhouse in meals. Gone is the excuse of no time to prep because it's ready to go no matter what you're making. And there's no waste.
Toss raw mixed baby kales into a salad. I love chopped salads and when I serve it, even the veggie resistant don't realize they're eating greens.
Add to a stir fry. Toss in at the end since these greens are so tender they cook in no time.
Add towards the end of cooking in soups and stews.
Use instead of lettuce on a sandwich.
Add to a quiche or tofu scramble.
BROCCOLI SLAW. This is another product that I never purchased, preferring to prep my own veggies as needed. I tried these on a whim and now usually have a bag or two on hand. A tasty mixture of shredded broccoli, cabbage and carrots, my favorite use lately is as a crust for a quiche. I make this for dinner at least once a week and save a big wedge for lunch the next day. I can quickly and effortlessly create a great soup, stir fry or quiche in no time. Try adding to a salad, for making an almost instant miso soup or in your next tofu scramble.
Veggie Crust Quiche
Spray olive oil
1 package broccoli slaw
Salt and pepper to taste
Assorted leftover vegetables (I roast veggies each day and usually have an assortment of leftovers in the fridge; my favorite combination is fennel, onion, mushroom, cauliflower and eggplant)
1 teaspoon chives
1 package tofu, pressed
1 teaspoon turmeric
1/3 cup nutritional yeast
1 teaspoon garlic powder
1/2 teaspoon thyme
1/2 teaspoon oregano
1/2 teaspoon sea salt
Dash hot sauce
Freshly ground pepper to taste
1. Preheat oven to 350 degrees. Lightly spray skillet with olive oil and add package of broccoli slaw. Season lightly with salt and pepper and sauté until softened. Lightly spray a large pie pan with olive oil and press the cooked broccoli slaw into the pan forming the crust for the quiche.
2. Fill the crust with any leftover roasted veggies. If you don't have any, you can omit them or quickly sauté or microwave some frozen mixed veggies and use those. Sprinkle the chopped chives over the veggie mixture. Or, try using two bags of broccoli slaw and filling the pie pan with that.
3. Add remaining ingredients to a blender or food processor and mix until smooth and creamy. Pour over the veggie mixture. Bake until set and golden, about 35 minutes. Let cool 10 minutes before slicing.
GUAR GUM AND/OR XANTHAM GUM. Both are natural thickeners that you've likely been consuming all along. Open your cupboards or freezer and read the product labels on items you buy. Chances are you'll find at least one of these ingredients. Xanthan gum makes things thicker and guar gum makes things creamier. A little goes a long way and half a teaspoon thickens a cup of liquid. I rely on these to make my own instant pudding and to thicken smoothies, dressings and sauces.
Salad Dressing
I enjoy thicker salad dressings. I like the way it looks and prefer the mouth feel it provides. Use your favorite vinaigrette recipe using the guidelines below or try the one I frequently make. I use stevia as a sweetener, but substitute your favorite if you don't use it.
1/2 teaspoon sea salt
1/2 teaspoon stevia
1/2 teaspoon garlic powder
Freshly ground pepper to taste
1 teaspoon oregano
1 teaspoon prepared mustard, any flavor
1/3 cup apple cider vinegar
1/4 cup olive oil
1/4 teaspoon xanthan gum
Place the first five ingredients in a blender or jar and mix well. Add the mustard, vinegar and oil and mix well. Add the xanthan gum and blend well. Store prepared dressing in a covered container in the refrigerator. I also like to make this a day ahead to allow the flavors to develop, although I've also used it shortly after preparing and it's fine.
CHIA SEEDS. Yes, it's the same seeds you see advertised as Chia pets. Cheesy commercials aside, these are really great to have on hand. They don't interfere with the flavor of anything you add them to, they replace eggs in most recipes and deliver a wealth of health benefits. Chia seeds are packed with antioxidants, protein, omega-3 fatty acids and fiber. Use them whole if you enjoy added crunch or grind them in a coffee or spice grinder if you prefer a smooth texture. Sprinkle in salads, soups, stir fry, oatmeal, pancakes, etc., or toss a few tablespoons into cake or cookie batter to boost nutrition. Choosing white chia seeds over the darker variety ensures they add no flavor and are not visible in your final product.
Chocolate Protein Pudding
This is a fast, easy meal replacement option for hectic days. Toss in a handful of baby greens or spinach and you have your serving of veggies included. It's also a great way to ensure non-veggie lovers get a full serving without them even realizing it. Leave out the protein powder and you have a fast, easy dessert. Turn it into a smoothie by increasing the amount of liquid.
1 cup almond milk (or your favorite non-dairy milk)
1 scoop protein powder
1 tablespoon cocoa powder
1/2 teaspoon guar gum
1 tablespoon ground chia seeds
1/2 teaspoon cinnamon
Place all ingredients in small blender and whirl until blended and thickened. Place in serving container and chill for 10 minutes.
Egg Replacer
Use this mixture any time your recipe calls for an egg or egg white. Chia seeds gel beautifully. If you use egg replacer frequently, you may want to make enough to last you a week or so. Just store the gelled mixture in a covered container in the fridge.
3 tablespoons water
1 tablespoon ground white chia seeds
Place water in a small cup or bowl. Add the ground chia seeds and mix with a fork. Wait about 5 minutes and give it another mix. It should be the consistency of a raw egg white. If you're in a rush, use warm water and you'll save a few minutes.
LOW COST/LITTLE EFFORT NON-DAIRY MILKS. Making your own non-dairy milks is easy, fast and wallet friendly. The most time consuming is soy milk since it requires bringing the soaked mixture to a boil and simmering for 20 minutes. Since the focus in this column is easy, time saving and low cost, I won't include instructions for soy milk. Try mixtures that include your favorite nuts and seeds.
Nut or Seed Milk
The process is essentially the same no matter which nut or seed you choose. I prefer almonds. Some people soak the nuts/seeds, but it's not necessary. The first two steps are for the soaking method; if you're not doing that, just add the raw nuts/seeds to fresh water and liquefy.
Soak one half to one cup of raw almonds overnight (or at least six hours) in the fridge
Pour off the soaking water
Place almonds in a blender and add one quart cold, fresh water (chlorinated water will give you an "off" flavor)
Liquefy the nuts
Place a fine mesh strainer over a large pot or bowl, line it with a layer or two of cheesecloth (or use a nut milk bag) and strain by gently squeezing all the remaining liquid from the pulp
Store strained milk in a covered jar or pitcher and store in the fridge for up to four days.
Note: If you prefer sweetened almond milk, add your sweetener while liquefying. You may want to add dates, sugar or whatever your preferred sweetener. I always make mine unsweetened. Don't toss that almond pulp. Store it in the fridge and add it to smoothies, oatmeal, cookies or just about anything you can think of for additional fiber and nutrition.
Michelle Hirsch lives in southern NH and teaches whole foods cooking throughout New England. She is a graduate of the world-renowned Kushi Institute where she also worked developing curriculum. Michelle is the author of Venturesome Vegetarian and can be contacted at mphirsch@yahoo.com.