Healthy Eating: Basic Techniques For Cooking Success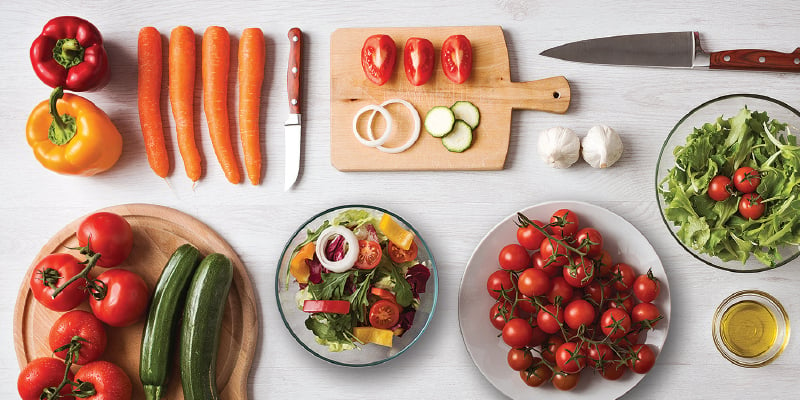 If you bake bread with indifference, you bake a bitter bread that feeds but half man's hunger. — Kahlil Gibran
Nutrition is very personal. Each body is different from the next, with its own individual requirements for functioning at its prime. Even a single body will have changing needs at different stages throughout its lifetime. It's wise to take note of nutritional recommendations and trends, but the best guide will probably be your own body's messages, telling you what it needs and how your diet and lifestyle are faring. Explore different nutritional models and allow yourself to shift between them as needed. Most diseases can be improved or even healed with changes in diet, so take charge of your health and find out what's necessary for you to thrive. Trust yourself to find the resources that you need, and remember the key factor of any healthy diet: a wide variety of fresh, unprocessed, naturally grown foods. Try the following basic cooking techniques to help you increase your cooking ease and success.
Enjoy yourself. No other technique is more important! Your attitude affects the food you prepare as much as your ingredients, and so cooking presents an opportunity to nourish your friends and family with your loving, positive energy. Make an effort to feel good in the kitchen and put aside any anger or frustration unless you can effectively transmute it into spiciness!
Trust your intuition. The more you can do this, the easier it will be to enjoy yourself. Eating is to cooking just as walking is to dancing, so relax. When something's in the oven, heed the voice that tells you to check on it. If you have an idea to add something different to your stew, notice where the idea originated. The voice of intuition will guide you and become stronger as you learn to perceive and trust it.
Read the entire recipe before you begin to cook. It's like looking at the map before beginning a trip. You will see what needs to be prepared ahead or how you can multitask along the way, making your journey through the recipe more efficient, easeful, and pleasant. You don't want get stuck having to soak nuts overnight when you're trying to make dinner in an hour.
Mise en place is a French culinary phrase that literally means "putting in place." It means measuring, washing, cutting, and otherwise preparing the ingredients for your recipe before you begin. This will also help you accomplish the previous technique, since you will need to read through the recipe in order to prepare your ingredients.
Maximize energy—your own, and that of your stove. When the oven is hot, roast an extra squash, a few bulbs of garlic, some tomatoes, or toast a tray of seeds or nuts. When you prepare beans or grains, double or even triple the quantities, so you can freeze leftovers. Try to make a few batches of sauces or salad dressings once a week. You will find it easier to prepare quick weeknight meals that are more complex and interesting with these building blocks on hand.
❤ Follow Your Heart Soup
This is a general formula to learn how to make a full-bodied vegan soup out of any ingredients you have available. To make your soups more nutritious and flavorful, use broth rather than water. Beware of the ingredients of commercial broths and concentrated stock cubes. Broth is very easy to make from the trimmings of the vegetables you use for the soup and other recipes, but if you must use water this soup will still be delicious!
Place in a medium soup pot:
1 Tbsp oil
1 onion, diced
1/4 tsp salt
Cook over medium-low heat 10–15 minutes, until onions are very soft and translucent
Add:
aromatics (suggest 1 celery, 1 carrot, 2 cloves garlic)
1/2–1 tsp salt
This base for most soups is called a mirepoix. Cook over medium heat for about 5 minutes. Use plenty of fat (oil, butter, etc.) to coat the onions and carry the flavors of the aromatics throughout the soup. While you could just boil all the ingredients at the same time, your soup will be much richer and more complex if you take the time to slowly cook the onions and other aromatics thoroughly first. Use salt as a tool to draw moisture from the onions or vegetables if they start to get dry. You want enough liquid to keep them from burning but not so much that they steam rather than caramelize. If the pan gets too dry, add a little salt, oil, or a tiny bit of water or broth.
Next, deglaze the pan by adding:
1/2 cup wine, tomatoes, fruit or vegetable juice, broth, beer, or water
Let simmer about 7 minutes until nearly dry, taking care to avoid scorching.
Add:
4–6 cups vegetable broth or water
additional vegetables, beans, grains, etc.
Bring to a boil, then simmer (partially covered) until thoroughly cooked. Purée if desired, then taste and adjust salt. If the soup still needs something, try a little lemon or vinegar.
Omnivorous Variations
Use butter to sauté onion.
Use bone broth or milk in place of vegetable broth or water.
Finish with a little cream after removing from heat.
Additional Soup-Making Tips
If you need to pause, you can turn off the heat anywhere along the way at the end of a step, before adding the next ingredient.
If using mushrooms, I usually add them before the ½ cup deglazing liquid, after the mirepoix has had a few minutes to soften.
When using crushed red pepper or dried Italian seasonings, add them with the mirepoix to soften them and draw out their flavor.
When blending puréed soups, place a towel over the top of the blender to protect yourself from splattering.
If using miso, stir it in after removing the soup from heat.
❤ Massaged Kale Salad
Yields 2–4 servings
I love kale. I eat it every day and thank it for strengthening my bones. I usually chop it very fine, down to the tough bottom of the spine. If you're new to kale, you may want to pull off the tender leaves and discard the spine until you can enjoy its hearty texture.
In a large salad bowl, combine and allow to marinate 5–10 minutes:
1 small clove garlic, finely grated
¾ tsp salt
2–3 Tbsp balsamic vinegar
¼ to ½ cup thinly sliced red onion, to taste
Add and allow to marinate a few minutes more:
1 beet, shredded
Add:
1 bunch kale, finely chopped
drizzle of quality olive oil
Using your hands, firmly massage the salad for about 5 minutes until the kale is tenderized.
Add:
¼ cup walnuts, toasted or raw
freshly ground black pepper to taste
handful of cherry tomatoes or dried cranberries, cut in half (optional)
Toss and serve at once or refrigerate up to 8 hours.
Variations
Any homemade dressing is great on raw massaged kale salads.
To make a really easy raw kale salad, simply massage chopped kale with some sauerkraut. Add avocado and toasted seeds for healthy fats and protein.
❤ Follow Your Heart Pilaf
Yields 4–6 servings
Pilafs are excellent served both warm and at room temperature. Use this recipe to make any variety of flavors with the ingredients you have on hand.
Prepare with water or vegetable broth:
1 cup dry grains (barley, brown rice, wild rice, etc.)
Remove from heat and fluff with a fork, then allow to stand, covered, for about 5 minutes. Combine with the savories below while still warm.
While grains are cooking, combine in a medium pan:
1 Tbsp olive oil
1 onion, diced
¼ tsp salt
Cook over medium-low heat about 10 minutes, until onions begin to color.
Add:
savory aromatics and assorted vegetable base, such as garlic, celery, fennel, carrot, mushroom, etc.
Continue to cook until vegetables are soft, then deglaze the pan by adding:
about ½ cup wine, tomatoes, juice, broth or water
Simmer about 7 minutes until nearly dry again, scraping any bits stuck to the bottom of the pan.
Remove to a large mixing bowl and toss with:
warm rice (above)
2/3 cup nuts or seeds, toasted and chopped
¼ cup dried fruit
¼ cup chopped fresh herbs
drizzle of good olive oil
Adjust salt and add freshly ground black pepper to taste.
Omnivorous Variations
Use organic bone broth in place of water or vegetable broth, and butter in place of oil to sauté.
If you want animal protein in this vegan pilaf, add pieces of browned, organic pastured meats or chicken.
❤ Hazelnut Meyer Lemon Jewels
Yields 12 cookies
This wheat- and cane sugar–free variation on Meredith McCarty's Linzertortes in Sweet and Natural is one of the best vegan cookies I've ever had. They are a sweet dream come true.
Preheat oven to 350°.
Place in a single layer in a baking dish:
1 cup raw hazelnuts
Toast until fragrant and crisped, about 10–15 minutes. Wrap in a towel to steam while they cool, then rub with towel to remove skins. Place in a food processor and chop finely.
Combine in a large bowl:
hazelnuts
2 cups + 2 Tbsp barley flour
1/4 tsp salt
½ tsp baking powder
Combine in another bowl:
½ cup light oil
½ cup maple syrup
½ tsp vanilla
2 tsp Meyer lemon zest, chopped
1 Tbsp Meyer lemon juice
Add wet ingredients to dry and stir to make a dough. Roll into 2-inch balls and make an indentation in the middle of each for:
1 Tbsp raspberry jam
Bake jam-filled cookies on an oiled baking sheet until golden, 15–20 minutes. Allow to cool slightly before serving.
Mielle Chénier-Cowan Rose has been a natural foods chef and advocate for natural living for over 15 years. Her latest book, Veganish: The Omnivore's Guide to Plant-Based Cooking, can retrain any person to enjoy healthier cooking and eating. Visit pieceofmyheartkitchen.com.
See also:
Healthy Eating: Roasties and Sea Salt
Veganish: How Plant-Based Foods Can Work for Everyone