Healthy Eating: Roasties and Sea Salt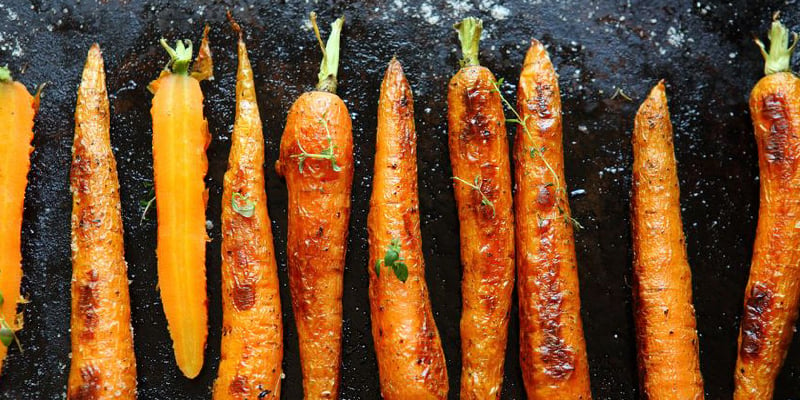 "When faced with an unfamiliar vegetable, toss it with olive oil and salt,
then roast it in a hot oven until it is soft. It will probably be good to eat."
— Mielle Chénier-Cowan Rose
Roasties are so simple and delicious that they are regulars at my table. I serve them as side dishes, taco fillings, and even savory breakfasts in place of home fries. They're a great accompaniment to non-vegetarian meals to encourage your family to eat more vegetables. I use a fairly hot, preheated oven (400°–425°) to caramelize the sugars in the vegetables, but the temperature is not necessarily important, so you can roast alongside other recipes that are more temperature sensitive.
Stir your veggies occasionally while roasting, and change the pan's position if the heat is distributing unevenly. Give them plenty of space so they don't steam; you want the moisture to evaporate so the sugars caramelize. I always salt veggies lightly before roasting and again just before serving to heighten the flavor.
If you use different vegetables in the same pan, be sure to cut them into sizes that will ensure even cooking. Cut denser, longer-cooking vegetables (like root vegetables or winter squash) into smaller pieces than softer, faster-cooking ones (such as mushrooms or summer squash).
GOOD CANDIDATES FOR ROASTING
Artichoke
Asparagus
Brussels sprouts
Cauliflower
Chile peppers and sweet peppers
Eggplant
Fennel, endive, and radicchio bulbs
Garlic
Mushrooms
Onions
Leeks and scallions
Roots of all kinds — potatoes, beets, parsnips, turnips, rutabaga, sweet potatoes, carrots, etc.
Summer squash, zucchini, pattypan, etc.
Tomatoes
Winter squash — butternut, delicata, kabocha, etc.
Note: Vegetables may be left whole or cut evenly into any size.
Roasted Root Medley
Yields 4 servings
The lemon is a nice surprise in this basic roasted vegetable dish. Be sure to cut longer-cooking vegetables into smaller pieces than those that cook faster. Serve with grains or pasta, and top with a sauce if desired.
Preheat oven to about 425°. Combine in an ovenproof dish:
2 lb assorted root vegetables, evenly chopped
2 Tbsp olive oil
1 tsp salt, to taste
2 cloves garlic, chopped
1 lemon, sliced into rounds (scrubbed and unpeeled)
1 sprig fresh rosemary, minced
Roast at about 425° until soft (usually anywhere from 20 to 50 minutes, depending on size and density of vegetables). Stir once or twice during cooking, and season again with a little salt before serving.
Leftovers
• Extra roasties are handy to have on hand to add to breakfast scrambles, salads, burritos, tacos, or pureed into a dip in a food processor by adding olive oil. Be creative with fresh herbs, vinegars or other seasonings.
Omnivorous Variation
• Roasties are a great side dish for non-vegetarian meals. They can also be added to frittatas, omelets, quiches, or scrambled eggs.
Optional Sauces
A simple way to add variety to roasties is by adding a sauce or glaze toward the end of cooking. Roast until vegetables are almost completely cooked through, then add your sauce and finish off with a few more minutes in the oven.
Balsamic Glaze
3 Tbsp balsamic vinegar
1 Tbsp maple syrup
1/4-1/2 tsp salt, to taste
Drizzle, then return to oven until somewhat dry, up to 10 minutes. Stir once or twice to distribute glaze. Adjust salt and finish with freshly ground pepper.
Creamy Tahini Sauce
1/4 cup tahini
1 Tbsp rice vinegar
1 Tbsp tamari
2–4 Tbsp water, to achieve a pourable consistency
Moments before vegetables are fully cooked, stir in the sauce and return to oven for 3–5 more minutes to allow the sauce to dry a bit and get sticky.
Miso Glaze
2 Tbsp miso
1–2 tsp honey or other syrup
2 tsp sesame oil
1 Tbsp rice vinegar
1 Tbsp grated fresh ginger
2 cloves garlic, finely grated
3 Tbsp water
pinch crushed red pepper (optional)
Add sauce and return vegetables to the oven for 5-8 minutes more. Remove and garnish with gomasio salt or thinly-sliced scallions.
Savory Roasted Shiitakes
Easy, meaty, delicious, and nutritious, these are among my favorite foods ever. Serve these roasted mushrooms whole as a snack or side dish, or add to sushi, soups, or pasta.
Preheat oven to 400° (the exact temperature is not crucial)
Combine in an ovenproof dish:
fresh shiitake mushrooms, left whole
salt, to taste
drizzle of olive oil to coat
dash of water
Place mushrooms stem-side down and roast for 10 minutes. Turn each mushroom over and continue to cook about 5–10 minutes more, until stems are cooked through. Sprinkle lightly with a touch more salt before serving.
Notes: Select mushrooms that are large, moist, and evenly sized, or pull out the smaller, faster-cooking ones as they are finished so as not to overcook them. If the stems are particularly thick or woody, slice them in half or even quarters so they cook thoroughly. The stems are the most nutritious part!
A Note About Salt
Natural salt is vital to our well-being. It helps regulate the water in our body and supports the nervous system. Unrefined sea salt provides about eighty trace minerals, many of which are now missing from our foods due to depleted soils. In moderation, it is an essential element in a healthy diet. If you're concerned about sodium, remove packaged foods from your diet and use quality salt at home. The flavor is more fulfilling, so you will need less, and you can gradually adjust your palate to appreciate less salt overall.
If you have a box of ordinary table salt in your pantry, move it under the sink and use it to clean your house. It is not a food. Salt refiners use bleach and chemicals that remove trace minerals, then add anti-caking chemicals to keep the product from absorbing water ("When it rains, it pours"). This keeps the salt from doing its primary job in the body, which is to regulate cellular hydration. Unrefined salt is much better for your body and is better tasting, but it may clump because it's a natural product that absorbs water from the environment. Add a few grains of uncooked rice to a shaker of unrefined salt. These will absorb some excess moisture and make the salt easier to pour.
When you eat refined foods such as flour, sugar, and salt, you create a cycle of depletion and imbalance. Your body will crave more of the same empty foods, perhaps instinctively seeking the nutrients that have been removed. When we overconsume salt, our body sacrifices water from its cells to eliminate the excess sodium, leading to imbalance and illness.
Salt isn't just salty. It enhances flavor, even in sweets. Nurturing an intimate relationship with quality salt can help you become more intuitive in your cooking. Most chefs measure salt with their fingers, which I recommend. The physical contact with the crystals seems to tell me how much I need. Add a little salt along the way as you cook to develop flavors from the get-go, and use salt to draw moisture out of vegetables as you saute. Salt your blanching water "like the sea" to heighten flavors of the vegetables.
Pure, whole salt doesn't need to cost much more than the cheap stuff, and is well worth it. These salts come in a variety of textures and colors depending on the minerals present. Many natural chefs and home cooks swear by Himalayan crystal salt or Celtic sea salt. I love the texture and taste of Lima salt from France. Even if the label says sea salt, it may still be refined salt with chemical additives unless the package clearly states that it is unrefined. Find the ones that feel and taste good to you, but always read the label to make sure they are unrefined and contain no additives.
Mielle Chénier-Cowan Rose has been a natural foods chef and advocate for natural living for over 15 years. Her latest book, Veganish: The Omnivore's Guide to Plant-Based Cooking, can retrain any person to enjoy healthier cooking and eating. Visit pieceofmyheartkitchen.com.
Veganish: The Omnivore's Guide to Plant-Based Cooking makes a welcome holiday gift!
See also:
How to Pickle Beets
Awaken Your Intuitive Relationship to Food