Healthy Summer Fast Food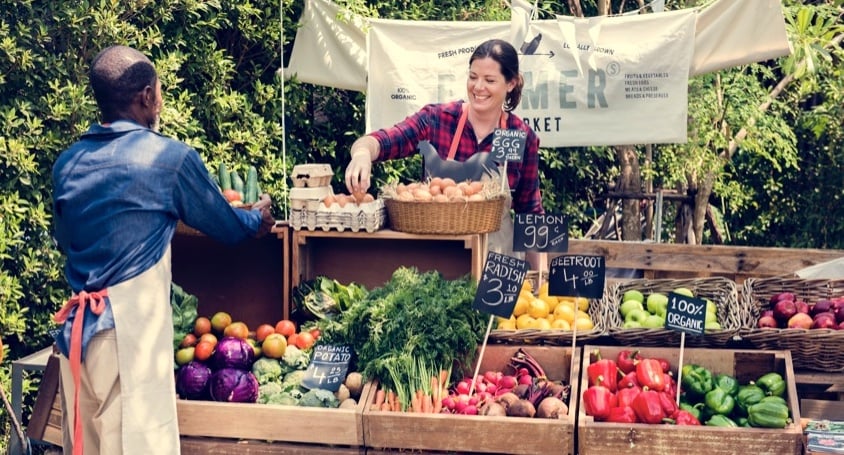 The New England growing season really kicks into high gear by mid-summer and it's a wonderful time to stop by a farmer's market and see what is available. With the growing interest in local food there is not only an increasing variety of produce but also more markets to shop at, which makes eating locally that much easier. Try a new green, experiment with an unfamiliar vegetable; the summer season makes for an exciting time in the kitchen!
In addition to shopping for local food it's also important to purchase as much organically grown produce as you can manage. Many local farms implement organic methods but may not necessarily be certified. There are also tremendous challenges growing some crops in New England, like stone fruits, which are usually sprayed prior to fruiting. The beauty of buying directly from a farmer means that you have the opportunity to learn about their methods and gain some understanding about the difficulties of the New England growing season. Whenever I lose some of my own crops to a long list of critters and weather challenges I say a quiet blessing to all the farmers who work so hard day in and day out to feed us…after I've stomped around shouting at the squirrels!
Salads are an important feature of any meal but particularly so in the warm months when they can be used as a simple side, or with a few additions become the meal itself. They can be a tasty few bites of raw goodness or a large satisfying bowl of greens, vegetables and grains. Salads can also be a great way of using up odds and ends of vegetables, the single carrot or last bit of cabbage, and incorporating leftovers like cooked beets or grains. I will often make a basic salad and then put out small bowls of add-ons so people can choose how they would like to enhance their salad. This is particularly great for family gatherings or when you have guests for dinner and are not sure of everyone's eating preferences. Sliced avocado or hemp seeds can be the perfect salad addition for one person and a complete turnoff for someone else. I have also found children more receptive to trying unfamiliar items with this type of meal set up.
Quick "Make In The Bowl" Vinaigrette
1/4 cup white wine vinegar (7% acidity)
1 clove garlic, minced
1 tbsp Dijon mustard
1/2-3/4 tsp salt
1/8 tsp black pepper
3/4 cup olive oil
1 tbsp flax seed oil* (optional)
Pour the vinegar in a medium sized bowl. Add crushed garlic, mustard, salt and pepper. Whisk in the olive oil and flax oil.
I mention the acidity of the vinegar because they do differ and can throw off a recipe a bit. Feel free to adjust to your taste; some people like a dressing that is heavier on the oil or on the vinegar, salt, etc. Once you get comfortable making this you won't need to measure anything; just splash some vinegar in a bowl, season with what suits you and whisk in the oil. Taste and adjust as you like. Make this at the beginning of your meal preparation to give the flavors a chance to meld.
*If you have flax see oil on hand it's a great addition in small quantities to any salad dressing. Research indicates that flax seed may have protective properties against some cancers, cardiovascular disease and inflammation.
Easy Summer Salad
small head of red or green lettuce or half of each
2 tbsp chopped parsley
1/4 cup shredded carrot
1/3 cup chopped cucumber
1/3 -1/2 of a red pepper, sliced or chopped
2 tbsp sunflower seeds
1/4 cup dried cranberries
1 tbsp hemp seeds
Mix greens, parsley, carrot, cucumber and red pepper together with enough dressing to lightly coat. Sprinkle sunflower seeds, cranberries and hemp seeds on top. This makes a colorful, tasty salad; the cranberries add a nice sweet/tart flavor while the seeds boost the nutrition of the salad while adding a satisfying crunch! I prefer to tear salad greens into bite size pieces rather than chop so that any leftovers won't get that knife edge discoloration. I add parsley to almost every salad I make. It adds great flavor and color and is a nutritional powerhouse with more vitamin A than carrots and more vitamin C than oranges. It is a potent antioxidant, anti-cancer, anti-inflammatory, heart healthy addition to anything you're cooking. In addition to salads, parsley is a perfect addition to a stir-fry or soup.
While I was making this salad I noticed a couple of ripe avocados that needed some attention so I made up the following spread that worked really well on some rice chips.
Avocado Spread
2 ripe avocados
2 tbsp chopped onion
1/4 cup seeded, chopped red or green pepper (or yellow or orange)
1 1/2 tsp minced jalapeno (more if you like it spicy)
1 tsp salt
1/4 cup chopped cilantro
1 tbsp fresh lime or lemon juice
Insert a knife at the top of your avocado and run it all the way around the edge. It will then split into two and you can easily take out the seed and scoop out the flesh with a spoon. To juice lemons and limes, soften the fruit by rolling it on the kitchen counter under your palm for a minute, then cut it in half. Using a fork, twist the fruit around to obtain the juice, draining it into a small bowl, then scoop out any seeds and measure the required amount. Put all your ingredients in a food processor and blend until smooth with just flecks of colored ingredients in the avocado. Great spread on a bagel, crackers or chips.
I make a point of making more of almost everything that I cook. That means when I'm making a salad I'll do up a larger salad than what I know we'll need, whether I'm making one for myself or the family. I'll put the leftover, undressed salad in a storage container and then it's ready, along with extra dressing and the avocado spread for a quick meal for someone. The best kind of fast food!
Take yourself on a food adventure this summer and stop by as many farm stands and markets that you can find. Get to know the people who grow our food and step outside your eating comfort zone. Take home a green that you may not be familiar with and do some experimenting. Summer is a wonderful time to live in New England — enjoy the bounty!
Karen Masterson is the owner of Johnny's Luncheonette, a retro diner open for breakfast, lunch and dinner, offering well-sourced food to a diverse community. The "anytime place for everybody" is located at 30 Langley Road in Newton, MA. Open Sun-Wed 8-3 and Thur-Sat 8-8. Call 617-527-3223 or www.johnnysluncheonette.com.
Find local holistic Crystals and Stones Resources in the Spirit of Change online directory.