Herb Gardening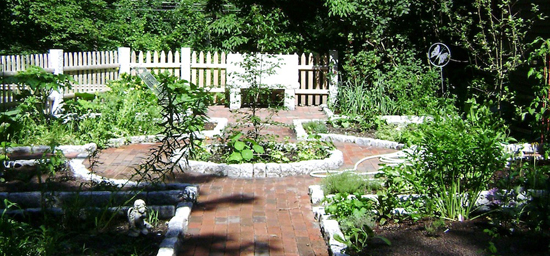 If you've never experienced the joy of accomplishing more than you can imagine, plant a garden. ~Robert Brault
Is there anything better than a gentle summer breeze with the scent of herbs from the garden? Herbs are easy to grow, combine well with perennials and vegetables or can be grown on their own in a patio container, garden, border or just about anywhere.
Herbs are defined as being any plant that has a culinary, medicinal or household use. That encompasses a large variety of plants, and herbs can be used for many purposes. Herbs also add beauty to the garden and can be grown as ornamentals; a grouping of echinancea (coneflower) or lavender in the garden is lovely just for its flowering.
References to herbal use are found in all ancient civilizations where herbs and spices played an important part in establishing trade routes. King Merodach-baladan II of Babylonia (721-710 BC) wrote perhaps the world's first treatise about horticulture, which included details on cultivating coriander, garlic, thyme and other herbs. Herbs were grown and used within the cloistered walls of monasteries for medicinal purposes; the monastery at St. Gall in Switzerland documents 16 herb beds in the year 830 AD.
The fall of the Greek and Roman empires led to the Dark Ages in Europe (641 AD to the 12th century), when herbal knowledge was preserved in the kitchens, gardens and fields of wise women and healers. The women called herbs "simples" because they were so attainable and easy to use. Herb knowledge later became formalized, and the Chelsea Physics Garden, founded in 1673 in London, is one of the oldest public herb gardens in existence. Also called the Apothecaries Garden, it was established to train apprentices in identifying plants. It is still open to visitors and a wonderful place to visit if you are ever in London.
After the Industrial Revolution and the move from the countryside to towns, herbs became less important in the kitchen, but now we have a revival in all manners of use. Here are some favorite herbs in the three basic categories.
Culinary
Most people think of herbs and cooking. The range of edible herbs and the number of ways of using them was much greater in the past than seen today. A salad for King Henry VII, known as a bit of a "foodie," included over 50 leaves, buds, flowers and roots. Thomas Tusser, a 16th century poet and farmer, published a garden plan for farmers' wives recommending the planting of 70 different salad and pot herbs. Herbs enliven any dish and can supply extra nutrition, zest, scent and beauty to otherwise ordinary dishes. Simple salads acquire amazing flavors when a few fresh herbs are tossed in. Herbs also offer an opportunity to be creative and break the routine of daily meal preparation, making cooking more of a pleasure.
Today we think of parsley, sage, rosemary and thyme; Simon & Garfunkel's song brings to mind four of the staples of culinary herbs every herb garden should contain. All four plants come in different varieties, colors and flavors. My favorites are flat Italian parsley that is especially delicious in a pesto or salad, pineapple sage that is a tender perennial with beautiful red flowers and a fruit flavor, prostrate rosemary with its flowing form that makes it great for containers and lemon thyme, which I use in a lemon tea bread.
But everyone has his or her favorite culinary herb. Basil is one of the most popular. An annual that grows in full sun and heat it is delicious paired up with fresh tomatoes and mozzarella cheese with a drizzle of balsamic vinegar. Basil can also help repel insects on your tomatoes when they are planted together, an added benefit.
Culinary herbs should be grown next to your kitchen door if possible to encourage using them while cooking. Also called a "kitchen garden," most grow well in containers so you can have a collection of culinary herbs right by the back door.
Medicinal
There is a lot of crossover between culinary herbs and medicinal herbs. Most culinary herbs have medicinal uses, as they are rich in vitamins and other chemicals. Dill has long been used in cooking with fatty foods to help digestion, mint is also used for digestion, parsley is high in vitamin C, A , calcium and iron, and oregano is highly antiseptic and often used for colds.
Also beneficial in the garden are medicinal herbs that are grown specifically for their medicinal properties. Valerian is a beautiful plant in the garden with an incredible sweet scent while in flower, whose roots are used for their sedative properties. Black cohosh is one of the few herbs that thrives in partial shade and is a large landscape plant with white plume flowers whose roots are used to help with hot flashes. Marshmallow, comfrey, calendula, hops, wormwood, arnica, yarrow, echinacea, and lavender are but a few medicinal plants that are perennial, grow in New England and add beauty to the garden.
There are many fine books, local herbalists and online resources available to explore the medicinal uses of herbs for home use as they have been used for thousands of years.
Household
Household herbs were used much more in the past than we use currently. Bedstraw, a short sprawling perennial with small yellow flowers and a pleasant smell, was strewn on floors in medieval times for its fresh smell and to collect dirt. Rosemary was burned in sick rooms. Herbs, such as alkanet, were used for dyes, and lemon verbena and lavender were fashioned to be worn to repel insects. Potpourris are still popular that use orris root as a fixative, which comes from the Iris germanica plant, a lovely white iris with a purple streak. Shampoos, body products and household cleaners can all be made with herbs and are increasingly being seen on the commercial market.
Growing your own herbs is not difficult. Most herbs like full sun, good drainage and good air circulation. While herbs are not generally fussy about soil I find a good organic compost dressing twice a year added to the garden makes for large, full, aromatic plants. Herbs tend to have minimal problems with insects and disease and can be used in the garden to help protect vegetables from these problems.
Herbs work well with any garden style, although they seem particularly suited to a formal garden style. Knot gardens and kitchen gardens are popular historical garden styles that are commonly used today.
Knot gardens are a classic herb garden design that uses plants to form a design or border, typically geometrical, which gives the appearance of the plants forming knots. Perennial plants such as boxwood, savory, santolina or thyme are used for the knot garden border and some gardeners use annuals that can be changed every year such as lettuces, marigolds and even bush basil for the borders. The center area of the "knots" is filled with different herbs showcasing contrast in color and texture. The New York Botanical Garden has an herb garden that illustrates the use of knots and borders beautifully in all seasons. See www.nybg.org" for samples.
A popular style garden in recent years is the potager, a kitchen garden containing vegetables, herbs, edible flowers and fruits that harkens back to the French Renaissance garden style. A well-designed potager can provide food, herbs and cut flowers in an aesthetically pleasing way with little maintenance. Raised bed gardens and containers are used in the potager and both are well suited to herbs. Containers are extremely popular for gardeners with limited space.
Harvest perennial herbs when the flowers develop buds as most herbs have maximum flavor in their leaves right before flowering. Annual herbs such as basil should be "pinched back" and the flowers removed to encourage growth in the plant and provide more leaves for use. Most herbs flourish from being continually used so don't hesitate to harvest your herbs throughout the growing season.
Linda Russell is an herbalist and owner of Scentsibilities, an herb and aromatherapy shop at 750 Main Street, Boylston, MA. The shop provides herb gardening workshops and a wide range of herb plants in season. Linda completed herbal training and certification with Rosemary Gladstar at Sage Mountain in Vermont, Martha's Herbary in Connecticut and aromatherapy studies through Aroma Studios in New York. She can be reached at www.scentsibilities.com