Here Kitty Kitty! The Great Mountain Lion Hunt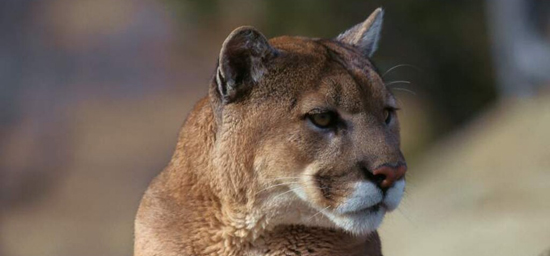 Right before I headed out to mentor some workshops at this year's Spirit of Change annual Harvest Gathering in Ashby, MA, I got an email from a good friend of mine, concerning a potential mountain lion that was exhibiting the classic signs of a big cat about to go bad.
As a tracker, I have been trained to be constantly on the alert for patterns of all types, whether from tracks, sign, an individual, a group, or cluster of people, or the animals and birds themselves. The ancient scouts were the masters of this, always watching, observing and analyzing the ruts and patterns of everything, how they all fit together, and how they affected everything else. In the Apache tongue, both "tracking" and "awareness" are the same word. It is impossible to walk in the forest and not affect anything.
The moment you open your door, the birds in your yards are already screaming out alarms and warnings to everything else within hearing distant. In turn, that message gets relayed even further out into the wilderness. So by the time you have walked 50 feet from your front door, any half-aware animal is already taking the appropriate actions to keep it safe and hidden. And they will always have at least 2 minutes to take whatever action they need to, without hurrying, before you even get any chance to get close to them. It's only the un-aware animals that usually get seen, the ones that haven't had a near brush death experience to "wake them up." The young and the teenagers are the ones you see in your headlights crossing the roads, and the ones you see running away from you in the woods. For every fleeing animal you see, you have walked by at least a dozen or more which know how to listen to the "concentric rings of nature." At that level of awareness, they choose who they let to see them.
Any big cat that is over 4 years old is awake and aware. They are masters of invisibility. Unless you know and understand the same concentric rings and "dead spaces" that they know, they can (and will) remain unseen. What my friend Joe and I were worried about was a pattern that the stories we had been hearing fit. They seemed to point to the two worst-case scenarios/patterns for big cats. What we didn't want to see, if these stories proved to be true, was the end result of that pattern, which usually results in small children being killed and eaten. This is what was keeping me from sleeping at night after Joe first contacted me about it. I knew I had something to do, but needed to know more of the truth first. It was on my mind constantly while I was at the SOC Harvest Gathering.
The two worst case scenarios are when an older male who can no longer hunt its normal prey (deer, etc.) because of its wounds, arthritis, bad teeth, etc., starts to kill the easier prey such as livestock, dogs and cats. This is usually an older male that is very wise, but with injuries that hinders its normal lifestyle. Once it becomes accustomed to the easy prey, it gets bolder and starts taking dogs and cats. It might then start thinking that small children are easier to get than a small calf, sheep or goat.
The other worst case scenario is when a younger 2-year-old male gets kicked out of his Momma's territory (and protection) and there are no open territories left in that area. Everywhere the 2-year-old male goes, there is a bigger, dominant male which will kill it. Since it can't leave that area without getting killed, it is usually driven out of the mountains by the dominant male and with no other place to go, starts hanging out in a village. It is using the people of the village as a human shield. Since there isn't a large population of deer or its other normal prey living in the village, the young male has to eat what it can. In this case, it also usually starts off with a few livestock, then the dogs and cats, and then possibly, small children.
Neither of these males can be trapped and relocated. Wherever they would get dropped off, no matter how remote, they would be dead within 48 hours, again by the dominant male into whose territory they have just been released. There is only one choice, and as hard as it is to accept, it has to be done before the worst-case scenario/pattern progresses to small children. Please, don't get me wrong, I'm all for more mountain lions, wolves, coyotes and other predators out in the wild. I'm also for natural selection. But our children need protecting. And so with a heavy heart, I left the Spirit of Change gathering early, went home to pack and start the journey to sort it out.
Setting Out
We measured and found that the tracks averaged 3.5" and found what looked like at least one of the kits and possibly the second one as well. A little farther up I noticed a lay in the grass under some brambles. This was fresh, very fresh. While Joe took a picture of it, I looked back down the trail and saw from where she was laying, she was watching us get out of the truck and gear up about twenty minutes ago. The grass was just starting to spring back. She was a little over seven feet long, not counting her tail. She was already onto us, and now could be anywhere. We knew we were being watched from the bird alarms, so we doubled up our awareness and kept tracking.
The going was slow since there were several Y's and T's in the trail and we wanted to stay on her freshest tracks from twenty minutes ago. At places, the brambles were four to five feet tall with deer trails going through them, so visibility was severely limited at times. We had to crawl down these on our hands and knees, one of us keeping watch as the other one crawled, and tracking all the way.
Meanwhile, the bird alarms were screaming all around us. Some of the alarms were due to our presence, but most were about the cat and her young circling us, trying to figure what we were really up to, and what we were doing in their home. Off in the distance, I saw an old beech tree which had broken off and fallen in one of the recent storms. I felt a pull to go over there and look for signs. We had so far found lots of tracks and the lay where she crouched, where she watched us get out of the truck, but no scratch posts, scat, hairs or other signs yet. Joe went around the other side of the tree while I covered him, and we decided to just head up to the top of the mountain and look for the rocks and caves. The brambles here were too thick for us to effectively cover much ground safely, and with the birds screaming "cat" all around us, we wanted to get back out into more open woods, where at least we could see more than a few feet at a time. We both could feel that now we were the hunted.
Mountain lions have sensitive endings on the tips of their fangs, and are able to leap great distances from a tree or rock outcropping. They land directly on the back of their victim, locate the vertebrae at the back of their neck and sever the spine neatly and cleanly, giving the victim no time to do anything, not even to scream. Stories that my teacher Ingwe had told me flashed through my mind as we stalked up the mountainside. Ingwe, now almost 90, is 4th generation British, mentored by the Akumba and Zulu tribes in Africa since he was a lad. I had just returned from his home a few weeks prior to this, and some of his man-eating leopard and lion stories swirled though my head. (Ingwe is Zulu for "leopard.")2
Ingwe was also good friends of Jim Corbett, another tracker who hunted many man-eaters in India, and whose books I had recently been re-reading, preparing me for this undertaking. The story that stood out from one of Corbett's books was of two men sitting in their thatched hut in India having dinner. One man passed a bowl of food to his friend, and the friend scooped out his meal from it. When he went to pass it back to him, he looked up and realized his friend had left. He was upset his friend would just walk out on him like that. Later, when the tracks were read, a leopard had watched the two in their hut, figured out their patterns and ruts, and when the second man was looking down getting his food, the leopard stalked in, severed the first man's spine and dragged him off without being seen nor heard, nor giving the man time to scream a warning. The man's body was found over a mile away, jammed into the "Y" of a tree, partially eaten.
Then there also was the movie based on a true story that I had just watched again, "The Ghost and the Darkness" about two man-eating lions in Africa at the turn of the century which was also playing in my minds eye. I clutched my medicine pouch and continued onward and upward through the dense brush.
High Awareness Mode
We each took separate overgrown logging trails so we could look for more signs. Although it was safer to track together, we wanted to gather as much tracking data points as we could. This meant we would have to split up. Although we were physically apart, I did the same thing with Joe as I did with the cougar. I pictured Joe's face in my mind's eye, side by side with the momma cat like two separate video screens and threw out a "thread" to him. I now had my link to him, and I know he was doing the same thing for me. As I climbed up, I kept playing both video screens in my mind's eye.
I was also keeping my physical eyes open in wide-angle vision, scanning everything in high awareness mode, including my feelings and thoughts while paying strict attention to the birds. At one moment, I heard Joe start to chuckle, and then a second or two later, not more than ten feet in front of me, a grouse flew out, startling me and causing me to flinch and swing my weapon upon it. Joe had picked up on the grouse through his mind's eye, and told me later about it. He said the look on my face would have been priceless, if anyone was around to see it.
A few minutes after I had flushed out the grouse, I felt Joe get tense, look up and around, and then start moving uphill with some speed. I stayed still, listening, watching and fine-tuning all of my senses. I felt his tension eased a few minutes later, and I continued onward. At this point, we both were sweating and it wasn't from the heat.
As I climbed upwards, I found some good pugmarks of the cat, but they were a few days old. I followed them, hoping they would still lead me to her home, since they were going uphill, directly with a purpose. A 200+ pound cat made them about two days ago. I got up near the top, and then lost her trail in the brambles. I looked around and didn't see the big rocks we were looking for. From the sun behind the cloud cover, I figured out I had drifted too far to the north. (My left dominance thing!) I did a cardinal whistle to Joe, and heard him whistle the proper signal back. Then I scouted out the ridge I was on, and saw no cat tracks, no sign at all. Hmmmm…..
I went to a small clearing and watched Joe work his way through the thick overgrown brambles and pull up beside me. When Joe had first started to work his way up on the other side of that beech, he had hit a jackpot. Almost every tree had been scratched and some had climbing scratches all the way up, like the kits were playing and climbing up and then sliding down. I asked why he didn't whistle for me to come over (we have a whole set of bird calls and hand signals we use to communicate when out on tracking cases to avoid all unnatural human sounds), or "pop" me a "thought bubble" to get me to go over to him. He said he felt too nervous being there, and just wanted to leave that area. We found out later why he had felt that way, and he was dead right. It was safest for us to just leave that area. We weren't invited.
We went more to the east to get on top, finding very few cat tracks, all of which were very old. We went back down into the basin, and crossed a small ravine and finally found the rocks where the locals thought they lived. It was really easy with our tracker trained eyes to figure out that they didn't live here, nor would they ever. The ground beneath all of the rocks was soaking wet, with small streams all around. We checked them out and found some cat signs, just a few tracks mostly in the moss at the edges of the big rocks. Because of the real story we heard from the farmer, and from all of the tracks and signs we had just found, we knew that this was a healthy mountain lion with very little danger of any small children being hurt or killed. We no longer were hunting the cat, just tracking her and getting a glimpse into her secret world. It was a gift to have seen so much, so quickly. Once we knew we were no longer hunting her, we let down our guard. That was a mistake. A big mistake! The return trip is always more dangerous.
Many Happy Returns
We both knew that the old beech tree with all the scratches was their home. And it was only about one quarter to one half mile behind the church. We walked back, and as we got closer to the old beech, we noticed that the bird alarms picked up again. We also heard some deer scramble away. And then the funniest thing happened. After we passed a deer that was bedded down (which we didn't see), it bolted from behind us and ran straight ahead of us…fast…so fast, that it was actually stumbling. It almost ran us over. We joked about the "dumb" deer and how much it had been confused to run the wrong way, ahead of us, instead of away from us. Maybe it was a dumb, unaware, teenage deer. Then it dawned on us. It was much smarter than us. We were the dumb people! It only had to run faster than us, since what had put it on the move was the cat. It was more afraid of her than us, so put us slower, less aware humans between the cat and you, and you live to see another day…
The cat was now very close, and in stalking mode from what the bird alarms were telling us. But we had forgotten to pay attention to them for the last 15 minutes. After over five hours of being in high awareness mode, we were now pretty drained and frazzled. We let down our guard at the wrong time. We switched back into ultra-high awareness mode using the last of our strength, and made for the truck, covering our backs well.
The rains started up hard right before we got back to the truck. We were both happy to be alive, and even happier to know that she was a healthy cat, and had a very good chance of staying there, undetected for a long time, with no real threat to the children of the valley. She taught us a lot in those short, but intense 5 hours, a life lesson that we both thought we already knew, but realized we were just then starting to understand. It was very humbling and we kicked ourselves for being complacent at the wrong time. It is said never to take the same path twice, especially on your return trip, since that could mean your death. Although we were careful not to take the same path twice during this journey, we did something just as blind that could have cost us dearly if we had tracked a "bad cat." Just because we had decided to give up the hunt, she hadn't. Never assume anything. Pay attention to your ruts and get out of them. And always listen to the birds!
Notes
The Tracker School, PO Box 173, Asbury, NY 08802. 908-479-4681. http://www.trackerschool.com
Check out the links page on http://www.VirtualMountain.org for Ingwe's Nature Trail and more information on this most amazing tracker, storyteller and grandfather. You can also visit http://ingwe.earthway.net or email at ingwe@earthway.net
Bruce Carroll is a tracker, Reiki Master and certified herbalist with over 25 years of tracking experience. He is the founder of Virtual Mountain Wilderness Foundation where he leads numerous awareness, wilderness skills, healing and tracking programs. You can reach him at 603-585-3094 or write to PO. Box 84. Fitzwilliam. New Hampshire. [03447]. Email: bc@virtualmountain.org or visit http://www.VirtualMountain.org