Holiday Gifts That Help Transform The World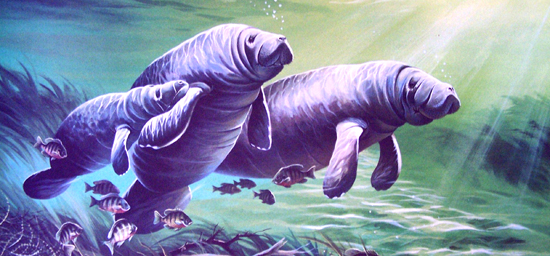 The holidays are only weeks away and it's time to start thinking about shopping. Not! When you consider it's likely that few people you know actually remotely need anything, why bother?
For most of us exchanging gifts is like licking the whipped cream on top of the ice cream on top of the icing on top of the cake. Instead of more stuff, how about donating or buying in your loved one's name a unique non-material gift that actually does something great for another human being, a fellow creature or the planet? Experience the warmth and satisfaction that true generosity of the heart and wallet bring by sharing your passion for humanity and the planet with your family and friends this holiday season. Many of the non-profits listed below will send a card or certificate explaining your donation, literature, and if applicable, a photograph. Some of these holiday gifts are even tax-deductible for you!
Adopt-A-Manatee

Protecting the Meek of the Earth
http://www.savethemanatee.org — (800) 432-5646
There's Brutus and Whiskers and Elaine and Lucielle, and there's Wonder Woman and Doc, and Bubby too….You might have seen them in Florida, but now you can adopt one of the beguiling, trusting — and unfortunately endangered — manatees.
Adopt-A-Manatee
, co-founded by Jimmy Buffet, facilitates research, rescue, rehabilitation (propellers are a constant danger), legal advocacy, education and public awareness projects. $2000 prints Public Awareness Brochures for State Parks; $5000 prints/distributes Manatee Protection Tip Decals for boaters; $10,000 publishes educational materials for all Florida high school teachers.
Camp Heartland

Kids with AIDS Just Wanna Have Fun
http://www.campheartland.org — (800) 724-4673
From silly songs and late night talks, to hikes in the woods and new challenges like scaling the climbing wall,
Camp Heartland
in Wisconsin provides children affected by the isolation and challenge of HIV/AIDS with the opportunity to experience the pure joys of being a kid. Since 1993, the camp has welcomed hundreds of children from across the country. Campers now return year after year to seasonal reunions and unique Life Enhancement Programs designed to help maintain and build upon the skills developed at camp and to provide confidence, hope, and powerful memories that lend strength when times are tough. $100 stocks the infirmary; $1,500 sends one child for a week; $12,000 for "your" cabin of 8 lucky campers.
Camp Kesem National

Into the Woods
http://www.campkesemnational.org — (925) 962-9604
Sometimes when cancer strikes a family, energy and finances are focused on the patient's survival with little excess for a frightened and bewildered child or sibling. Escaping to a week of summer camp can be magic, where the child sings, swims, hikes with peers facing similar health challenges in their family.
Camp Kesem National
works with student leaders and staff on college campuses to provide them with tools and guidance — manuals, site visits, annual leadership support — to build self-sustaining Camp Kesems around the country. $50 sends a camper to ropes course; $100 stocks the arts & crafts supplies; $250 sponsors a Camp Kesem reunion; $500 sends a camper for a week.
First Light Partners

On the Wagon in Ukraine
http://www.firstlightpartners.org — (541) 953-1972 — flp3@aol.com
Among the most serious social and health scourges in the former USSR is the rampant disease of alcoholism.
First Light Partners
will be the first 12-Step Therapy Treatment Center for alcoholism in all of Ukraine. Located on the beautiful grounds of a former sanitarium, they have recently secured a building with space to house 25 patients, provide office and living space for staff, interns, house managers, and an outpatient treatment center. Your gift of $65 provides three meals a day for one month; $145 covers the monthly phone bill; $188 for family of three for Family Treatment program; $200 for counselor's wages; $328 rent for one month.
Friends of Africa Foundation

I'd Walk a Mile with a Hippo….Roller
http://www.friendsofafricafoundation.org — (530) 758-8290
In Southern Africa, access to clean water is one of the most serious challenges in everyday rural life. Over 67% of women still walk daily over a kilometer for water stooped under the burden of their heavy buckets. The ingenious design of the 90-liter Hippo Water Roller won the 1997 "Design for Development" award in South Africa, and is based on an old-fashioned lawn mower — a heavy-duty plastic barrel rolled on it's side. To date the Africa Foundation has distributed over 3000 hippo water rollers in the provinces of Limpopo, Mpumalanga and KwaZulu-Natal. For $60 you can make an immediate difference in the lives of rural women and children.
Healthy Tomorrows

Rescue a Girl from Genital Mutilation in Mali
http://www.stopexcision.net — (617) 776-6524
The tradition of female genital mutilation (FGM) or excision has been plaguing women for thousands of years, particularly in some 20 African countries. During the last 20 years, Africans have started resisting the practice and slowly are viewing it as a violation of the human rights of the girls and women. Through print and radio campaigns, and a music CD with well-known singers from Mali, pressure against this brutal custom is being exerted and they are putting the health of their girls first. Through
Healthy Tomorrows
(based in Massachusetts) $30 buys a tape player; $75 — stop excision education kit for a local school; $100 provides an alternative employment start-up salary for an ex-excisor; $300 buys a stop excision advertisement in a major newspaper.

http://www.sover.net/~imlusa/ — (802) 824-5078
The International Mayan League, directed by Felipe and Elena Ixcot of Weston, VT has been involved for several years in the building of a midwife health center in their native town of Concepcion Chiquirichapa in Guatemala. The two-story health center project stands as a beacon of hope and promise for the midwives and children of many surrounding towns, since 90% of indigenous communities live in poverty or extreme poverty inthis country. In addition to financial donations from many Americans already contributed, cultural exchanges between American and Guatemalan midwives have been crucial to the project's strength and success. 100% of all donations received go directly towards building completion. Your individual participation can directly affect the lives of so many.
Moveon.org

Regime Change in Washington
http://www.moveon.org
MoveOn.org is working to bring ordinary people back into politics, a catalyst for a new kind of grassroots involvement, supporting busy but concerned citizens in finding their political voice. Their international network of more than 2,000,000 online activists is one of the most effective and responsive outlets for democratic participation available today. Voting is just not enough these days. With today's political system that revolves around big money and big media, most citizens are left out of the informational and decision-making process that ultimately results in the election of our officials and the passage of laws of the land and state. When it becomes clear that our "representatives" don't represent the public, the foundations of democracy are in peril. Make a donation, volunteer, and be sure to be part of the wave of progressive voters that aim to reclaim America.
Nonviolent Peace Force Peace Bonds

Investing in Peace
http://www.nonviolentpeaceforce.org — (651) 487-0800
If you say No to War, then help pay for Peace with
Nonviolent Peace Force Peace Bonds
. All proceeds from the 100,000 bonds, selling for $10 each, go toward the development of the Nonviolent Peace Force and to fund their pilot project in Sri Lanka, a country striving for peace after nearly twenty years of civil war. (The bonds mature in 2010.) No only do these bonds represent a sound investment but they also make a sound investment in our futures, all the while taking a small bite out of the inflated military budget since they're tax deductible!
Seva Foundation

The Gift of Second Sight
http://www.seva.org — (800) 223-7382
From the
Seva Foundation
(now in its second decade), founded by the venerable Ram Dass, you can select from the Gifts of Service program, among them a cataract operation. More than 45 million people in the world today are blind. Much of this blindness is treatable or preventable. A mere $40 donation and a 15-minute operation can restore sight — nothing less than a miracle! Your blessed friend or family will receive a beautiful card describing the gift you have shared. And for $100 you can help bring clean water to the Mayans in Guatemala by purchasing pumps, piping, and tools.
The Osceola McCarty Scholarship

A Washerwoman's Legacy
http://www.pr.usm.edu — (601) 266-5602
Born in 1908, as a young girl growing up in Mississippi, Osceola McCarty dreamed of becoming a nurse. Instead, she dropped out of school in the 6th grade to take care of her family by taking in laundry. For 60 years she lived a frugal life, saving what she could. To everyone's surprise, in 1994 Osceola donated $150,000 to the University of Southern Mississippi to provide scholarships for deserving Black students. Osceola was feted in the media, at the White House, and by the first scholarship recipient, Stephanie Bullock. The unexpected philanthropist died in 1999, but her dream lives on through contributions like yours that have now sent a dozen people to university.
The Hunger Site

Gifts that Give More
http://www.hungersite.org — (888) 881-5271
Whatever your views on the invasion of Iraq, certainly Iraqi children are not to blame; yet they are suffering. The health care system in Iraq is in ruins, food is inadequate, and medical care and clean water have left children vulnerable to disease. Mercy Corps and its global partner, Peace Winds Japan, operate mobile medical clinics that provide critical health care and medicines to families in northern Iraq. The Mercy Medical Kit ($40) provides health care access to ten families; the Blanket Kit ($42) provides blankets for an Iraqi family of six displaced by conflict. The Iraq Water Kit ($70) provides watering cans and hygiene kits for three displaced families for one month.
The Smile Train

Change the World One Smile at a Time
http://www.smiletrain.org — (877) KID-SMILE — treinhart@smiletrain.org
Millions of children around the world suffering from cleft lips and palates are condemned to a life-time of malnutrition, isolation and shame. The good news: with as little as $250 ($25 provides sutures; $50 provides medication for one surgery) and as little as 45 minutes, you can bestow on a child a new start on life. This year the Smile Train will deliver cleft surgery to over 35,000 children all over the world in Russia, Asia, Africa, the Middle East and South America. And 100% of your donation goes toward the program; overhead is paid for by the Board of Trustees.
Vietnam Veterans Restoration Project

Healing the Wounds of War
http://www.vvrp.org — (707) 923-5229
The mission of the Veterans Viet Nam Restoration Project (VVRP) is to send teams of veterans to Viet Nam to reconcile with the Vietnamese and to heal the emotional and spiritual wounds suffered by both sides in the war. In the last 14 years more than 100 men and women have had the unique experience of working alongside the Vietnamese in undertaking humanitarian projects such as constructing clinics, houses for disabled veterans, vocational training centers, and kindergarten classrooms. Team members cover their own expenses, but your gift covers the costs of projects and airfare for a vet.
Bill Strubbe is a freelance writer on the West Coast.