Holiday Home Preparations For A Sacred Season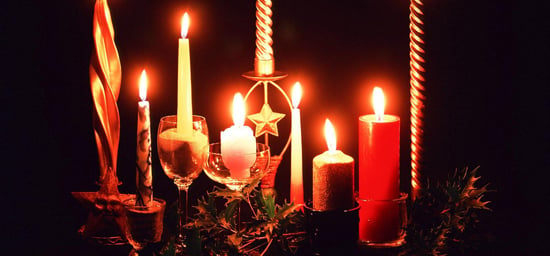 The holiday season will be upon us soon. This has traditionally been a time of family gathering and celebration as we extend ourselves to others in love and generosity. This is also a time when Spirit and Earth come together bringing sacredness and holiness to our everyday lives.
One way we celebrate the season is through the tradition of decorating and beautifying our homes. The ancient tradition of altar creation is also a sacred and magical way of creating a bridge between Heaven and Earth. Incorporating family heirlooms, special ornaments, and spiritual images on altars are ways of bringing joy and light into our personal spaces and can be a reminder of the true meaning of the season. In light of the recent tragic events it will be particularly important that the true meaning of the season resonate within us — that of love, joy, and new beginnings.
Many wonder how we can capture and maintain the spirit of the season while others continue to grieve and the state of our union is uncertain. Peace on Earth begins with peace in our hearts, peace in our relationships, and peace within our homes. Home means different things to different people. Ultimately, home is where we return to find peace and to rejuvenate. Home is the external center, the nucleus of our personal world. Whether we live in a mansion or a studio apartment, our homes mirror who we are, provide clues to our deepest desires and limitations, and ultimately provide a symbolic map or template of our souls.
Inner House Cleaning
A fascinating approach to understanding what makes us tick is by taking a meditative journey into our homes. Our lives are reflected in our personal spaces, but most especially in our homes. The first step in transforming a home, and ultimately our lives, is getting in touch with our intentions. For example, we may identify a general intention as "a home filled with peace and love" or "a simple life full of laughter and friendship." We can also identify more specific intentions such as "to begin a loving relationship," "finish painting the kitchen," or "learn to ride a motorcycle." The power of our intent cannot be overstated. When we are fully aware of our intentions we can begin to alter behaviors and patterns that may have kept us from our fullest potential. If we do nothing else but clearly identify and state our intent we have carved a clear and heart-felt path that will lead us toward the realization of our dreams.
Once your intentions have been identified, finding time to meditate and journey through your home will be an eye opening experience. I suggest you write down what you perceive so you can refer to it at a later time. Don't worry if you've never meditated before or have little experience sitting quiet. Trust your ability to know what is right and true for you and you will see and hear exactly what you need to. Your inner voice speaks to you constantly through the simplest and subtlest means. Allow yourself to imagine. An abundance of guidance and information awaits you. You may find that there are belongings that ask to be moved to other rooms or other locations. There may be clutter or objects that no longer serve you that you may be ready to part with. You may see or sense fabrics, colors, and furniture that aren't there yet but want to be bought or added to your home to complete a certain feeling you're trying to attain. Generally you don't need to spend a lot of money. A few simple changes can shift a home's energy dramatically.
Holiday Preparations
Before celebrating with family and friends you will want to prepare your home just as you would prepare yourself. You will want to begin with a thorough cleaning, and this includes getting rid of clutter. Simple steps such as cleaning and de-cluttering immediately shift the energy of a home by removing stagnant energy. This simple, yet powerful act will not only heighten and strengthen your intentions but brighten and enliven your space. In ancient traditions the medicine men, priests, and shamans were responsible for cleansing a home. However, they also incorporated purification and blessing into the ritual. We are blessed to live at a time when we have access to mountains of information and a variety of tools to achieve our goals. If you choose you may purify and bless your home by burning sage, lighting candles, ringing bells, chanting prayers, or listening to your favorite seasonal hymns. Follow your heart and allow yourself to open to the gifts of the universe that resonate most deeply within you.
Not surprisingly, many homes already have altars as part of their internal landscapes. Without knowing it the collection of pictures on a mantle, the arrangement of candles and religious figures, or the arrangement of sentimental souvenirs act as sacred shrines of our past, present, and future. When choosing a location for an altar first identify the purpose of the altar. This will, in turn, guide you in choosing the location.
For instance, if your intention is to rekindle the romance in your relationship then an altar in the bedroom would be appropriate. Red roses, a picture of you and your beloved during your happiest days and a pink crystal heart are a few of the items you could choose for such an altar. You could also write your intention on a piece of paper and place it in a potted plant. This action propels your intention to grow and blossom along side your plant. Most importantly, the objects or belongings you place on your altar must resound within you and have meaning for you. You can refer to numerous books on altars detailing the meaning and purposeful use of color, crystals, flowers, scents, religious figures and animal totems to name a few. An altar doesn't have to be elaborate to be effective, just simple and reflecting your truth.
Connecting to your space on a more intimate level can be the opening to a deeper understanding of what lies within you. Beautifying our homes for family and friends becomes more than just putting up decorations. By purifying, cleansing, and blessing our spaces we create a personal temple where joy and celebration can be manifested not only during the season but all year long.
As we prepare ourselves and our homes to celebrate the holidays we must remain mindful of the power we have as creations of light and love. We hold within us the potential to achieve greatness. There is no time like the present to claim what is ours: a life full of love, joy, peace, and abundance. May all your heart's desires come true.
Resources
Altars: Bring Sacred Shrines into Your Everyday Life by Denise Linn
Altars and Icons: Sacred spaces in Everyday Life by Jean McMann
Altars Made Easy: A Complete Guide to Creating Your Own Sacred Space< by Peg Streep
Beautiful Necessity: The Art and Meaning of Women's Altars by Kay Turner
Living Shrines: Home Altars of New Mexico by Marie Romero Cash
A Little Book of Altar Magic by D.J. Conway
Denise Marchese is a registered nurse and Reiki Master and teacher in Northeast Connecticut. She serves as a consultant and teacher of interior alignment which encompasses the teachings of feng shui and space clearing. She can be contacted at P.O. Box 132 Woodstock, CT 06281. Phone: 860-928-9191. Email: dmarchese@hotmail.com