How A Northborough Business Successfully Switched To Solar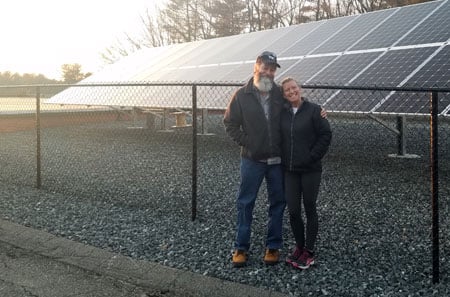 Sun salutations just deepened their meaning at Ebb n' Flow Yoga in Northborough, MA. Beginning in May, two 60-foot long racks of solar panels now power the yoga studio. The sun breathes energy into the speakers to sing, lights to shine and Himalayan salt lamps to work their magic. A milestone marked by a flick of the switch actually took months of one family's ingenuity, learning and support.
To Go Solar Or Not To Go Solar?
Solar energy is the most abundant energy source available on Earth. According to the National Oceanic and Atmospheric Administration (NOAA), "173,000 terawatts of solar energy strikes Earth continuously. That's more than 10,000 times the world's total energy use." The sun gives us our energy needs in abundance. Why not tap into this energy source?
Massachusetts makes a strong business case for going solar. Given the falling costs of solar equipment, state and federal tax incentives, and an array of programs to support its affordability, solar power translates into a good business decision. From the Solar Energy Industries Association (SEIA) Solar Market Insight Report, our state remains a leader in solar energy. Massachusetts rank sixth in the country with respect to cumulative solar capacity installed.
Small businesses such as Ebb n' Flow Yoga are reaping the benefits in more ways than one. Going solar is another way the studio practices yoga off the mat. Ebb n' Flow Yoga was founded by a mother and daughter team — Kim and Gabrielle Gebo — on the notion that the entire cosmos is an ocean and all life lives within this sea. "It's the ebb and flow of life that always returns us to our true selves," said Kim. "With solar energy we're really breathing in harmony with the universe."
What was this yoga studio's journey to solar power?
Building From Learning
This project's beginnings started with lessons learned the hard way. Kim's husband, Chris has successfully navigated complex engineering projects in the past, including wiring all the electricity in his own home. "I love learning and figuring out technical details," Chris remarked with a spark of excitement. Installing solar to his home seemed to be no different.
Unfortunately, Chris had to re-submit paperwork to National Grid after the entire system was installed, approved and operational. The multiple moving parts in installing solar power is ripe for honest mistakes. "Everything is for our learning," reflected Kim.
That's why for the commercial solar project, Chris hired his nephew, Kevin Gebo, founder of Intelligent Solar Services of Lancaster, MA. Intelligent Solar Services provides direct and honest guidance to commercial and residential owners interested in smart, cost effective and high quality means of solar installation and service. Chris remarked, "Having someone who understands the intricacies of solar installation throughout the entirety of the project is key."
Over several months, Intelligent Solar Services guided Chris through the seemingly convoluted dance of system design, permits and installation. "Chris already had an idea of where he wanted to install the solar system, as well as a preliminary layout. Therefore our initial conversations centered on his goals, cost estimation and details for project size and scope," stated Kevin.
Intelligent Solar Services took ownership of compiling the necessary rounds of paperwork, gaining permits and mandated approvals. Kevin's guidance throughout installation — from ordering material to coordinating required expert technicians — led Chris to conclude, "I could not have done this right without him."
Key Considerations When Switching To Solar
Solar energy has great potential to earn you savings. As with Ebb n' Flow Yoga, solar power also closely aligns with the studio's values. It's a win-win from multiple angles.
From this experience, here are key considerations to get you started on the right track:
What is your ultimate goal for switching to solar? Your goal defines the project size and scope. Do you want produce enough power for your residential or business property? A surplus? A complimentary power source? Getting clear on this, while taking into consideration your property's capacity will drive project design.
What is the payback time horizon? As with any financial investment, understanding its cost effectiveness is important. There are many cost and production variables to consider for optimal design. Kevin recommends thinking iteratively on your payback time horizon and your desired goal.
What degree of ownership do you want in this project? Different solar companies offer varying degrees of partnership. Find a trustworthy solar services company that matches your project management style. For Chris, working with his nephew meant avoiding costly mistakes while maintaining enough ownership to find joy in learning something new.
Going solar does not happen with a flick of the switch. "This really is not a do-it-yourself project," concludes Chris. In the case of Ebb n' Flow Yoga, it took a family.
Joy Chen is a studio partner at Ebb 'n Flow Yoga in Northborough, MA. She enjoys aligning the science of yoga with organization development processes and practices, enhancing the studio's capacity to effectively and harmoniously meet its mission. Visit www.ebbnflowyoga.com.
See also:
Twenty-One Questions Answered About Going Solar
What Will We Do With All Those Solar Panels When Their Useful Life Is Over?