How Climate Change Is Impacting Vermont's Maple Sugar Industry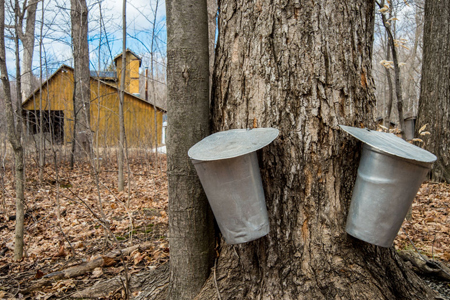 With production values totaling US$59.7 million in 2016, maple is big business in the state of Vermont. In spite of its population of about 623,000 people, Vermont is the largest producer of syrup in the United States. Its maple sugar output makes up more than 40 percent of the country's total market share.
The industry has a direct and significant impact on Vermont's economy. Maple is the state's fourth-largest value-added agricultural export. The sector pays somewhere between 2,735 and 3,169 full-time employees and many more part-time seasonal jobs, totaling more than US$140 million in wages.
The maple industry "employs many people in the state from backyard sugaring, selling to your neighbors, all the way to the largest maple players," says Dr. Jane Kolodinsky, chair of Community Development and Applied Economics and the Center for Rural Studies at the University of Vermont.
"For every dollar that is spent in the maple economy, a US$1.60 comes out," says Dr. Kolodinsky. "So it is a 60 percent benefit that is trickling through the economy and keeping it churning."
Vermont's maple sugar trees, for both their foliage and syrup, are a tremendous draw for outsiders. With 1 in 10 jobs in the state relying on dollars from visitors, tourism remains a crucial part of the local economy—from skiing to fall foliage tours.
"If you think about things [indirect economic benefits] that you absolutely can't measure, it's the impact of the maple industry and even the sugar bushes and maple trees on tourism," Dr. Kolondinsky says, "which is what brings people to lovely Vermont."
Because of its historically frigid winters, Vermont has an ideal sugaring climate. Sugaring occurs when maple trees turn stored starch back into sugar, which mixes with ground water to create sap—this sap is collected to create maple syrup. The process requires cold climates to have cycles of freezing and thawing to produce an increased flow of sap. The best time to tap the trees is when the daytime temperatures are above 40 degrees Fahrenheit and evening temperatures are in the 20s—a typical early Spring climate in Vermont.
However, it has been increasingly difficult to find a stretch of ideal conditions for syrup production in the Northeast. Climate change has shortened the sugaring season. When compared to the beginning of the early 1900s, researchers have noted an overall reduction in maple sugar output in the U.S over the 20th century. They attributed part of this century-long decline to changing climatic conditions.
Environmental factors may also change the quality of the sugar. According to the University of New Hampshire professor Dr. Barry Rock, the sugar content in U.S. sap has halved in the last 50 years, from 4 percent to 2 percent.
In the 1950s, the U.S. produced 80 percent of the global syrup supply, and Canada contributed about 20 percent. Today, it's the opposite, with Canada supplying 80 percent of the global market. This dominance is in part due to Canada's increased investment in marketing and government subsidies.
Forty years ago, sugar makers would tap their trees around Town Meeting Day, the first Tuesday in March. During the 2016 and 2017 seasons, Vermonters were tapping as early as January 1. Unseasonably warm winters were partially responsible for this early start as the last two years were some of the hottest on public record for the U.S.
In spite of these trends, the American maple syrup industry is growing.
The last few sugaring seasons have led to record output. In 2017, Vermont had a near-record year in maple syrup quantity, producing 1.98 million gallons worth an estimated US$59.4 million in sales. This production was slightly down from the preceding year.
"New technology and practices introduced into the maple industry, particularly improved vacuum and improved taphole/tubing sanitation practices, have increased yield per tap of syrup over the past 20 years," says Dr. Timothy Perkins, research professor and director of the University of Vermont's Proctor Maple Research Center.
In the last several years, Perkins says that bigger maple operations with these new technologies will often tap their trees during the early thaws to capture the mid-winter flows.
Perkins explains that, "at the same time, higher prices for syrup have made the economics of production better, so the industry has grown [and] added taps,with most of these new taps using high-yield practices."
In 2017, Vermont sugar makers placed 5.41 million taps, a 12 percent increase over 2016. The introduction of new taps has helped sugarers to increase their output.
"Thus we see a strongly growing total maple syrup production over this time period," explained Perkins. "In short, improved technology and practice have swamped out any small losses due to climate change."
What will the 2018 maple sugar season bring? It's too early to predict, but Perkins says that "the popular notion that the maple industry is being badly impacted by climate change is, at this point at least, incorrect."
Better technologies, practices, and tapping have allowed the state's maple industry to grow in spite of the warming of the planet. But the longer-term future of the sugar maple in Vermont remains uncertain.
Amialya is a contributing writer for Food Tank. She has a Master of Science in Nutrition and Food Studies from George Mason University. Recently, she published her research on gender and food security in Uganda in the Journal of Hunger and Environmental Nutrition. She is currently a San Diego based freelance writer in the health and food niche. Read more at LittleOctopus.org.
This article was republished from Food Tank.
See also:
How Capitalism Is Changing Vermont's Maple Syrup Industry For The Worse
Why Buy Organic Maple Syrup?