How to Make Sushi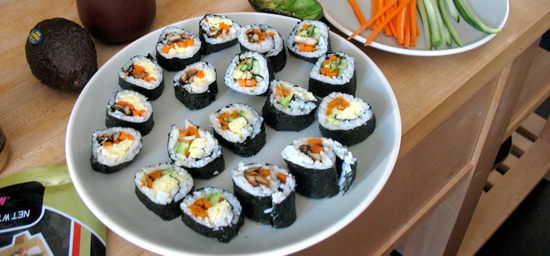 Summer has arrived! Along with the wonderful foods the season brings, it also offers the added dimension of outdoor dining. No matter what the food, it always seems better eaten in the fresh air, especially surrounded by family and friends. And, during summer we're always eager to spend as little time as possible in the kitchen.
The challenge is to find dishes that are easy, healthy, fast, colorful, tasty, portable and fun. That's a tall order, but sushi fits the bill. Sushi is easy to make, a healthy choice and very portable. It's fast and as colorful as your imagination. It tastes great and is fun to make. If thoughts of raw fish don't tempt your palate, don't worry. Sushi is rice seasoned with rice vinegar and a sweetener that's formed into small "cakes" either topped by, or wrapped around all types of fillings. Avocado, many vegetables and mushrooms are popular. Making sushi is even better when you have guests over, spread out an assortment of fillings and let people roll their own. It can also be a very inexpensive way to entertain; the food becomes part of the fun. Don't be intimidated, line up the ingredients on the picnic table and try it out! Add a little Japanese beer and/or chilled sake (Moonstone is great) and you're done.
The first ingredient you need is nori, a sea vegetable that's rich in protein, vitamins C, A and B1, and is packaged in 7-inch square sheets. Nori is great for digestion and can decrease cholesterol in the body by helping to break down and eliminate fat deposits. It's available already toasted, so purchase that to save time and effort (package will say "toasted" and the nori will have a deep green color; un-toasted has a purplish tint). Think of nori as the Japanese equivalent of the Mexican tortilla; you wrap it around delicious fillings. Most supermarkets and natural food stores carry it.
Next, there's the rice. You may use white sushi rice or sweet brown rice. Both are sticky and will hold together when you cut the sushi. You season it once it's cooked with rice vinegar. I use the brown rice vinegar because it adds a full, sweet flavor to the rice. Most often, for convenience, I use the seasoned variety, which has some fruit sweetener in it.
Then, there are the glorious fillings. You're only limited by your imagination. One of my favorite fillings is a yam. It's colorful, flavorful and easy to prepare. Select your favorites from the choices listed below or think up your own.
Sushi Tofu Crème
Ingredients
1 lb. tofu
3 Tbls white miso
1 tsp salt
1 Tbls apple cider vinegar
1 Tbls toasted sesame seeds
Directions
Put all ingredients into a food processor and mix until smooth and creamy. Taste and add a bit more vinegar if desired. Put in a decorating bag and pipe onto pressed rice sushi. (Also excellent for hors d'oeuvres in general.)
Sushi Rice
Ingredients
1 cup white sushi rice
1 1/3 cups water
1/4 cup seasoned rice vinegar
Directions
Place rice in a fine mesh strainer and wash under cool water for a few minutes until the water runs clear. Let rice drain for one hour. I just place the strainer over the pan I'll cook the rice in and let it sit while I prepare the fillings.
Place 1 1/3 cups of water in a pan and add drained rice. Bring it to a boil over medium heat, cover and simmer for 14 minutes. Remove from heat, remove lid and cover top of pan with a clean kitchen towel. Replace lid and let sit for 20 minutes.
Remove lid and towel from pan. Transfer rice to a shallow, wide dish. A large wooden salad bowl is ideal. The goal is to cool the rice off quickly, so the larger the bowl and the lower the sides, the better. Sprinkle seasoned rice vinegar (if using regular rice vinegar, combine with 1 tsp. salt and 2 Tbls sweetener such as sugar or brown rice syrup) over the rice. Toss to combine it with the vinegar and cool it quickly. Use it immediately.
Fillings
Anything you like can go into sushi. When using vegetables, cut into 1/2 inch "sticks." Blanch vegetables such as yams, fresh daikon, green beans, etc. for a few minutes. Use jarred roasted red peppers, baby corn, etc., as is. Use cucumbers, scallions, etc., raw. Here are some suggestions, but let your imagination guide you.
Ingredients
roasted red peppers
daikon radish — pickled or fresh
yams/kale/mashed adzuki beans (one of my favorite combinations)
cucumber — solo or mixed with carrot and/or avocado
tofu — fried, smoked/baked, marinated
tempeh — good with sauerkraut or veggies
asparagus
umeboshi plums
mushrooms — shiitake are great and so are grilled portabella
okra
scallions
baby corn
green beans
Directions
Place a large glass of water next to you before you begin and place a sharp knife and a large tablespoon in it (two people can share one glass if you're making sushi as a group). The purpose of the water is to keep the rice from sticking to the utensils.
Place a piece of nori, shiny side down, on a flat surface (cutting boards work great). Scoop out 1/2 cup of rice and place it in the middle of the nori. Pat it evenly over the nori leaving the bottom quarter of the nori plain. Now, place the filling in a line along the top third of the rice-covered nori. Don't use too much or you'll never roll it. I like to layer some lightly steamed kale (stems removed) on the rice and place some mashed beans over it and top with some yam sticks. A friend of mine swears by smearing a line of peanut butter along the rice and placing some seasoned tempeh sticks over it.
Lift up the edge of the nori closest to you; fold it over the filling and roll it up like a jellyroll. When you get to the end, moisten the plain end of the nori with some water and press the rolled part firmly over it to seal. Take the knife out of the water and slice the sushi roll into six pieces.
Sushi Balls: Wet hands with water and vinegar and form small balls of rice.
Fillings
can be placed inside as they're being formed into balls. Take pieces of cut nori and, with wet hands, mold the nori pieces around the rice ball. You'll end up with balls of delicious sushi.
Sushi Salad/Tossed Sushi: a variety of ingredients are mixed and served with a dressing over sushi rice.
Dipping Sauces
Shoyu & wasabi paste to taste: a traditional sushi dipping sauce made from soy sauce and Japanese horseradish; it's potent, so a little goes a long way). Pour a little soy sauce in a small dish and add a little wasabi powder (a bit at a time), mixing with chop sticks until it's the potency you like.
Shoyu, brown rice syrup & lime juice: I prefer to pour a little soy sauce in a dish and add a little brown rice syrup and top it with a little lime juice. The amounts vary according to individual taste.
Fresh Spring Rolls
Ingredients
4 oz rice or cellophane noodles
1/2 cup grated or julienned carrot
1/2 cup grated or julienned daikon
1 med. red bell pepper, julienned
1 pkg. smoked tofu or tempeh, julienned
1 clove garlic, minced
1Tbls shoyu
1 pkg. rice paper
1/4 cup basil, cilantro or dill leaves
Lettuce leaves
Directions
Soak noodles in very hot water for 5 minutes or until soft and pliable. Drain and immerse in cold water and drain again. Cut noodles into 2" lengths.
In a large bowl, mix noodles with carrot, red pepper, daikon, garlic, tofu and shoyu. (Note: for variety, you may grill the veggies first, then toss them with the noodles. You may also use the juice of 2 limes, 1 Tbls Dijon mustard, 2 Tbls sesame oil and 1 Tbls brown rice syrup to season them.)
Take one sheet of rice paper and immerse it in a shallow bowl of warm water. Quickly remove it. Lay the wrapper on a plate and place about 2 Tbls of the mixture on the wrapper towards the bottom. Add your choice of leaves for seasoning. Fold the bottom of the wrapper over the filling (about 1/3 of the way up). Fold each side toward the middle (it should stick because it's wet). Roll up. Place on a plate and cover with a damp towel or plastic wrap until done. You may wrap each roll individually in plastic wrap. They will keep about 2 hours in the refrigerator.
Chili Dipping Sauce
Ingredients
2 Tbls garlic, chopped
2 Tbls chili peppers, chopped
1/4 cup rice vinegar
3/4 cup water
2 Tbls scallion, chopped
Directions
Combine everything except scallions in a blender. Pour into individual serving dishes and garnish with scallion.
Michelle Hirsch lives in Southern New Hampshire and teaches whole foods cooking classes throughout New England. She is a graduate of the world renowned Kushi Institute where she currently works on curriculum development. Michelle can be contacted at mphirsch@yahoo.com.