How To Promote In-Home Care For Your Loved Ones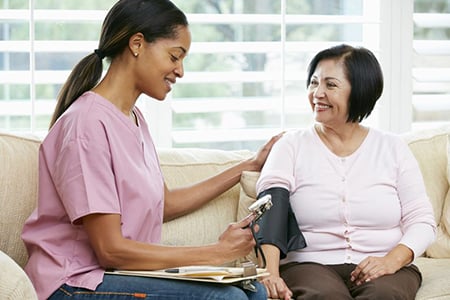 In-home health care for seniors helps maintain independent living and a high quality of life. If your loved one needs professional health care, in-home care services can help get the complete care seniors need. However, not all people understand the benefits of in-home care and how it works, and your loved one might reject the idea of someone coming into their home to take care of things.
Here's a few tips to help promote in-home care services to your loved ones to encourage active participation and positive acceptance.
1. Explain what in-home care is
In-home care services or home care refers to distinct types of care provided in a home setting. It includes healthcare services such as medication administration and personal care. One of the primary goals of in-home care for seniors is preventing falls. It's crucial to explain the meaning of in-home care to your loved ones who need it to set proper expectations and encourage full participation.
2. Provide options and decision making
Give your loved one some options between which tasks they could use help with and those that are self-manageable. For instance, ask your loved one about needing assistance on operating medical equipment and medication management, and coordinate this with the caregiver. Doing so prospers greater independence while getting help on the difficult tasks seniors can't perform.
Include your loved one in the decision-making process by determining their needs, the frequency of care or scheduling, and tasks with which they require assistance.
3. Explain the benefits of in-home care for everyone
People can hardly juggle the daily demands of childcare, work, household chores, and caring for a disabled, sick, or aging loved one. It can be overwhelming to manage busy families, and the experience of asking a stranger to care for your loved one can be an emotional decision. Also, distance is another big factor when giving care because adult children and parents may live thousands of miles away, separated by different cities or states.
An essential aspect of patient education is explaining the benefits of in-home care to reduce the emotional turmoil your elderly loved one might feel, which would allow them to consider the practical reasons why in-home care services are needed.
A home health care professional will be there when you are not able to, assessing the safety risks in the home, making simple corrections as needed. For example, a home care professional can place a rug on a slippery floor and make recommendations for better ambulatory assistance. Your loved one will get support in diet and nutrition through home-cooked meals and nutritional counseling.
4. Set proper expectations
Introduce your loved one to the nurse or caregiver to help establish rapport and trust.

Encourage your loved one to ask the health care professional questions while you're around to help you make a good decision.

Ask the caregiver to conduct a patient education in front of you and your loved one to clarify doubts and concerns, as well as answer queries comfortably.

Encourage the health care worker to ask your loved one questions to help set clear goals and make sure that you're also made aware of the needs and preferences of your loved one for proper coordination involving hobbies and difficult tasks requiring assistance, among other things.
Promoting in-home care for your loved ones can be challenging at first, but show how much you love your parents or significant other by explaining that you're making such a decision for the good of everyone. Involving your loved one in the decision-making makes a big difference to ensure a satisfying and successful in-home care experience.
Sarah Morris is a wellness and motivational writer, who writes for many online health and wellness forums.
See also:
5 Questions To Ask Your Aging Parents' Doctors
Forgetting Things More As You Get Older?