How To Support Your Community In 2017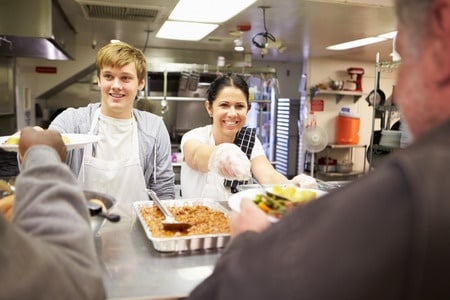 The New Year is almost here, which means it's time to start thinking about your resolutions. While those around you might be focused on self-improvement, with goals such as quitting smoking and losing weight, you should strongly consider resolving to do good for everyone ― including yourself ― by uniting your community.
The benefits of a strong, cohesive community are manifold. For one, isolation is inherently dangerous; your person and your property is much safer when you know and trust your neighbors. For another, you and those around you are more powerful as a group, which means you can affect the political and social changes you need when you work as one. Communities provide relief and encouragement to everyone, from the most influential among you to the least, and considering the current state of the world, you must agree that everyone could use some community support.
To that end, here are a few ways you can build a stronger community in the coming year.
Donate To Local Charities
One of the most effective ways to positively impact your community and feel as-one with those around you is to contribute directly to charitable initiatives. New England is filled with worthwhile causes that improve the lifestyles of those less-fortunate, and there are dozens of ways you can give back, from donating your time by volunteering at significant events to donating your possessions, like out-of-date clothes in your wardrobe or that broken down and/or ignored boat in the garage. If nothing else, you can set up a subscription donation to your favorite organizations, allowing you to give a few dollars every month to support your community.
Here are a few New England–based charities to consider championing:
New England Foundation for the Arts (NEFA), which strives to promote and safeguard the arts across New England states. NEFA organizes events and programs to encourage everyone to interact with various art forms.
New England Grassroots Environment Fund, which connects environmental agencies throughout New England to help concerned community members contribute to environmental protection in a meaningful way.
Kurn Hattin Homes, which provides shelter to children in need of safe and soothing accommodation. In addition, this organization strives to educate children on important values, such as compassion, perseverance, and hope.
Historic New England, which strives to preserve New England's historic properties and artifacts, ensuring future generations will appreciate the region's heritage and use the memories of the past to build a strong future.
Fill Local Needs
Charities are organized to fill specific needs as they arise, but you might feel more connection to your local community by observing first-hand what your neighbors most need. Though you might prefer to cuddle puppies in the pound or visit sick children in the hospital, it is unlikely that there is a dearth of volunteers for such easy and fun services. Instead, you might pay attention to easily overlooked needs, such as the treatment of the homeless, the quantity of available green spaces, the availability of hospice care or affordable health care, and more. Once you identify a need, you can personally address it with kindness and aid ― or form your own charitable organization to bring awareness to the issue.
Be Educated On Unfamiliar Viewpoints
Your experiences are not the only ones that are valid. Even people who look like you have endured all sorts of experiences throughout their lives. The more you can do to learn about alternative lifestyles, the more you will feel connected with all members of your community. To step out of your comfort zone, you should read literature and watch film that you might not immediately be attracted to. For example, books such as "The Beast Side," "The English Patient," and "The Doors of Perception" as well as movies such as "Philadelphia," "Sapphire," and "Moonlight" are short, poignant looks into lives that are likely vastly different from yours but still contain meaning.
Organize Events For Everyone
A neighborhood block party sounds fun, but if you don't advertise it with the right language, you might alienate vital members of your community. When you organize events to bring your community together, you should be aware of your privileges and strive to be inclusive of those who might lack them. Additionally, you should be eager to speak with everyone, not just those neighbors you already know. Community events should be open and welcoming to everyone, regardless of socio-economic status.
Cher Zavala is a content coordinator who assists in contributing quality articles on various topics. In her free time she also enjoys hiking, traveling and getting to know the world around her. Cher has built up many strong relationships over the years within the blogging community and loves sharing her useful tips with others.
See also:
The Greening Of The Commons
14 Ways To Start Community Sharing Events