Inland Wind Power: The Political Landscape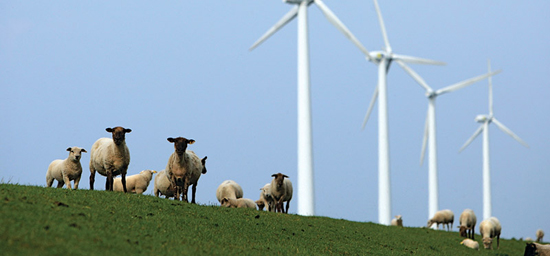 Mass Audubon works to protect the nature of Massachusetts for people and wildlife and is participating in the ongoing debate on wind power in significant ways.
Over the past two years, Mass Audubon has been reviewing both our internal and external energy policies and goals — recognizing that the environment and energy are inextricably linked. We have encouraged responsibly sited wind as a clean and renewable energy resource, set in the context of protecting wildlife, the values of public lands, and large areas of intact wild lands. Among other projects, we support the development of near and offshore wind energy capacity resulting in no less than 1,000 megawatts (MW) of new production annually.
Earlier this year, Governor Deval Patrick challenged the Commonwealth to install 2,000 MW per year of wind power capacity, or 10 percent of the state's current need, by 2020. This is enough power to support 800,000 homes. There are currently nine turbines in the state with a capacity of 100 kilowatts (kW) or greater, with a total annual generating capacity of 6.6MW. The turbine at Hull is 660 kW, while CapeWind's turbines would produce up to 3.6 MW each. There are a number of proposed projects in the pipeline with the capacity to produce more than 800 MW total; CapeWind would provide roughly 450 MW per year. If all projects in the permitting pipeline are built, up to several hundred turbines will still need to be sited and constructed to meet the Governor's goal.
Potential sites for utility-scale wind farms in state waters are being identified, but these are limited by shipping lanes and endangered species considerations, so some portion of wind power generation is and will be on land. In late February 2009, the state released a study finding that there are 946 MW of annual potential wind power generation sites on public lands, predominantly conservation land.
A number of the prime sites identified on public lands are on remote ridge tops without road or transmission line access that would require significant clearing to site a turbine pad, an access road, and transmission lines. Ridge tops are ecologically unique and are often home to isolated populations found only at higher elevations up and down the Appalachian corridor. They are also hunting grounds for raptors. A number of these sites are located in the last remaining unfragmented blocks of "interior" forest in the state, the sort of tracts that are important to many species of plants and animals. They are our most intact forest ecosystems, areas that are most resilient to the effects of climate change and reservoirs of biodiversity. For this reason, several of these properties have already been designated by the state as "forest reserves" that would be protected in perpetuity from significant human impacts such as logging or road building.
The state is in the process of identifying, not surprisingly, ridge tops and nearshore as the richest wind resources. Next will be an analysis of potential public and privately owned sites. Developing utility-scale wind is not consistent with the purpose of much of the state's conservation land — to be set aside as large tracts of wild lands, quiet places to hike and spend outdoors, as scenic vistas, and for their ecological values. But there are other areas, including farmland and some state lands that are both viable from a wind resource perspective and would not compromise the conservation value of public lands.
Other factors to consider are proximity to energy demand and existing transmission lines. The closer generation is to demand, the fewer additional transmission lines would need to be built and the less energy would be lost during transmission. Impacts to bats and birds and other species from the turbines need to be considered. Construction of industrial-scale wind facilities also requires wide roads that must be maintained throughout the year. Technical expertise for reviewing projects at the town and state levels is also a consideration, and local wetlands bylaws and local zoning issues need to be considered.
Should specific projects be allowed to fast track through the permitting process, with larger scale generation being considered a greater public good and therefore given different, more permissive, permitting standards? Should smaller facilities be given the same expedited permit track? How are natural areas and their inhabitants, including endangered species — the threats to which are made greater by climate change — considered? What is the effect on "ecosystem services" of fragmenting large forest blocks by constructing roads, transmission lines and turbines in terms of direct loss of forests and the carbon they sequester as well as impacts to habitat and water resources from building roads up steep mountains and across streams? How do we measure and compare these impacts with the ecosystem degradation effects of continued carbon emissions, and the benefits of reducing those emissions?
These are difficult questions that the state will need to grapple with in siting wind projects. Ideally, sites should be selected that provide maximum power generation with minimum impacts to natural resources. All this makes for a complex issue, and one that will unfold over the next few years. To find out more about Mass Audubon's advocacy work on renewable energy, sign up for the Beacon Hill Weekly Roundup by emailing action@massaudubon.org.
Jennifer Ryan is Mass Audubon's legislative director. She is also a conservation biologist.
Reprinted with permission from Sanctuary: The Journal of the Massachusetts Audubon Society. Summer, 2009. For more information go to www.massaudubon.org or email sancmag@massaudubon.org. (781) 259-2167. Visit Mass Audubon at the Natural Living Expo in Sturbridge, MA September 26-27 to learn more about their programs and conservation areas.