Instrumental Partners Program Announced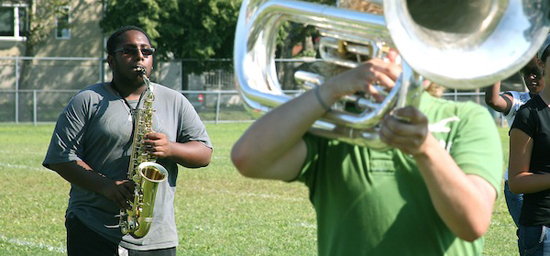 Worcester Public Schools and WICN 90.5, the NPR jazz station in Worcester, MA, announce a collaboration called Instrumental Partners. The program collects used musical instruments from Central New England residents for the benefit of public school students.
"Our first focus will be the South High Community School Marching Band," said WICN General Manager Gerry Weston. "They have been chosen to represent Massachusetts in the Washington, D.C., July 4th parade." All instruments will be accepted: brass, wind, string, percussion, acoustic and electric.
Worcester Public Schools Performing Arts Liaison Lisa Leach said, "We are very excited about this collaboration and its possibility of putting instruments in the hands of young people who are unable to purchase or rent them, but still have the desire and work ethic to make music an integral part of their developing lives."
Check your attics, closets and basements for instruments no longer used. "One instrument placed in the right pair of young hands could mean everything to that student's future," Weston said. The drop off points for the instruments will be the Hanover Theater on Main Street in Worcester and the WICN studios in the Printers Building, 50 Portland Street. David French Music Company has agreed to help with repair of instruments in need. Visit www.wicn.org/instrumental-partners for more information or call (508) 752-0700.