'It is Our Duty': Grannies Arrested for Protecting Arctic from Oil Drillers
With back-to-back actions, demonstrators hope to stall operations enough to disrupt Shell's Arctic oil exploration this summer.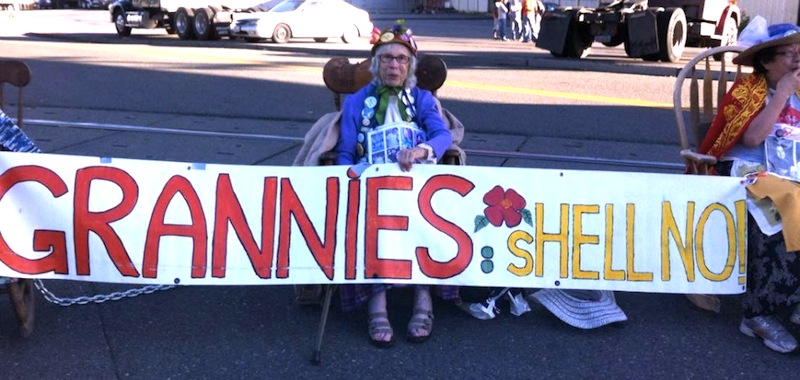 A fearless band of grannies faced down police officers and semi-trucks early Tuesday as they led a direct action blockading the entrances to the Seattle Port terminal where the Shell Oil's Polar Pioneer drilling rig is moored.
Continuing the fierce local fight at the home berth of the Arctic drilling fleet, activists used their bodies, chains, and cement-filled barrels to halt operations at the Seattle port.
According to reports, six members of the "Raging Grannies," a group of Seattle grandmothers, were arrested as they led five successful blockades around Terminal 5.
"My generation is responsible for how things are today. This rig will destroy any hope of a liveable future for our children and grandchildren," said Seattle granny Annette Klapstein. "It's our duty to be out here."
Organized under the rally cry of "sHell No!," the blockade follows five days of pickets at the port, as well as a mass protest and kayak "flotilla" late last month, which coincided with the arrival of the Arctic drilling fleet at Terminal 5. Environmental activists say that Seattle marks the new ground-zero in the fight against extreme energy extraction, amid a growing call for a more renewable, more sustainable power supply.
As the grassroots activist network Rising Tide Seattle explained, because the drilling season has to be timed exactly, demonstrators hope to stall operations long enough to disrupt Shell's planned Arctic oil exploration this summer.
"Shell only has until the end of June to make it up to the Arctic in time to drill this summer. We want to stop them from leaving," said Blaine Doherty, who was among the chained demonstrators. "The Port of Seattle has let us down and President Obama has let us down. We can't afford to let Shell drill in the Arctic if we want this planet to remain habitable."
Following the May protests, Shell obtained a "safety-zone injunction," which established buffer zones of 300 feet to roughly 5,000 feet for all of Shell's Arctic drilling fleet, barring protesters from approaching their ships. In a Guardian op-ed on Tuesday, 350.org founder Bill McKibben, writer and activist Naomi Klein, and Greenpeace USA chief Annie Leonard noted the irony of Shell's "safety" argument, given the company's clear contribution to the climate crisis.
"In a world serious about protecting its people and its climate, there would be a safety zone several miles outside the edge of Earth's atmosphere where Shell was not allowed, and a sign directing it to wreck Venus instead," they wrote. "Of course no court as yet has drawn a safety zone around the Arctic."
Lauren McCauley is a staff writer for Common Dreams.
See also:
In the Largest Call for Fossil Fuel Divestment Yet, BU Faculty Demand Action