John Thomas Walker: Pastor, Cathedral Builder, Civil Rights Leader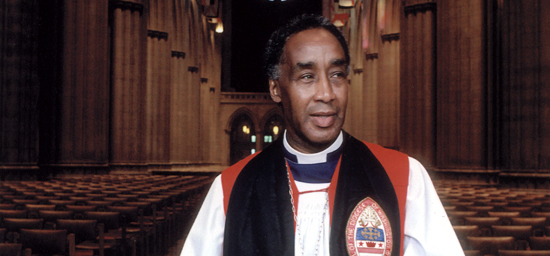 Episcopal Bishop John Thomas Walker died in 1989 at the age of 64, just as he should have rightfully donned the cloak of elder. According to Archbishop Desmond Tutu, "Bishop John had the knack of opposing evil without alienating the people caught up in it."
Somewhere along the evolution path of our contemporary culture, the respect granted our most experienced members has been devalued. Gone, largely, is the influence once welcomed from our village elders. Just the term alone — elder — once carried enormous reverence, pointing us to the wisdom of the ages, dispensed lovingly by those who had lived it.
Today, virtually our only use of the title is in the phrase "elder care," essentially a health care category. It suggests that understandable and admirable concern for the comfort of our elders, while appropriate, has unfortunately replaced an interest in learning from them. How has that happened? Are we so smug in our information age to think we know all we need to know? Or do we simply feel we are no longer a "village," that each of us is an island, and that the perspective of someone else's experience and wisdom is irrelevant?
Clearly, these are among the questions being asked by the spiritual community, as evidenced by this edition of Spirit of Change. Members of this community are more inclined to appreciate the voice of experience, and are thus saddened more than most when those voices are lost.
A newly published biography, John Walker: A Man for the 21st Century, by Robert Harrison, revisits that appreciation of loss. Episcopal Bishop John Thomas Walker died in 1989 at the age of 64, just as he should have rightfully donned the cloak of elder. This captivating and affectionate recounting of his life and teachings, from Forward Movement Publishers, reminds us of the value we gain from those who have traveled the most miles.
For Bishop Walker, many of those miles were rocky. The great-grandson of slaves, and the son of a Georgia sharecropper, he was given no easy route. But his path from the South and to inner city Detroit eventually led him to be the first African-American bishop of the Episcopal Diocese of Washington.
Harrison tells us that Walker was never afraid to stand out. He had the audacity to be a self-taught reader before the first day in his all-white kindergarten class. Although told to just color a page, he read it aloud to the class — not a good start with his teacher. "This infuriated her," Harrison writes. "She focused on him mercilessly, to the point the black child was locked in the closet one day. He was released only after his mother went to the school to find out why he had not come home with the other children of their neighbors."
Quiet But Not Silent
Even as a young man, he took his role in life seriously — and won the admiration of those he touched. He was the first black to teach and offer pastoral counseling at the prestigious New Hampshire prep school, St. Paul's. One of his students, a young "Johnny" Kerry, was among those who embraced his wisdom.
Senator Kerry has recently said that Walker was like "a father" to him, and he was the one teacher who most touched his life. As Kerry told an interviewer, "He taught me that a gentle person could be a strong person." Or, as one subsequent admirer described Walker, "Quiet. But not silent."
But Harrison's biography makes it clear that Walker's elder influence was increasingly felt by every stripe of party politician, world leader and spiritual shepherd. Among his friends was Archbishop Desmond Tutu, who said of Walker, "Although he was fervent in his opposition to racism, Bishop John had the knack of opposing evil without alienating the people caught up in it…We are all the better for having been touched by him."
Former President George H. Bush, commenting on the anticipated biography in a personal note to a Washington-area friend, said, "What was it about this remarkable man that made me respect him so? After all, his political views were quite different from mine. It was because John Walker was a man of great tolerance, and he had a great propensity for personal friendships. John Walker was a true man of God, a true believer, an apostle; and he made every life he touched much more meaningful."
This was a man whose counsel was sought by U.S. presidents, but one who would also pen a long and thoughtful response to a teenaged Kentucky boy who had written to him, asking how he might become a bishop some day. This was a man whose physical "church" was the sixth-largest cathedral in the world, the Washington National Cathedral, but a man who could be found as often on the front porch of his Washington home, sitting and counseling a troubled prostitute, or talking with a homeless man who had come to seek his comfort. One day Walker could be seen at the side of a visiting Prince Charles. The next day, he could be seen running across the cathedral grounds, rushing to make the kick-off of his son's football game at the adjacent St. Alban's School.
His quiet enthusiasm for creating a better and kinder world was not to be restrained. After he assumed the pulpit in Washington, there were those who found his meddling in secular affairs unseemly. Many of the older and more conservative Episcopalians felt that religion and politics should never mix. Walker respectfully disagreed. He appreciated the political intent inherent in the actions that flow from religious convictions, and he knew that politics could be unabashedly religious — a fact that has become increasingly obvious in the 15 years since Walker's death.
But that did not mean he neglected his responsibility as a guardian of the separation of church and state. Harrison recounts an incident when then President Ronald Reagan selected the National Cathedral as the venue for his second inaugural prayer service, and named prominent fundamentalist, Jerry Falwell, as his preacher of choice.
That set up a showdown between Bishop Walker and the president of the United States. Walker felt that televangelism and partisan agendas should never be confused with the proclamation of the Gospel. "On the tightrope he walked between church and state, Walker held the Canterbury Pulpit to be above the politics of electoral religion," Harrison writes. "Walker approved Reagan's second choice, perennial favorite Billy Graham, put forward as a compromise candidate, but insisted that Graham's homily be submitted in advance for his approval, which it was — much to the Rev. Mr. Graham's chagrin."
A Cathedral Legacy
Perhaps never in our world's history have we needed the wisdom of elders more than now. Elders such as Walker, whose prophetic comments on the looming threat of terrorism ring so clearly today. Here, from one of the final sermons of his life:
"Our world just now seems to be spinning out of control… Everywhere things are breaking up. Old stabilities, old certainties are gone and old laws are no longer applicable. We speak to one another but we do not listen because the words no longer have meaning. The world out there is filled with evil. But as Yeats says in a poem: The darkness drops again, but now I know That twenty centuries of stony sleep Were vexed to nightmare by a rocking cradle.
"Is it possible that the child in the manger still has the power to vex a nation; to irritate and provoke it into action; to jolt it into a sense of its own peril? I believe that it is possible. It will, probably, take a little longer, perhaps a stronger jolt. We are empowered by the Holy Spirit to change the world. It is by this and only by this that we will be able to slow down the spinning world, and the cycles of hate, terrorism, and disaster."
This is the wisdom of elders. This is the voice of experience, one that has seen and suffered the ugly faces of intolerance and fanaticism. Every person has a lesson to teach — elders such as Walker just have more than others.
Hundreds gathered excitedly at the National Cathedral for Michaelmas on Sept. 29, 1989. The day would also celebrate installation of one of the cathedral's final major stone pieces, exactly 82 years of on-and-off construction since the first stone had been laid.
Under Bishop Walker's hand, the cathedral was essentially finished, and significant construction debts had been repaid. Now, after a blessing of the finial, the huge stone was lifted toward the heavens, to be secured atop a tower 30 stories above the cheering crowd. As the stone masons finished sealing the piece in place, Bishop John Thomas Walker died in a nearby hospital.
A week later, 5,000 people returned to that edifice for Walker's funeral. They came to celebrate the wisdom of an elder who had been taken from them too soon. As Pamela Chinnis, the Episcopal Church's ranking layperson, would write:
"John Walker's legacy to us — whether we be women, blacks, young persons, or builders of cathedrals — is the conviction that what may seem impossible can be possible if we, like him, are faithful witnesses of the God of justice and compassion to an often indifferent world, and an occasionally indifferent Church."
Robert McLean III is Chairman of the Board of The Cambridge Institute For Applied Research (CI) in Washington, DC. McLean was a classmate, colleague, and close friend of Bishop Walker's for more than four decades. John Walker: A Man for the 21st Century is available through Forward Movement, (800) 543-1813, or http://www.forwardmovement.org.