Karen Krieger Memorial Service Eulogy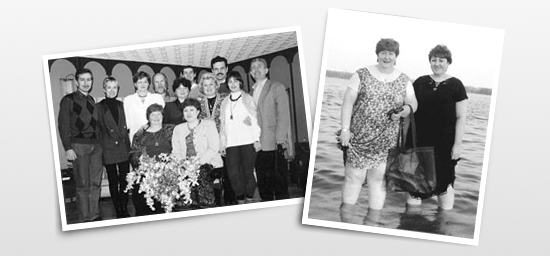 Dear Friends,
Thank you for all the kind messages, phone calls and Reiki as the Reiki communities of New England and Russia mourn the death of Karen Kreiger who died suddenly at her home on October 31st.
I first met Karen about eleven years ago when she was asked to assist me teach a Reiki class at the Awakening Center in Burlington, VT. Karen became a Reiki Master in 1991, traveled with me to Russia nine times, and was a testament to the truth of healing as one of the most dedicated healers of our time. We have lost a compassionate teacher of Reiki and I have lost a spiritual sister.
Karen was a strong, courageous, spirited healer who brought an immense amount of light and love into a very dark corner of the world and her work was nothing short of a miracle. We arrived in Russia in 1992, just after the collapse of Communism. When we arrived, we discovered that five hundred people had gathered by word of mouth who were interested in taking our Reiki classes — mostly because we were women and all of the previous Reiki teachers were men. Karen, along with myself, was one of the first women to teach Reiki in Russia.
We usually lived together for the month during our trips in a tiny studio apartment 400 square feet, 40 minutes outside of Moscow. There was a small balcony and an answering machine with the song "Let it Snow, Let it Snow, Let it Snow!" as the message. We washed our clothes out in the tub and were always without hot water for at least one week per month.
We had two front doors with at least 11 locks to secure. Our flat was a walk-up — seven flights of stairs and an elevator that worked fifty percent of the time. Several men used the elevator as their sleeping quarters/bathroom after a hard night, so Karen usually took the stairs. Our concierge was the local drug dealer and resident alcoholics congregated in the entrance of our apartment building because the door had been kicked in. Still, we walked by them every night and sometimes they built a small fire to warm their hands…
Why do I tell you this? Why would a woman leave her loving family, comfortable house in a small, safe New England town for this life?
It certainly wasn't for the glamour or glorious accommodations or the money or prestige, because there wasn't any. It was because she believed in the healing process of Reiki so much that she was able to transcend material comforts to pass on light and love which is God's healing grace.
We were only allowed two suitcases per person; Karen packed a Harrington ham and frozen turkey so we would have food for our first few days. Other essentials she foresaw to bring: antibiotics, a suture kit, and she made sure we each had a two pound box of Snowflake chocolates which we kept under our bed. (Towards the end of our trip these would be worth more than gold!)
It was Karen's vibrancy and ingenuity which transformed a cold concrete, Soviet red, flat into a warm, magical home. She said the apartment was like going from root to crown chakra! We covered the ceiling with glow-in-the-dark planets, sun, moons and comets. People would come for miles around to see our planetarium — we brought them into the room with their eyes closed — and then Karen would turn off the light and tell them to open their eyes! People would fall to their knees in amazement. She would light forty candles on the balcony, put on Loreena McKennitt music and we would drink champagne while gazing at the moon over the Moscow River, talking about the day's classes, laughing, crying, sharing our thoughts on life, healing and supporting each other in whatever challenges had come that day.
Karen got up very early each morning and made tea. She loved to look out the kitchen window so she could feel the soul of the Russian people. There was one man in particular she watched every morning; we called him the "the little man." Every day that we were in Russia we saw this man — snow, sleet, heat, rain — sweeping the street with a straw broom. She imagined that he was an enlightened meditation master and this was his practice. She made a special trip, one day, to give him a batch of home made brownies and chocolate chip cookies.
Karen preformed magic in the kitchen. She cooked, I cleaned; however, you should know that the oven didn't have a working temperature gauge. She baked by estimating the temperature…and every dinner came out perfect! One night we had an important guest for dinner — Hans Treffer, a very famous Reiki Master from Amsterdam. Karen was in charge of the food. The menu was baked potato and meat loaf (another American treat unheard of in Russia!) One hour before dinner there was a small fire in one of the light sockets. Luckily, our translator, Serogia, was there to put out the fire, however we lost power in our apartment. Karen was trying to figure out what else to make as the oven didn't work, but somehow that night, we still had meat loaf!
We walked to the local store every day and bought fresh bread. One day there was a freshly slaughtered pig for sale on the sidewalk in the snow and she tried to negotiate a bargain. She made sparkle Jell-O bundt cakes, chocolate pudding, hot chocolate and s'mores over a charcoal grill by the Moscow River — all firsts for our Russian friends. They had never eaten marshmallows! One woman named Diana from the Ukraine loved to sell Karen vegetables just to look into her eyes. She said she felt peace around Karen. Karen didn't cook just for the two of us; she cooked for all the people who would stop by for a visit or class.
Most people simply called her Mom. They told her things they had never told anyone else. I'd close the kitchen door, and she would hear their confession and teach them to forgive themselves. Some of these people had led very hard lives and their stories were heart breaking; a country under Nazi siege or Stalin's reign pushed people to do the unimaginable. They would bury their face on her chest and sob while she stroked their head and back, and she would tell them everything would be alright. She gave love and hope to people who had nothing. She treated each person the same and showed no favorites. Once a woman on a train, a complete stranger, just walked over and kissed her. I asked her why she did that. She responded that so much love radiated from Karen, she felt compelled to kiss and hug her.
Karen was a spiritual warrior and did whatever was necessary on our spiritual and healing quest. She dodged bullets in Latvia when the police shot at our car. She ran through the streets of Moscow so we could make the 9pm curfew during the coup or else be shot. She hopped four compartments on a train that would take us to Kiev, running from a man who pulled a knife on us. We ended up hiding in a compartment for three hours trying to escape. On numerous occasions we were stopped by police who demanded, "Show us your papers." Our method of transportation quite often was thumbing, of course always with a Russian. The people who picked us up are another story in itself.
Can you imagine Karen thumbing? Did you know she spoke pig Latin? When we didn't want the Russians to know what we were saying we would communicate in pig Latin.
She met black magicians, village witches, caldoons, men wielding swords on fire near Chernobyl. We saw the KGB, gypsies casting spells, and met some very unsavory businessmen. She showed no fear and stood up to people who were deceitful. Knowing that she was protected by the power of Reiki, she was not afraid to walk her talk.
Karen endured the great heat wave in June, 1999, the hottest summer on record. At that time air conditioners and fans were unheard of over there. One day she walked fully clothed into the Moscow River, then we walked across the street to the grocery store and sat on the ice cream. Not one person blinked.
She endured the cold of January; imagine winter in Russia! The temperature in the bathroom never went above 55 degrees. We would sit in the kitchen, fully clothed, warming ourselves by the oven, watching the snow fall…then run to bed, once again, fully clothed.
Karen was in Moscow for their first tornado/hurricane. Several people were killed, trees uprooted, damage everywhere. The Russians wondered if Karen was responsible for this weather, the woman with all that power.
Karen taught Reiki in Russia. Our students were our body guards. There were support groups of 250 people, classes of 45, 65, 125. One day Karen did two and a half hours of attunements without a break. We did attunements in rooms so cold you could blow smoke. We wore gloves. And we did attunements in rooms so hot we poured cold water over each other's heads. The love and compassion she brought to each class was overwhelming. People just wanted to touch her — or be touched by her. She did Circle of Love, sang at the support groups, danced, told stories, drank tea, did readings and astrological charts. She was happy, full of love and said this was exactly what she wanted to do. She loved Russia despite all the hardships. She taught with her heart and hands in places that would be condemned by the board of health. To see people who had been denied spiritual teachings for 75 years or more moved by love was something that cannot be articulated.
We went to sacred sites. She dipped her body in the healing well of St. Seraphin, kissed the lips of several venerated Russian saints at Zagorst, visited the churches in Kiev, Suzdal and Vladimier. We trudged through the holy forests, were blessed by the sacred oil and heard choirs of nuns sing.
And then she said she was done. She had enough. We had taught all the people we needed to teach. The seeds had been planted. Now it was up to them to do the rest. She told me to finish up and say goodbye. We needed to let go and go home and never come back. It was like being in the eye of a hurricane…and now it was over. The storm clouds were coming. In Russia, Karen said her good-byes better than I.
In 1999 we stood in line at the Delta ticket counter in Moscow. She said again, "Remember Pat, we're not coming back. We are finished." Reluctantly I said, "Okay."
The Delta agent told us there was a problem, the plane was overbooked. Waiting for the worst, the agent took us aside and said we had been bumped to first class. Our eyes met and we became hysterical with laughter. God rewarded us for the ability to let go. Our last trip home would be the best! We had 10 hours of bliss, never to be forgotten. I like to think that Karen is in first class now, sipping that fantastic wine, hearing that beautiful music, being waited on, comfortable, all her needs met. Smiling and feeling all the love that is in this room right now.
As Karen said, we were two simple women expected to do extraordinary things. Well Karen, you were no simple woman. You assisted the healing process of thousands of people with your hands and open heart, the perfect example of a strong, honest, compassionate, independent, spiritual woman who is loved by thousands and thousands of people throughout the world and that is extraordinary!!!!
Patricia Warren traveled to Russia, Latvia, Lithuania and Poland from 1992-2004 teaching Reiki 13 times. Karen accompanied her on 9 of those visits before her death. For more information on Reiki Jin Kei Do or Reiki in Russia visit http://www.patriciawarren.com.