Learning Off The Land at The Farm School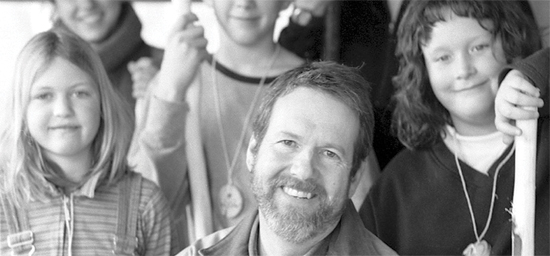 Who would have thought that middle-school kids could learn to love fresh manure — and hard, physical work? But they do when they are properly introduced, and there's a compelling rationale. Ben Holmes supplies both.
Holmes is the founder and director of the Farm School, a working dairy farm in Athol, Massachusetts, where middle-school kids from around New England spend three days and nights being real farmers: milking cows, tapping maple trees, planting crops, weeding gardens, chopping wood, hammering nails, cooking their own meals — and shoveling that manure. For many, it's their first whiff of real, meaningful labor.
Obviously, this is no ordinary classroom. Work starts at 6:30 A.M., before breakfast. There's no television or homework, and bedtime is at 9:30 P.M. sharp. The only tests are the challenges of real farm life. Most of the kids absolutely love it, sometimes to their own surprise. The school lives up to its mission statement: to help children "find value in real work, create community that persists when they return to their classrooms, and experience firsthand what it means to be a steward of the Earth. Essential knowledge is passed on from one generation to the next."
"It's simple but it's magical," says Holmes. "By the time the children leave, the farm is theirs."
Let the Fun Begin
At the beginning of a three-day session, Holmes greets forty new students and their accompanying teachers in the horse barn. Since lessons at the Farm School hinge on two principles — learning by doing, and problem solving through teamwork — it's vital that new students get to know one another quickly. Taking in the scene, hands tucked under the bib of his brown coveralls, Holmes sits on a log next to a wood stove, folds his long legs, and begins to speak in a soft and reassuring voice.
"Thank you for coming," he says. "There's so much going on this week."
He purposely looks from child to child, connecting with those who have not suddenly decided to study floorboards. Holmes picks up a copy of Farmer Boy, by Laura Ingalls Wilder, and reads a passage describing how Almanzo's family has finished harvesting. "We've just finished taking in our hay, too." Holmes says.
Introductions begin, and the composition of the group is revealed. Jonathan, a thin eleven-year-old, is here from Holyoke, Massachusetts, along with four of his friends from Nuestras Raices, a local community-improvement program that engages kids in food and agriculture projects. When encouraged, Jonathan raises his head, and with a shy smile says he is hoping that he will get to ride a horse. Dane, a fifteen-year-old from Topsfield, Massachusetts, is back for his sixth or seventh visit. With confidence, he announces his intention to work with the blacksmith. Jessica, a twelve-year-old from the Lynn Community Charter School, toes the piles of sawdust on the floor and swallows nervously before introducing herself. She wants to work with cows, she says quietly, earning nods of agreement from the girls beside her.
Rules follow. "Be kind to one another," Holmes says. "That's the first and most important one." Josh Buell, the Farm School's program director, then takes over, stroking his Fu Manchu mustache. "Keep those name tags on and out. No roughhousing in the bunkhouse. No girls in the boys' side. No boys in the girls' side. And no nasty shoes with ooze indoors at all, ever." His dramatic emphasis and the reference to the manure draws out a few more grins.
Then Carlen Adams Rigrod, a woman with soft curly brown hair who is in charge of the gardens, leads everyone off for a tour of the milking parlor and the draft horse and goat paddock. Young noses wrinkle at the smell of the pig pen. Once the kids settle down, Rigrod admonishes everyone not to touch the electric fence. "While you're here," she says, "we want you to think like a farmer. Use your common sense."
After the tour, Buell assigns the students to crews, which head off in various directions around the farm. While the group in the kitchen sits down to peel potatoes, chatting as they work, Holmes explains how the Farm School grew out of his own experiences.
"I attended an experimental high school," says Holmes, who grew up in suburban San Francisco. "It was the best educational experience of my life. While we were given an unusual amount of freedom, the teachers constantly challenged us to be active participants in our own education."
In particular, Holmes recalls the influence of Project Month, when students went out into the world to work with adults. Holmes worked at an organic vegetable farm and a bird observatory, where he found deeply engaged men and women who were eager to apprentice a young person to their crafts — models for his farm school.
What inspired him most, however, was summers spent on his family's thousand acre dairy farm back in Ohio, working alongside his two uncles, Perry and Bob Nye. Their resourceful, patient way of solving problems left a strong impression of how to lead and teach. "They'd give me challenges that were often tough but always reachable, and they were always kind," says Holmes.
Then during high school there were the summers spent driving cows and tractors on John Perry Barlow's Bar Cross Ranch in Cora, Wyoming. The Grateful Dead lyricist and cattle rancher strengthened Holmes's understanding of farming, and respect for learning firsthand experience.
However, it wasn't until the 1980s, while Holmes worked as a shop teacher at Shady Hill School, a private school in Cambridge, Massachusetts, that the idea for the Farm School coalesced. "I realized that my best teachers had been my uncles," he recalls, "and my best lessons, the ones that really stuck with me, were learned on the farm.
"I also realized there was nothing like a small farm to introduce young people to real work." Holmes thought that his Shady Hill students were missing something special. "Despite their privilege, these students hadn't been given the slightest farm experience. I could sense that meaningful work was something that they needed."
A Farm School is Born
Deborah Meier, founder of the Mission Hill School in Dorchester, Massachusetts, and author of Will Standards Save Public Education?, supports Holmes's observation. "Doing useful work is the nature of being human. When we prolong childhood the way we do in our society, it is all too easy for kids to be deprived of a sense of usefulness," she says. "Both they and we forget that they need to contribute to their community. There's a risk in the way we now raise kids that they will think that everyone is there for them, instead of them being there for others as well."
So Holmes set out to create a place where schoolchildren could learn what it means to be of use. To reach as many different children as possible, he opted not to set up a full-time agricultural school, but one where students could come and stay for short periods.
Holmes invited friends and colleagues (they range from Grateful Dead guitarist Bob Weir to agricultural consultants, teachers, and former students) to help focus the effort. The Farm School incorporated as a nonprofit and began a search for funding and a location in the Northeast.
Three years of searching led to a ridge-top farm in Athol, north central Massachusetts, which had been in continuous cultivation since 1735. With a handshake, Holmes rented it from retired farmers Julios and Alice Gordon, and began building the bunkhouse. Then with the help of family, friends, and his hardworking board, Holmes searched for faculty and staff, client schools, and donations of money.
Fourteen years later, the farm School is a vibrant place, hosting 1,400 students annually, employing a full-time staff of eight to fifteen, depending on the season, and tending 140 acres of pastures and fields. The Farm School is also serving as a model for similar programs elsewhere — the Farm Institute on Martha's Vineyard, Red Gate Farm in Buckland, Massachusetts, and Cascade Farm School in Patterson, New York. Inquires continue to come in from as far away as Charlottesville, Virginia, and St. Lois, Missouri.
Peter Agoos, a Boston designer who joined the Farm School board after chaperoning his daughter's class on a trip there, credits Holmes for the non-profit's steady rise to prominence. "Ben is someone who really understands how the world works and uses it to great advantage," he says. "That 'aw shucks' attitude belies his sophistication."
Holmes is compelling as a leader in part because he is never domineering, and his determination is coupled with humor. He is a quick, kind, and thoughtful individual, who cares deeply about how people treat one another and values unhurried conversation. As Agoos says, "Ben has an ability to really connect with whomever he's talking to."
Students come to the farm from communities both posh and poor, suburban and urban. Most come because their teachers have learned about the program by word of mouth. Tuition is seventy-five dollars a night per student, but is waived for those who can't afford it. Most come for a two-night, two-and-a-half-day stay during the school year, though summer visitors can stay for longer. "It takes a couple of days," Holmes says, "in order to feel like a real part of the place."
Life Lessons
The morning and evening milkings serve as bookends for the day. Milk from the Farm School's thirteen cows is shipped through Our Family Farms of Western Massachusetts, a cooperative of eight local dairy farms. More cows might make the herd more efficient, but would defeat the educational purpose. "With everything," Holmes says, "We ask ourselves, "What's the point at which children can no longer be included in the process? And we stop before we get there."
As on most farms, there's plenty of work to go around. Depending on the season, there are sugar maples to tap, organic gardens to plant, trees to fell, and buildings to paint. The kids rotate in crews so that they experience as much as possible.
For Ayla Gavins, a teacher at the Mission Hill School, having the chance to work alongside her students when she's not in charge of them is one of her favorite parts each visit. "It's a privilege for me to work side by side with the kids. It's another way to get to know them. It brings us all closer."
For the students, having shared objectives — even simple ones, like leading the cows to the barn — can quickly lead to new friendships. It also can change adult-child relationships. "The relationship between adults and children, twirling around work," Holmes says, "is far different from any other that they might develop. The adults here are mentoring the kids, but they're also counting on them."
The chance for students to be a part of something bigger then themselves can also lead to clearer priorities and values. Gavins remembers one girl, a ten-year-old who came to school with her nails manicured. Given her appearance, it was hard to believe that she was just ten. "At the Farm School, she worked on a construction crew. I'll never forget it when I saw her wearing a toolbelt, hammering away. Her fingernails didn't matter just then. Pounding nails in straight was what counted."
Louisa Weed, a freshman at Tufts University attended the Farm School many times as a student and will be returning this summer as a member of the staff. "It's a place that taught me about working in groups, a place where I discovered what I can really do if I take a moment to figure things out," she says. "It's been hugely empowering."
You can see such empowerment underway as Buell and Louisa Pitt work with a crew of six students building low wood-and-wire wheeled cages used to house the meat birds. The rolling cage has several advantages: it can be moved daily, provides the chickens with fresh grass and insects, and distributes their manure.
As Buell delivers the instructions, he's thorough, and he never talks down to the kids. "This metal is tough," he says, leaning hard into the drill to get it to bite. "You really have to bear down." His expectation is that the kids can do it. They listen and cooperate to accomplish the task.
Ashlee Smith, a seventh-grader at Cambridgeport Elementary in Cambridge, Massachusetts, inspects the newly roofed cage. "How many birds will live in here?" she asks doubtfully, thinking the cages are cruel. Buell explains matter-of-factly that for chickens raised in this cage, life will be better than for those raised in commercial chicken farms. These birds will get to move around and eat grass and insects. He explains that better living conditions gives the meat from Farm School birds a darker color and firmer texture than that of supermarket birds. Pitt looks at Ashlee and adds, "You eat the muscle, you know."
Ashlee looks a little grossed out. She is, admittedly, a meat eater. But she's now contemplating where her chicken dinner comes from.
"Theoretically, you can know that chickens lay eggs," says Rigrod. "But until you've reached under a hen and collected a warm one, the point isn't driven home."
For a few, the visit plants the idea of farming as a career. Holmes is quick to reiterate, however, that making kids into farmers was never his purpose. "We're not out to create future farmers. For most, this place will become their family farm. When they think about agricultural issues, this will be their reference point. They'll become better voters, better citizens." And isn't that what education is all about, turning out a new generation of engaged, self-confident, and hardworking citizens?
Apprentice Program at Maggie's Farm
Though the Farm School may not intend to produce future farmers, its new Apprentice Program will do just that on Maggie's Farm, a 180-acre farm nearby. Holmes feels it's important to retain the name of the fourth-generation owner of the land. "Maggie is a real inspiration for us all. She raised her family as a true homesteader, growing the bulk of what they needed, and she and her husband, Bob, are true examples of all I admire: humorous, kind, hardworking, committed, and deeply valuing land and people. Farms are all about people, and who came before you."
At Maggie's Farm, adults will attend an intensive, one-year training program in sustainable organic farming techniques. Annual classes will be limited to twenty students at a time. Basic tuition will be $5,000. The first class will begin August 1, 2002 and will be taught by Holmes, Rigrod, and farmer/teacher David Hull.
"The same demographic that has disconnected kids from farms makes this form of training an ever more remote memory in our culture," says Holmes. "We're losing something in the process. It really is the way to teach and learn, for kids and adults. You can't set a fence post without shouldering a rock bar."
Trish Wesley Umbrell is the editor of Horticulture Magazine. The Farm School can be contacted at 488 Moore Hill Road, Athol, MA 01331. 978-249-9944. http://www.farmschool.org.
Meet Ben and 21 other social activists at Hope in Action, A Conference to Change the World taking place Jun 13-15, 2003 at Babson College in Wellesley, MA. Discover your calling and voice how to make your actions matter. For more information visit http://www.hopemag.com or call 800-273-7447.