Letter Of Gratitude From Guatemala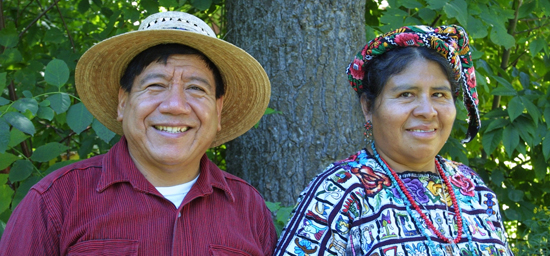 We extend our very deep gratitude to all the people who in different ways have helped us to move ahead in our struggle for peace and harmony in our country of Guatemala. Since the signing of The Peace Accords on December 29, 1996, the situation has been very difficult in all aspects of national life.
The hope that inspired our people for a moment gradually went away and ultimately darkened. The international community that saw the Peace Accords as a way out of the crisis that exists in Guatemala quickly became frustrated with the situation. The government that signed the Peace Accords made all types of political maneuvers to lessen their impact. In turn, the present government, which criticizes its predecessor for the breach of its commitments to the people, does the same. All the money that the European community gave as credit and other donations for the implementations of those agreements arrived, only to stay in the pockets and bank accounts of the past government. Governmental corruption and impunity is such that the peace has become chaotic and unmanageable. As a consequence, the European community has withdrawn its total economic aid for fulfilling the Accords.
The Guatemalan press has reported the deaths of hundreds of children and adults from famine and the drought that has spread across the country. Previously seen only in India and countries in Africa such as Ethiopia, famine now has touched the ground of the American continent. Guatemala is a country rich in natural resources, yet its children starve. This has been the result of so many robberies of the treasures of our nation. While many people in other countries think democracy flourishes in Guatemala, it is not so; the reality is another one. This situation has forced us to continue working harder to report these cruel facts and to awaken consciousness so that we are not left alone in our struggle. This problem is not only for the people who live in Guatemala, it also affects the United States, because each year numerous people leave their towns in Guatemala and enter this nation of the north in search of a safe place not to die of hunger. At the present time the press of Guatemala speaks of more than a million Guatemalans who have left their place of origin.
The International Mayan League/USA, an educational, cultural and political institution headquartered in Vermont, has been engaged in many activities in support of peace and healing for Guatemala. In this year, 2001, we have participated in forums, workshops and talks in different places such as churches, universities and schools. We have conducted workshops with Guatemalans living in this country. In April of 2001, we were in Munich, Germany for fifteen days giving seminars on the human rights situation of the Mayan people of Guatemala. We have also held two Mayan Congresses, one in Florida and another one in Philadelphia, PA, that brought together more than forty Mayan men and women – leaders in their communities – so that we would not lose our roots, especially our language and our cosmovision. At the moment, we are preparing our third assembly that will be in May, 2002 in Philadelphia.
In October, 2001, we were in New Brunswick, Canada, to give talks on the Values of the Mayan Culture of Guatemala. After returning from this trip, we went to Lake Worth, FL, to participate in a meeting of Hispanics, presenting the Maya cosmovision. We also documented to the Mayan people in Florida how we have traveled five times to Guatemala to participate in forums and Mayan assemblies and have generated projects together with youth and the women of the Association of Midwives of the Mam Area, ACAM. We are no longer doing projects alone in the international field. All these advancements have been made possible through the help of sisters and brothers of this country, and the support offered by the Brothers of Weston Priory, who for 17 years have had us in their house as part of their family. Also worthy of mention is the solidarity and support offered by our friends of Guatemala Watch of Vermont, a subcommittee of the International Mayan League.
We also want to highlight the project that we are promoting in our native town of Concepci¢n Chiquirichapa – the building of a midwife health center. We are so very happy with what we have accomplished with all the help we have received from you, both economic and spiritual. Members of the Midwives Alliance of North America have helped with economic and material support and sent birth kits to thirty midwives. Other friends have helped us with towels, blankets and their valuable donations that enabled us to buy land where we will begin construction of the maternity center in February, 2002. In the beginning we knew of only ten midwives in the town but the numbers of ACAM have grown to more than forty as three other towns have joined. They have expressed to us that they see this hope very near, and ask God that this quickly becomes a reality. So far we have raised $20,000 towards the construction of the center which will have two floors.
As we have mentioned in other reports, the town of Concepción Chiquirichapa was one that suffered much during the repression of the '80s because it was characterized by the government army as a rebellious town and an enemy of democracy – and this, only because it wanted to see a future with horizons of progress and dignified life for its children and its people. Today the people of our town are working to construct a Culture of Peace and to bring a little healing to our sisters and brothers. Since we began to work with this town, we have taken many people from the United States to Guatemala so that they know and speak directly with our people. These encounters have served to greatly strengthen the ties of peace and love, because everyone has come to listen and understand that we are all brothers and sisters who share the same being. Only color and language are different between us, but there is a universal language and it is mutual love, brotherhood and sisterhood.
With the resolutions of the New Year, we wish to touch the doors of your hearts once again to ask if you will help us with your very generous donations and to continue supporting this dream: that the women will be cared for and give birth safely and with dignity, that our people will have a future in the days ahead, and that the practices of our culture, especially in the use of our natural medicines, will not be forgotten.
Thank you! ­Gracias!
Sincerely,
Felipe and Elena Ixcot
Please send donations to International Mayan League, 11 Cider Mill Rd., Weston, VT 05161. Email:imlusa@sover.net
Photos courtesy of James Carbone