Living a Boundless Life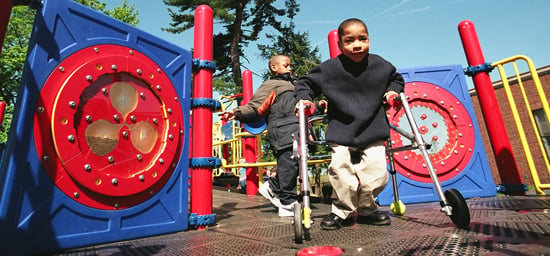 Nothing holds Maeve back on a Boundless Playground where everyone can be "king or queen of the hill."
Before you can start living a boundless life, you have to figure out what's stopping you and find the passion you lost.
Meaning is not something you stumble across, like the answer to a riddle or the prize in a treasure hunt. Meaning is something you build into your life. It is a choice you make. — John Gardner
Most of us don't face physical barriers in our day-to-day lives. Yet too often we live with other kinds of less obvious barriers that hold us back from finding and realizing our dreams. We are successful at many things but sense that something is missing. All too often, it is passion. Somehow we've lost ourselves on the way to becoming adults. Observe children at play and you'll discover an innate sense of joy and a passionate celebration of life. How often do you feel like this? For children, passion comes naturally; for adults, passion is a decision, a gift we can choose to give ourselves. Without passion and all it encompasses, our lives will never be all that we want them to be.
What is Passion?
What defines passion in one's life? For some it is a profession, for others a hobby. Still others, passion comes from watching the sunrise each morning, or trying to count the stars on a clear night. Others might have a passion for curling up with a good book, knitting a sweater, or walking on the beach. And it doesn't have to be one or the other. Passion is a word that stretches into many arenas of our lives. You can have many passions. There are no limits. All that is crucial is to seek the things in life that fulfill you and feed your soul. Now all you need is the steps to finding your passion. And that starts with knowing that it might be missing.
The Wake-up Call
The first step in recognition is to pay attention. Finding your passion starts with paying attention and giving yourself the permission to take care of yourself. Feelings and physical symptoms are the clues to your life. When something energizes you, it is a clue to your thirst for life. When you do something that saps your energy, use this as an opportunity to pay attention. These hints are little wake-up calls and if you pay attention to them, it may be possible to avoid some of life's more tragic wake-up calls like a heart attack. Although these clues can be physical symptoms, more often than not, it's just a sense that something is awry.
To gain a better understanding of what the clues might be in your life, take two minutes — in fact, set a timer so you don't shortchange yourself — to write down any clues that you might have missed until it was too late. Then, read over what you wrote and more than likely, yu already knew what they were. For me, looking back in hindsight, it became clear that for most of the "aha's" in my life, there had been years of clues.
Once we start to become aware that our lives lack passion, it is a chance to give ourselves permission to figure out what is blocking it. Without that permission it will be practically impossible to understand what is blocking us from finding that passion. Sometimes the blocks can stem from as far back as our childhood and we need to wrestle with the unfinished business that is sapping our energy, sabotaging our creativity and holding us back. We need a wake-up call. And we need to make that call, not wait for it to come to us, the way I mistakenly did.
Try this: for one day, pay attention to people and situations that either drain you or energize you. Note how you feel each time and make a record of it. At the end of the day, see how many negative and how many positive experiences you encountered. It is crucial to decide whether to determine your own wake-up call or wait for the consequences to come your way.
When my son Jonathan died at nine months of age, the days were difficult, the nights were worse and the mornings only brought more days. I was devastated and I mourned his loss. And then I decided I needed to celebrate his life. I needed to find a way to channel my grief with a living memorial. My inspiration for this living memorial came the day I saw a beautiful little girl in a wheelchair sadly watching the other children (including Jonathan who was healthy at the time and my older son Daniel) play on a playground she couldn't use. The longing in her eyes and the sadness in her smile is something I will never forget. Something stirred in me that day and reminded me of my life long compassion and respect for children with disabilities. Shortly afterwards, Jonathan was diagnosed with spinal muscular atrophy, and I realized that if he had a chance to grow up, he would have been just like that little girl — on the outside looking in.
When Jonathan died five months later, my family was encouraged to do something in his honor, something that might have made him smile. I imagined that in Jonathan's dreams, he would have wanted all children, regardless of ability or disability, to be able to be in the middle of play. Our family decided to build a place where everyone could play together. The passion I felt in creating this memorial playground led me to co-found, along with a team of parents and professionals, Boundless Playgrounds®, a nonprofit organization dedicated to helping every child of every ability everywhere experience the magic of play.
For the past ten years, I have poured my heart and soul into Boundless Playgrounds, dedicating my time to helping communities create extraordinary playgrounds where all children, with and without disabilities, can develop essential skills for life as they learn together through play. In this case my passion found me. The tragedy or illness that forces you to pay attention is only part of the puzzle to discovering the passion in your life. In my case, this passion was an expansion of my earlier interest in children and the fact that everyone, everywhere has unique gifts we are meant to share with the world. I had been so thoroughly sleepwalking through my "successful" life and wasn't really ready to wake up that it took me ten more years to truly understand the depths of my passion and my potential to make a difference.
The Elements of Finding Your Passion
All the pieces of finding your passion are interrelated. Just as several scenes make a movie and several chapters comprise a book, so do all of life's experiences add up to life — a connection of a string of experiences. So finding passion comes in stages with many ups and downs.
The first few years of dedicated long hours and even more energy to channel my grief into Boundless Playgrounds, caused a surge of energy. Yet, for the past three years I have been exhausted. On the surface, I could say there was too much to do at work and at home — my efforts to help Boundless Playgrounds make a difference in more children's lives while trying to balance the busy lives of my three children (Daniel, now 13, Alyssa now 9 and Michael, age 7) and a husband, Peter. After eliminating any physical causes, I continued to seek the source for this relentless exhaustion. At the time I couldn't imagine it was anything else. Once again the answer found me, another wake up call that I did not initiate.
This year on January 5, I woke up in the middle of the night in such a state of despair that I didn't know what had hit me. I felt as though I were on a raft in the middle of an ocean with big terrifying waves crashing over me, just like after Jonathan's death. So distraught I didn't know what to do, at first I thought I should do what I had been doing for the last decade: continue to put my heart and soul into Boundless Playgrounds and keep myself so busy that I didn't have time to drown in pain.
A quick look at the calendar in my bedroom made me realize that it was the 10th anniversary of Jonathan's death. For a while that made sense as the reason for my despair but it was that and so much more. The sadness and despair didn't go away, so I used a technique suggested to me by an inspiration life coach. I pretended that I was an objective journalist writing about me in a compassionate way. In the weeks that followed, I woke up early before my heart could install my defenses. I used writing to become an observer of my life and discovered the answer. This is a practice I continue now at least once a week.
On the anniversary of what would have been Jonathan's tenth birthday and in the weeks and months that followed, I woke up and realized that every conversation I didn't have and every relationship I lost myself in was building up inside me and draining my energy, and ultimately, my passion. All those experiences were clues, if only I would pay attention. I finally understood I was pouring my passion into celebrating life for others, but that I wasn't even scratching the surface on celebrating my own. I hadn't paid attention to myself — my own voice and values were lost in the busyness of life — but even worse, I didn't realize that I had both a permission and an obligation to.
When faced with feelings of this magnitude, many of us try to logic our way out. We delude ourselves into thinking that this analyzing is working. It may at first but ultimately, in the long run, it isn't. Then it dawned on me why seven years were filled with energy and the last three, with exhaustion. It seems easier to ignore the signs of dissatisfaction, but you can't do this forever because every time you do, they build up, until one day you can no longer hide from them. Think about your own life. What are you ignoring in the hopes your sadness, dissatisfaction, frustration, and more, will go away? It is crucial to examine yourself when something isn't working. Why are you not feeling at peace with yourself, not fulfilled with life? What is going on in your life to cause this?
Once you start paying attention, you will discover times when you are not wrestling with or resolving certain situations or relationships. You keep ignoring it because you don't have enough energy to face it but then facing it is what really frees you up and gives you energy. Whatever you run away from the most is what you should take care of first. Once you are aware of the demons, you must face them from a place of integrity and value. And in the karma of the universe, you will keep having opportunities to experience situations and people who are in your life to teach you essential life lessons.
It was a series of wake-up calls starting with Jonathan's death and the ensuing ten years that really caused me to start paying attention. But you can make the decision to start paying attention TODAY. You deserve to have a life you can celebrate, to live life with passion and purpose on your own terms. The only person who can define success for you is you.
The Passion is Missing — Now What?
Once you are cognizant that you are missing the passion, you can now choose to do something about it. This is the first tool for changing yourself and ultimately, your life.
One way to seek the wake-up calls rather then wait for them to arrive is to identify the defining moments of your life. The clues to finding your passion can be found in these defining moments. These moments can be good, seemingly inconsequential, but sometimes unexpectedly, life-changing. Years ago, I developed a concept for a workshop to help people find those defining moments. To make it fun and to remind participants of what it felt like to be a child, everyone divides up their lives into key segments and notes them on colorful index cards placed on a Candy Land® gameboard. (In an interesting coincidence, Hasbro, whose Playskool® brand produces Candy Land, became the first national sponsor of Boundless Playgrounds and in 2001 funded the first corporate-sponsored Boundless Playground in the country in Providence, RI.)
Once you identify the key stages of your life, use each index card placed on the board to write a short description (a few sentences or even partial sentences) of at least one defining moment from each stage. For example, a defining memory from my elementary school years was of a third grade teacher who made me feel I wasn't very smart. I wanted that teacher to believe in me and I felt I had to prove myself to her.
Once you've finished writing your short descriptions of defining moments, go for a walk for nine minutes in one direction, then turn around and walk back. In a total of 18 minutes you will have additional insights into your own life and its defining moments. At that point, re-read what you wrote about each of the defining moments in your life and use a fresh index card to record just a word or two to represent each defining moment.
Next, study the key words you have come up with and then write for another nine minutes about any or all of the defining moments they represent. Don't worry about grammar or spelling. It may be helpful to write in the third person, as if you are a journalist writing about an interesting person — YOU! It is by revisiting the defining moments of our lives and acknowledging the power our life stories have for us that we will unearth the most valuable clues to finding our passion and start living a boundless life.
Amy Jaffe Barzach serves as co-executive director of Boundless Playgrounds, the first national nonprofit organization dedicated to helping communities create extraordinary playgrounds where all children, with and without disabilities, can develop essential skills for life as they learn together through play. Barzach is co-author of Accidental Courage, Boundless Dreams (Aurora Publishing, 2001). For more information about Boundless Playgrounds, please call (860) 243-8315 or visit http://www.boundlessplaygrounds.org