Local Business Success Organically: Living Earth and EVO Dining
Forty years of local, family-owned and organic in the heart of Worcester, MA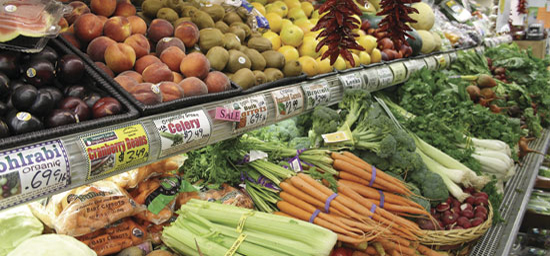 An interview with the Maykel family by Carol Bedrosian
In June 2103, Worcester Business Journal recognized Living Earth/EVO Dining's achievements in running a successful family business for over four decades with the 2013 Family Business Award. Store founders Maggy and Albert Maykel, Jr. opened Living Earth in 1971 after they moved to Worcester and discovered the city lacked a place to buy local and organic food. Through four decades of expansion and change, including the addition of Sano natural foods café and a second story of health practitioner offices upstairs, Living Earth has dedicated itself to providing healthy shopping choices and expert, knowledgeable staff. The store's produce is 100% organic year-round, some grown locally from their own farm in Rutland, MA. Friendly "Don't Panic, It's Organic!" signs decorate the produce shelves. The store is now 98% free of products containing any GMO (genetically modified organism) ingredient, largely due to the efforts of 30-year store manager Frank Phelan. It's shopping at its best with food you can trust.
Son Albert III and daughter Celeste Maykel-Zack worked in the store and café growing up; Al pursued a higher education degree as a chef and Celeste pursued a management and marketing career. In 2008, the younger Maykels decided it was time to provide the city with the same commitment to quality in a natural foods restaurant that was the hallmark of the Living Earth store, and opened EVO, a casual, fine dining restaurant. The award winning eatery caters to all palates, from vegan and vegetarian diners, to organic meat and fish eaters, as well as those with allergies or dietary restrictions. It's a place where there's something for everyone who enjoys healthy, organic cuisine, and was voted Worcester's Best Overall Restaurant 2012 and 2013 by Worcester Living Magazine.
The Living Earth building has become a landmark on its corner of Chandler Street and Park Avenue in a neighborhood that's seen its own share of evolution. The Maykel's long term commitment and continued investment in the success of their family-owned healthy food businesses benefits the entire neighborhood and local economy. While not every family business is a local business, those that are both have a double incentive to give 110% to their customers because they know that only a satisfied and loyal customer base can sustain the local success needed to pass on the family enterprise.
Carol Bedrosian: The Living Earth and EVO are unique in this region. You're 40 years old, you're local, you're family-owned, health conscious and organic. What is the key to your success as a local business competing in the same markets with huge chain franchises, supermarkets and online retailers?
Al Maykel, Jr.: The key is probably believing in what we're doing right from the beginning. And having the desire to provide both ourselves and our community with proper foods that nourish.
Carol Bedrosian: In this economy of big box stores, supermarket superstores and online retailers, how is it that a relatively small local business can prosper and survive for so long with all of these competing markets forces?
Maggy Maykel: I think that's a Frank answer (laughter).
Frank Phelan: There's certainly community loyalty to a big degree. We've had customers shopping here for the whole 42 years we've been in business. Loyal customers like Mrs. McKeon who just celebrated her 90th birthday and she's still in here despite her physical challenges, pushing her cart around. Some people like the fact that we may be able to give them more customer service and friendly familiar faces. And the community in general, Central Massachusetts, has been very supportive of us throughout the years.
Maggy Maykel: We also offer a lot of information for customers, as well as consistent staff. I think being ahead of the curve is to our advantage; Frank is always ahead of the curve on products, on all of the things that we believe in and want to support, such as how things are raised and grown. He's always stayed out in front of the trends, so we always have the latest offerings and healthiest products in the store. People already know that if they read about something and they come here, as a rule they'll find it.
Albert Maykel, Jr.: I think we also pioneered access to health food with a lot of people way back in the 70's, being probably one of the first stores to carry organic produce. We encouraged a lot of farmers to grow produce for us, like Jack and Julie Rawson of Many Hands. These people were involved in the infancy stage of the natural foods movement, still scattered throughout the industry on different levels. Some have started their own companies. We've got people like Ric Scalzo, who used to work in our produce department, who is now the owner of Gaia Herbs. So there's still a lot of that "family connection" from the original pioneers still working together for the same cause.
Maggy Maykel: I also think once somebody buys organic produce here, they'll always come back for it because it is beautiful, it's delicious. It's so healthy, so alive! I think that's why our produce department is so popular, because of the product that we have. It's throughout the whole store.
Albert Maykel, Jr.: It's really our specialty. We're a specialized store. We specialize in natural foods. Whereas the larger box places don't really focus as much as we focus on it. We've got the only 100 percent organic produce department anywhere.
Carol Bedrosian: You are one hundred percent organic produce? And your other products in the store are 98 percent GMO free?
Albert Maykel, Jr.: Yes, about that.
Carol Bedrosian: That's an amazing percentage!
Albert Maykel, Jr.: And that's our next level — to be 100 percent GMO-free, if we can get there.
Maggy Maykel: That's why I say Frank is ahead of the curve all the time. He's bringing our store to that level now.
Albert Maykel, Jr: And the big box stores can't do that. People like Whole Foods admit that they can't be a GMO-free store.
Carol Bedrosian: Why is that?
Frank Phelan: Whole Foods has agreed to at least label GMO foods, but there's a five-year window as to when they're going to begin to do that. Part of the reason is they want to give product companies enough lead time to replace their products, but some people think that five years is a little bit too much, and say maybe two or three years.
My understanding is one of the reasons Whole Foods opted for five years is because of the meat situation; to trail GMO feed through the whole meat process is quite a bit more difficult than just doing it for a grain, for corn or soybean or so forth. When it gets into the food chain to the animals, then the animals give birth to other animals, and they are all by-products of GMO feed. So that is one of the reasons that they opted for the five years.
But they don't make a promise to be GMO-free. They just promise that in five years they will have GMO products that they carry labeled as such. Our goal is to get to that point where there is no GMO ingredients in any of our products whatsoever.
Carol Bedrosian: That is a very noble goal.
Frank Phelan: It's noble and it's difficult. There are constantly little things sliding in that I have become more aware of. I meet with brokers all the time and I'm constantly asking for ingredient listings and whether it's gone through the non-GMO project certification. A lot of products haven't been certified yet, but they're at least in a chain to get through that.
Carol Bedrosian: It's a common belief that price is the bottom line for everything. But since you have to pay a little more for 100 percent organic, GMO-free products in the store, and the level of customer service and knowledge that the staff has here, apparently people are interested in other qualities.
Frank Phelan: I think people want to pay for quality, when it comes down to it.
Albert Maykel, Jr.: And pay to support an industry that is supporting them in environmental ways, in health ways and more. I think customer relationships are much more of personal and one-on-one basis than you would find in a big box store.
Carol Bedrosian: So you have the trust.
Frank Phelan: We can be flexible too. We can deal with a small local grower who can show up with twelve bunches of radishes. Whereas a large store like Whole Foods is not going to deal with somebody with twelve bunches of radishes. So we have the flexibility to do that. Rob White, our produce manager, can deal with many, many local growers, and kind of pick and choose what he needs for the department. They might come in with one tote of something or maybe five totes of something and we have that flexibility to deal with it. We have a gentleman bringing us eggs from Petersham and he comes with four dozen one week and twelve dozen another week and if he's driving through the area he'll just stop by and drop them off.
Carol Bedrosian: So you're dealing with a lot of local growers and supporting the local food movement as well.
Frank Phelan: Yes, particularly this time of year.
Carol Bedrosian: And what about the restaurant? How has the restaurant been able to service customer and community needs?
Albert Maykel, III: I think the menu diversity allows us to fulfill many dietary needs and restrictions. Unlike a lot of restaurants, we're willing to modify our dishes and train our staff about allergies and what ingredients are in our foods and products.
Albert Maykel, Jr.: We're also involved a lot in community aspects in the city, especially our neighborhood Chandler Business Association, which we do a lot of work with. We've basically changed the streetscape of Chandler Street over the past four or five years with new lighting, benches and flower pots, and sidewalks and crosswalks. The next step is streetlight banners going up. So we keep involved with the community in trying to do our share of building the neighborhood, building a better place, make it more pedestrian friendly, etc.
Over the years, we've tried to keep some sort of a health-related tenancy on our second floor. We just welcomed the Green Hair Company salon and spa, we've got a chiropractor, Amethyst Point, mental health counselors, bodywork people, yoga. All of that is related in some way to what we're doing between EVO and Living Earth, too. So it's a place that's people friendly. Customers can come in, patronize different healthy businesses in the same building, get their massage, come have lunch, get an adjustment, have their hair done, etc., all in one spot.
Carol Bedrosian: You also offer a large community literature section and bulletin board, which is a way for community members to connect that many chain stores no longer allow. That's important for community support.
Albert Maykel, Jr.: I think we're all in it together and the more we support each other the more we get that message out there. People have choices in their life and can make good choices because the products are available to them.
Carol Bedrosian: There are very few independent natural food stores that have been so successful for so many decades in supporting the community while keeping the business afloat.
Maggy Maykel: We're also willing to do this work. That is very important. We're all committed, as a family. Frank is considered as a member of our family, too. We work and we do what needs to be done because it takes a lot of hours and commitment to cover and to run a family business.
Carol Bedrosian: Customers might also notice the long term staff that you've had for decades here. It says a lot to have that long term relationship and loyalty.
Maggy Maykel: To have that as a business owner, that's a blessing.
Albert Maykel, Jr.: And employees that will take charge, and feel good about what they're doing, make their own decisions, and work as a team together. We're blessed to have that.
Maggy Maykel: They've taken ownership of their departments. Rob has taken total ownership of the produce department, and all the people in the store have taken ownership of their different departments. And we let them run with it. It's their department for them to do and track, and that works really well. I think that they have an excellent feeling about what they're doing and the products they bring in.
Carol Bedrosian: They are committed to their health as well as the well-being of the customers. I think that's what everybody wants when they're shopping in a health store — knowledgeable staff they can trust. What is your vision for the future?
Albert Maykel, Jr.: To continue on! (laughter) We are putting on an expansion for the backroom storage of Rob's produce.
Albert Maykel, III: We're also expanding on the kitchen's production area, putting in a pantry and some more storage space and a prep area in order to offer more items for our customers. We're offering a lot more salads, more deserts, more protein options including sandwiches, wraps and unique healthy offerings. We're using this as a time to build our brand and freshen the look of the restaurant, new menu, and with everything we're putting into it, I think it's going to bring EVO to the next level.
Maggy Maykel: I would like to add I just think it's a blessing to work with your family, to come to work with your family every single day and brainstorm. I think the beauty of it is we can say anything and we might take it to a heated point, but you're safe with being able to discuss it and come to a solution that everybody's comfortable with. Coming to work and being with my kids is a wonderful thing. To be here and see them every day, I love it.
Carol Bedrosian: And they're contributing to your success and you're contributing to their success and you're all contributing to the success of the community.
Maggy Maykel: Right. And I keep mentioning Frank because this year it's thirty years he's been with us. Christine has been here 23 years. She's the queen of vegetarian cooking. All our salads and sandwiches are made fresh every day. That kitchen is cracking from 6:30 in the morning till 3 in the afternoon. Lisa, our supplements manager has been here for over 20 years. Meghann, our marketing director, is also a member of our family — she is Celeste's sister-in-law — and she's just brought our whole business to a new level with all the marketing she is doing.
Carol Bedrosian: What advice would you give to other local businesses to help them succeed?
Maggy Maykel: My advice to others would be: 1) Believe in what you are doing. 2) Develop a strong team. 3) Work hard to achieve your vision.
The Living Earth and EVO are located at 232-234 Chandler Street, Worcester, MA. 508-753-1896, www.lefoods.com (store); and 508-459-4240, www.evodining.com (restaurant).
Carol Bedrosian is the publisher of Spirit of Change.