MA Citizen Group Asks MA DPU Not To Extend The National Grid Smart Meter Pilot Program In Worcester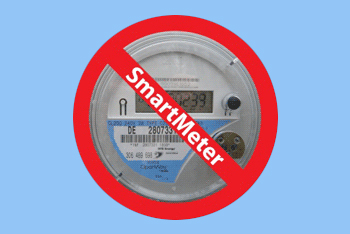 The Massachusetts Department of Public Utilities has several active dockets for wireless smart electric meter deployments, despite the National Toxicology Program's recent findings that radio frequency exposure causes cancer in laboratory animals and damages DNA.
The 3 investor-owned utilities in MA submitted grid modernization plans promoting smart meters including National Grid (15-120), Eversource (15-122), and Fitchburg Gas and Electric (15-121). Their safety claims are based on the testimony of a tobacco scientist and outdated cost accounting, which refers to Baltimore Gas and Electric deployment, but fails to note that BGE rates have increased five times in six years.
MA Attorney General Maura Healy's Office recommended that the DPU not allow National Grid to surcharge MA ratepayers for cost overruns for the controversial Worcester smart meter pilot program, (MA DPU 16-28), which is already behind schedule.
National Grid has now petitioned the DPU to extend the Worcester smart meter pilot program for two more years (MA DPU 16-149).
HaltMAsmartmeters.org, NoMassSmartMeters, and WorcesterOptsOut ask ratepayers to submit comments before the deadline of October 19th requesting that the pilot extension be disallowed. Instructions can be found here.
The pilot has no health or environmental monitoring, and smart meters, which pulse microwave radio frequencies 24/7/365, have been associated with the crippling onset of electromagnetic hypersensitivity. The program has been characterized as decision-based evidence making for its inaccurate reporting, and has been challenged for human rights abuses, by subjecting residents to experimentation with a Class 2B possible human carcinogen while most residents are non-benefitting and non-consenting.
The Scientific Alliance for Education stated: "The Worcester smart meter pilot serves as a case study in the manipulation of the process of community consent. The ratepayers should not provide any further financing for smart meter pilots in MA, when there is so much data being generated across the country about the shortcomings of the technology, and when residents have already reported significant harm."
In response to the U.S. National Toxicology Program study results finding exposure to wireless radiation significantly increased the prevalence of highly malignant heart and brain cancers in rodents, the American Academy of Pediatrics (AAP) recently issued specific recommendations to reduce wireless cell phone exposure and updated their online resources for parents concerning cell phones and wireless devices.
Likewise, the MA DPU should be reviewing the intention to force MA ratepayers to finance smart meters. Utility investment justified to address the health and environmental impacts of fossil fuels must be evaluated for health and environmental impacts, especially when citizens are already reporting harm across the country. It is inhumane to endanger vulnerable residents seeking access to essential services of gas, water, and electricity with unsafe infrastructure.
For more information, contact StopSmartMetersMASS@gmail.com.