MA Raw Milk Regulations Proven Successful, Towns Need Not Interfere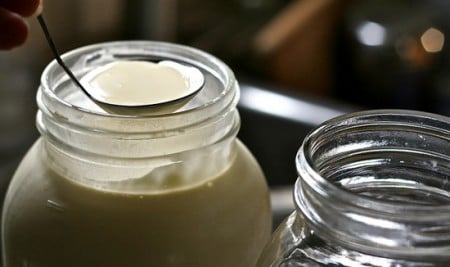 The NOFA/Mass Raw Milk Network today said that the state of Massachusetts, through the Department of Agricultural Resources (MDAR), handles licensing and regulation of raw milk sales well, and the towns that are home to the nearly 30 raw milk dairies in the state should continue to entrust that role to the professional inspectors and scientists at MDAR. The statement was issued because the town of Foxborough has proposed additional regulations for raw milk dairies operating in that town.
Dairies selling raw milk are inspected regularly by MDAR, their milk is sent to a laboratory and tested, and if the inspection or tests find problems the state has the authority to rescind a dairy's license until the problem is resolved. This system has been in place for at least two decades and has a stellar track record of success. There have been no illnesses attributable to legally sold raw milk during that time, and state inspectors have excellent working relationships with the dairies, using their knowledge and skills to work closely with farmers to ensure that they are selling the highest quality products.
Raw milk for retail sale is held to the exact same bacterial testing standards as milk that has been pasteurized. Because raw milk dairies have to attain these standards without using pasteurization, these farms' operations are exceptionally sanitary and safe. Additional restrictions on dairies, such as those proposed by the town of Foxborough, are overly burdensome and threaten the sustainability of the precious few dairy farms that remain in Massachusetts.
The proposals – which range from insistence on high cost insurance, to intrusive recordkeeping on individual customers, to additional fees levied upon the farm – do nothing to foster the production of healthy, safe raw milk. Such regulations instead create a public perception that raw milk is inherently dangerous and that the farm is putting its customers at risk, when there is no evidence to suggest this. The proposed set of regulations would put more restrictions on dairies in Foxborough than most of the state laws and regulations in the 33 U.S. states that allow raw milk sales.
"Massachusetts sets tough standards for its dairy farmers and every day our farmers rise to meet those challenges and produce the best raw milk available anywhere," says Winton Pitcoff, coordinator of the NOFA/Mass Raw Milk Network. As a result, the number of raw milk dairies has steadily increased to meet growing demand. In 2012 dairies sold more than $1 million worth of raw milk to consumers. These dairies steward more than 3,500 acres of farmland, employ many people, and make a significant contribution to the state's economy.
The NOFA/Mass Raw Milk Network works with dairies that produce and sell unpasteurized milk and advocates for access to raw milk, as well as for fair state regulations that help ensure that raw milk is produced, handled and sold safely.
For additional information contact Winton Pitcoff, Coordinator, NOFA/Mass Raw Milk Network, 413-634-5728, winton@nofamass.org or visit NOFA/Mass Raw Milk Network