Making Healthier Food Choices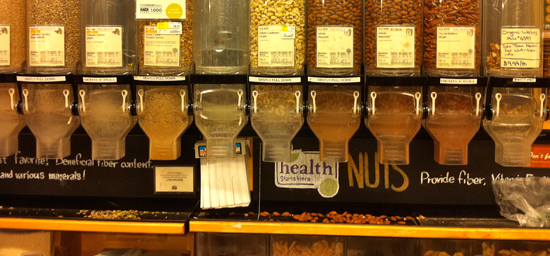 Feeling tired by mid-day? Wish you had the energy to do more of the things you enjoy? Want to improve overall health? If so, try looking to nature for help. Vary your diet according to the season. Adapt to the changing seasons.
Observe what's growing in your area. Think about what foods can be stored without the use of artificial methods. Opt for foods closest to their natural state.
The foods we choose and the methods of preparation we select impact our health and feelings of well-being. Albert Einstein once stated, "Nothing will benefit human health or increase the chances for survival of life on Earth as the evolution to a vegetarian diet." More than ever, informed consumers are following that advice. People are making conscious decisions to move to a more plant-based diet. A study by the National Restaurant Association shows that 88% of consumers who choose a vegetarian option do so out of concern for health and that 86% do so because of taste. The American Dietetic Association reports an association between vegetarian diets and a reduced risk for obesity, hypertension, diabetes, coronary artery disease, kidney disease and some forms of cancer. Plant-based diets are naturally low in fat and high in fiber. It's a powerful combination.
A common fear when people consider a plant-based diet is one of variety and time. When accustomed to meals of steak, eggs, cheese, frozen and other convenience foods, the transition can seem overwhelming. Challenge yourself to explore the world of foods "as nature made them." Approach it with an open mind and notice how you feel at the end of a week.
Here are some tips on making a gradual transition to healthier choices:
Pasta: Replace your regular pasta with soba (buckwheat), Udon, whole wheat or rice noodles. They're quick to prepare and boost nutrition and fiber.
Beans: When you can't cook them from scratch, go for the organic canned variety. Always have them on hand and try tossing them into salads or into pasta or rice. They're an excellent source of protein and fiber and are packed with healthy nutrients. The types in my cupboard include black, kidney, pinto and garbanzo. If you have these, you always have the foundation for a quick, great meal.
Meat: With tofu, tempeh and seitan (wheat meat) in the refrigerator you can easily create wonderful soups, sandwiches and stews.
Dairy: "The human body has no more need for cows' milk than it does for dogs' milk, horses' milk, or giraffes' milk." —Michael Klaper, MD. Substitute soy, rice, oat or any of the other plant based varieties. Look for high quality without added sugars or other unnecessary additives.
Grains: Breads, white rice, white flour and instant oatmeal are not grains. They are grain products and should not be eaten on a regular basis. Try quinoa, whole grain couscous and millet when time is critical. Substitute brown rice for white. All can be topped with beans, meat alternatives and vegetables for a delicious meal.
For kids: Try pizza made with whole grain pita, organic pizza sauce, beans or soy cheese and veggies. If they love hot dogs, try the soy variety. Make burger meals the meatless variety with all the fixins'. Bean burritos are usually a big hit as well as noodles with peanut sauce. Dr. Spock said that when we offer children a variety of healthy foods, they develop good eating habits and prefer these foods.
The important thing to remember when transitioning to a plant-based diet to make these foods a regular part of daily food choices. Don't try to convince the family that they must eat them because they are "good for you." That usually makes them think that it won't taste good and that people would never choose these things of their own free will. Try some of these recipes as you transition to a more plant-based diet. They're healthy, easy to prepare and taste great.
OTHER RECIPES
Tofu "Sour Cream"
Ingredients
1 lb. tofu (protein, calcium, iron, vitamin A, B vitamins, improves circulation, respiration)
2 Tbls shoyu (aids in digestion, high protein, minerals, B vitamins)
2 Tbls. rice vinegar (amino acids, aids digestion)
Up to 1/4 cup water for blending
Blend all ingredients until creamy. Add water a little at a time until desired consistency is reached. (Water not always necessary depending on moisture in tofu.)
Super Split Pea Miso
A friend of mine shared this recipe with me years ago and its been a family favorite ever since. This savory vegetarian version of an all-time favorite is not only great for dinner, but leftovers are easy to pack up for brown bagging lunch at work. I've included how each ingredient, according to macrobiotic teaching, contributes to overall health.
Ingredients
1 cup split peas (calming, soothing protein, smooth/soft skin)
1 two-inch piece wakame or kombu (strengthens the blood, eliminates toxic wastes, prevents/reduces tumors, offsets radiation)
1 onion, diced (soothes nervous conditions, muscle aches/pains)
2 strips tempeh "bacon" (reduces cholesterol, fights cancer, strengthens kidneys/bladder/repro organs, protein, calcium, iron, B vitamins)
1 clove garlic (oldest antibiotic, detoxifies excess bacteria from meats and fish, purifies blood, stimulates immune system, reduces high cholesterol)
1/8 cup burdock, chopped (gives strong energy, good for lungs, large intestines, helps alkalize the blood)
1 carrot, diced (high beta carotene, good for lungs, large intestine, liver, heart, and kidneys)
1 parsnip, diced (beneficial to pancreas, spleen, stomach)
1 stalk celery, diced (cooling effect, B complex vitamins)
1/2 tsp. thyme and marjoram (stimulates and disperses energy; releases stagnation in blood supply)
2 Tbls miso (facilitates digestion, strengthens blood, protein, B vitamins helps heart disease, breast cancer, radiation sickness)
Directions
Wash peas several times and drain. Place in a 3-4 quart pot with 6 cups water. Bring to a boil; reduce heat, cover and simmer. Skim off any foam (gas).
Fry tempeh "bacon" and cut/crumble into small pieces. Add to peas along with kombu.
Scrub and cut carrot, burdock, parsnip and celery. Chop onion and garlic. Add all to the peas. Add thyme and marjoram. Simmer for 1 hour.
Add miso a few minutes before serving. Great topped with croutons. Tofu "sour cream" can also be swirled on top. It looks great and tastes delicious.
Savory Roasted Seeds/Nuts
Regular consumption of nuts has been associated with lower risk for heart disease and mortality. These taste great and make an easy snack. We like to crush them to use as a topping for pasta, oatmeal, salads or soups.
Ingredients
Sunflower seeds
Pumpkin seeds
Almonds
Pecans
Any favorite nut/seed
Shoyu
Directions
Select your favorite nut/seed or combination. Place the nuts/seeds in a strainer and wash under cool running water. Drain and spread them on a cookie sheet in a single layer. To make clean up easier, you may line your cookie sheet with foil.
Sprinkle with shoyu and toss to coat evenly. The amount will vary according to your preference and type of nuts/seeds selected. Use enough to just coat the nuts. You may also place the Shoyu in a spray container to lightly coat the nuts/seeds.
Bake at 375 degrees for 10 minutes. Stir after 5 minutes. Cool and store in the fridge in a covered container.
Enchilada Pie
Ingredients
4-5 cups cooked beans (black, pinto or kidney)
2 Tbls olive oil
2 large onions, diced
1 green bell pepper, diced
1/2 cup corn kernels
1 lb tofu
2 Tbls white miso
2 Tbls rice vinegar
1/4 cup water
Olive oil for coating baking pan
12 corn tortillas
1 cup salsa
Directions
Mash beans. Heat olive oil in frying pan over medium high heat. Toss in onions and pepper and sauté in oil until soft. Add beans and corn, mix well and remove from heat.
Place tofu, miso, vinegar and water in a blender and blend until creamy.
Lightly oil baking pan. Cover bottom with 6 tortillas, slightly overlapping them. Place half of the bean mixture on top. Cover beans with another layer of tortillas. Add another layer of beans. Top with the tofu mixture and spread salsa over top of pie.
Cover and bake for 20 minutes at 350 degrees. Uncover and bake another 10 minutes. Serve with additional salsa if desired.
Michelle Hirsch lives in southern NH and teaches whole foods cooking throughout New England. She is a graduate of the world renowned Kushi Institute where she also worked developing curriculum. Michelle is the author of the cookbook Venturesome Vegetarian. (See book review this issue.) She can be contacted at mphirsch@yahoo.com.