Massachusetts Pandemic Response Bill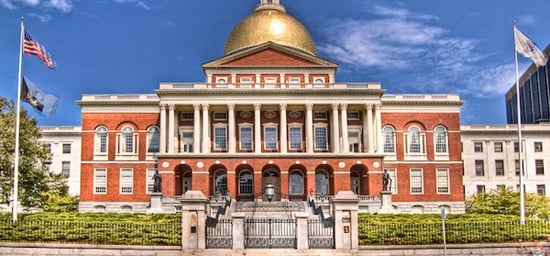 During the last week of September, Spirit of Change began receiving emails from readers panicking about online chatter concerning Massachusetts Senate Bill 2028 — An Act Relative to Pandemic and Disaster Preparation and Response in the Commonwealth. Most of the anxiety focused on provisions in the bill that instantly grant the Commissioner of Public Health enormous power over our personal lives including the possibility of mandatory vaccinations, quarantines, warrantless search and seizure of property, imprisonment and fines to be imposed upon uncooperative citizens in the event the governor declares a health state of emergency.
The bill passed in the Senate in April 2009 and had been sitting in the House Ways and Means Committee since then. By Monday, October 5, rumors swelled that passage of the bill in the House that week was imminent, although frantic citizens in most cases reported being unable to get clarification from their State reps, who seemed uninformed of the bill's progress.
On Monday, October 5, I contacted my own representative, Rep. Jennifer Callahan (D), who responded by email on Tuesday, October 6, with a prompt and thorough letter. In addition to explaining some of the provisions of the bill and dispelling any truth about the inclusion of mandatory vaccinations, Rep. Callahan wrote: "At the current time, Senate Bill 2028 is before the House Committee on Ways and Means. Since being referred to Ways and Means in late April, no further action has been taken. Please know I will carefully monitor this bill and others like it and will participate in discussion with my colleagues should this bill be brought before the House for a vote."
Quite unexpectedly, the news was released on Thursday, October 8 that the House had discussed, amended and voted to pass the revised bill H4271, An Act Relative to Pandemic and Disaster Preparation and Response in the Commonwealth, replacing Senate bill 2028. According to the Beacon Hill Roll Call, the House did not meet at all on Tues, was in session for 15 minutes on Wednesday and for a little less than 5 hours on Thursday. House members apparently had less than 24 hours to read the revised version, discuss it and vote on it. Unfortunately, the House Ways and Means Committee members who wrote the new version of the bill were all at a public hearing in Gardner Auditorium, so they couldn't take part in the debate and explain why they wrote what they did.
After all is said and done, most sources agree that the new pandemic response law doesn't include anything not already on the books in Massachusetts, laws that have been in effect since 1918 defining how the state should deal with a public health crisis and what the health commissioner should be empowered to do. While vaccinations are not mandatory under the current or the proposed new laws, citizens who refuse to be vaccinated could be quarantined if the commissioner or local health authority decides his or her refusal poses a public health risk.
Supposedly these measures are spelled out so they can be implemented only in the case of a dire emergency. But who defines "emergency?" In the context of today's growing uncertainty about the safety and effectiveness of vaccinations and the lack of trust our elected officials have earned from their constituents, citizens are wise to demand that parameters are outlined defining exactly what qualifies as a health emergency and who can declare it to prevent irresponsible decisions being made in a time of fear and panic — or for the express benefit of those who might profit financially from it.
A case in point is the current swine flu "epidemic." Healthcare workers in NY had to sue to prevent the state from forcing them to get swine flu vaccinations because someone decided it was a public health risk for healthcare workers not to be vaccinated. There is much evidence that enduring bouts of the flu head-on actually strengthens the immune system, like weight training strengthens the muscles, and over-vaccinating has just the opposite effect on the body and weakens it.* What kind of protection does this bill provide for Massachusetts residents against such dangerous and misguided abuses of power?
According to reports from Wicked Local Cambridge, the revised House version of the bill removed some of the most controversial provisions of the Senate's bill such as giving states the right to arrest citizens or search their homes without a warrant and it requires that quarantine and isolation orders take place in the least restrictive settings. It also sets up an appeals process under which a person can challenge these orders in court. However, now that the revised bill has passed the House, it is sent back to the Senate where a committee will try to hammer out an agreement with both branches, and then send it onto the governor for signing into law.
Now is a good time to make a noise, give voice and stir up vibrations to let your legislators know you want them to be active in our legislative process and not just a placeholder in the two party system. This applies to residents of all states and not just Massachusetts. Google your state initials.gov to find out who your legislators are and how to contact them, and then let them know you are listening and engaged. The patriots of American liberty who founded this country rallied, fought and died for this precious freedom of self-determination. — Carol Bedrosian, Editor
*www.vaccinechoice.org (Massachusetts Citizens for Vaccination Choice)
www.nvic.org/vaccination-decisions.aspx (National Vaccine Information Center)