Massage Therapy for Individuals Journeying With Cancer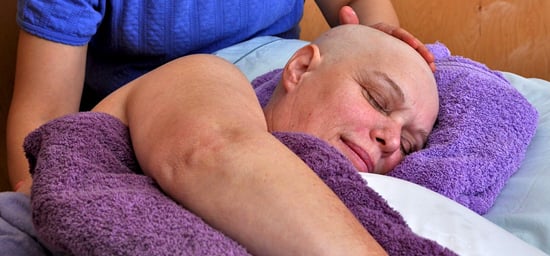 Megan Belanger, LMT, knocks gently against the door and quietly enters a treatment room in Westborough, Massachusetts. The massage therapist is ready to engage. She could as easily be opening the door to provide support for athletes in training or to join patients receiving infusions at the Dana-Farber/Brigham and Women's Cancer Center at Milford Regional Medical Center.
What do Megan's clients share in common? They are individuals living with cancer. Some are actively in treatment. Others are multiple years into survivorship, but all benefit through safe, supportive care provided by a practitioner trained in oncology massage.
What Is Oncology Massage?
Over the last twenty years, massage adaptations designed specifically to support people living with cancer have arrived in hospital settings, in outpatient clinics, through integrative health care teams, and in rehabilitation facilities. Even spas and therapeutic massage clinics incorporate questions about lymph node removal, cancer history, surgeries, medications and herbal supplements to draw out information necessary for safe, supportive treatment.
Medical histories and intake interviews provide the framework for each session. Oncology massage therapists integrate additional input from clients' oncology medical teams in devising treatment plans. Modifications are made to client positioning, pressure used, or length of session to accommodate existing needs or restrictions based on treatment protocols or procedures.
In post-treatment cancer, individuals experience shifts in how their bodies function and hold tension. One of these changes can be the impairment of the lymphatic system. In treating various forms of cancer, lymph nodes can be irradiated, removed, or damaged during surgery. This creates a lifelong risk of lymphedema, a condition in which the lymphatic system's efficiency is compromised. Therapists trained in oncology work can work safely around the affected areas of the body. Those certified specifically in manual lymph drainage and lymphedema therapy can incorporate touch therapy safely within the impaired area.
Megan's athletic client, years out from diagnosis and treatment, is at risk for this condition because of lymph node removal during cancer diagnosis. Megan, in training to become a lymphedema therapist, already knows as an oncology massage therapist how to safely design the client's treatment around the risk, including which massage techniques to modify and which to avoid altogether. While clients seek support in all phases of cancer treatment, many continue to find oncology massage expertise comforting and intrinsic to their wellness programs post-treatment.
Evidence-based studies over the last twenty years range widely in scope and methodology but show quality-of-life improvements for cancer patients experiencing anxiety or depression, especially over multiple sessions. Peer-reviewed scientific journals like Seminars in Oncology Nursing (Feb. 2012), Psychooncology (2009), and the Journal of Alternative Complementary Medicine (2007) continue to reflect the dialogue and shifts within the field, crossing the spectrum from energetic or light touch therapies to those involving tissue manipulation. Additional studies are still needed to round out correlation between touch therapies, reduction of nausea and fatigue, and efficacy in pain management.
Cultivating Community
At present, most massage training schools touch on cancer work as part of physiology and pathology coursework. Some even introduce students directly to hands-on oncology work. Lynn Rochefort was first introduced to this work as a massage student during her clinical rotations at the Simonds-Sinon Regional Cancer Center at the HealthAlliance Hospital in Fitchburg, and she knew that she had found her calling. After graduation and advanced oncology-specific coursework, she joined the staff at the Simonds-Hurd Complementary Care Center at the hospital campus to provide onsite care for patients, staff, and caregivers.
Like Lynn Rochefort and Megan Belanger, over eight hundred New England massage therapists have pursued advanced training through Tracy Walton's Caring for Clients with Cancer workshops. Walton, one of the pioneers and leaders in the field, estimates that she has trained over 2,300 massage therapists through her workshops in Watertown and beyond. Trainings like these and others approved by the Society for Oncology Massage, a national organization promoting research, education, and consistent standards of care, result in practitioners ready and able to provide comfort-oriented, safe care for those living with cancer.
Additionally, oncology massage training programs provide support to typically underserved areas or populations through independent clinics or partnerships with New England medical centers. The Oncology Massage Program, jointly sponsored by the Boston Medical Center and the Cortiva Institute-Boston, trains therapists alongside hospital staff and explores the possibilities for integrated therapies in healthcare.
The Leonard P. Zakim Center for Integrative Therapies at the Dana-Farber Cancer Institute offers opportunities for touch therapy volunteers to provide care in chemotherapy infusion units in Boston and in Milford, Massachusetts. Winchester Hospital offers integrative care as well, through its community health initiative. Walton's New England trainings benefit the greater Boston area through community clinics incorporated into the workshops.
For practitioners rooted outside of hospital settings, other possibilities exist for supporting standards of care and community outreach. The Abbott Road Project brings together oncology massage therapists from around New England to volunteer their time during quarterly clinic days. These clinics support individuals journeying with cancer with free hour-long sessions and provide the practitioners with the opportunity to share time in community with each other.
Lucy's Love Bus, a Massachusetts non-profit organization, draws integrative health practitioners, including oncology massage therapists, together with pediatric oncology patients to provide comfort and support. The Virginia Thurston Healing Garden in Harvard, MA, offers people with breast cancer diagnoses an opportunity to explore integrative therapies, including oncology massage.
Initiatives to increase access to this kind of care have also resulted in programming developed to train families and caregivers in providing touch-based support for those living with cancer. William Collinge's work to develop a DVD-based tool, "The Touch, Caring, and Cancer Program," disseminates simple touch techniques for home use, based out of the research and supports collaboration between oncology nurses, social workers, massage therapists, and support groups. Collinge's efforts build continuity for safe, supportive touch between caregivers and those for whom they care even as treatment and post-treatment life evolves.
Oncology Care Portraits and Profiles
The world of oncology massage is more than a world of processes and medical intake forms. It is a world imbued with the spirits and gifts of practitioners and volunteers, agencies supporting care, those living with cancer, and those who surround, support, and love them. It is often a quiet world, where the focus is on service and support and privacy. By giving voice to some of the individuals behind the scenes, we honor those who stand behind this work, the community created and sustained therein, and the ripples flowing from it.
Patient
Tracey (last name withheld for privacy)
Living with cancer, athlete, respiratory therapist, massage therapist
Cancer Diagnosis: Lung
Duration of oncology massage and lymphedema therapy: 7 months
Why did you seek out an oncology massage therapist? I was referred to an oncology massage therapist by a physician friend who felt that I really needed the skilled bodywork that only a very well trained therapist could provide. How did I know this? As a massage therapist myself, I was extremely hesitant to trust another therapist after post-diagnosis, several inexperienced, untrained, unaware massage therapists had compromised my wellbeing. Only the oncology massage therapist was able to modify care to safely accommodate my surgical incisions, range of motion restrictions, radiation fibrosis, lymphatic blockages, joint pain and inflammation. Now, I can attest that my physician friend was indeed correct, and the nature of the work itself mattered greatly.
Each recipient brings a unique perspective to this work. What is yours? As a bodyworker and a massage recipient, my perspective on oncology massage and its benefits have changed now that I am actually receiving as a client living with cancer. I use to believe that oncology massage served the purpose of providing a relaxing experience to the cancer client. Now I understand that it is so much more than that. It provides the cancer client with precious healing touch reaching far beyond a general understanding of what healing really means.
Prior to cancer, massage was a way to relieve stress and sore muscles. Post cancer diagnosis and treatment, the body is unable to integrate touch without causing additional discomfort and fatigue. Yet, the cancer client is in dire need of touch. Oncology massage is an exquisite experience of the return of one's own body prior to cancer, and, from the right hands, it feels like heaven.
How has this work supported you in your journey? Do you experience it the same way every time? I experienced instant results right out of the gate with the oncology massage therapist. From the first session, I experienced emotional support from my therapist's professional approach to my situation, which, combined with her very skilled listening touch made my body respond immediately in a healing way. I benefitted because she listened to me and to my body, and our joint cooperation and communication resulted in an amazing experience. I felt like myself immediately, a return to who I am…not my diagnosis…not my treatment experiences…but who I truly am.
I do not experience the same work the same way on every visit. Each visit depends upon what my body is telling the massage therapist and myself and how well the communication unfolds. Sometimes the session occurs as we had planned prior to the treatment. Sometimes it is modified midstream to accommodate what we are learning. In the hands of a skilled practitioner, I experience it as a dance between what is needed, what is desired, and what my tolerances in the moment actually are.
Is there anything else about this work that you wish to share with others on similar journeys? I truly believe that this work and receiving care from both integrative and medical care professionals is essential to healing and wellbeing. Life saving interventions available to kill or eradicate cancer take a strong toll on the body and the spirit. Western medicine in conjunction with other alternative forms of therapy can help balance out or mitigate the negative effects of treatment processes. My care is a combination of Eastern and Western medical approaches. By renewing the health of my cells, I hope to provide an optimum environment though a continued integrative approach. These caregivers are amazing and there is room for a collaboration between them that is unique to each patient.
Agency
Cancer Connection, Inc.
Betsy Neisner, Executive Director
Northampton, Massachusetts
Serving individuals living with cancer since 2000
What is the mission of your organization? Cancer Connection, Inc., is dedicated to encouraging and guiding people living with cancer and their loved ones along the cancer journey, from diagnosis through treatment and beyond. We provide a haven where people with cancer, their loved ones and caregivers can learn to cope with the physical and emotional turmoil that is part of a cancer diagnosis and to explore ways to enhance their strength, their hope, and their care through support groups, complementary therapies, creative activities and education. All programs and services are offered free of charge.
Our organization is the only cancer support center in Hampshire and Franklin Counties, and draws an additional 12% of its clients from Hampden County. Some 1,100 men, women and children actively participate in our programs with another thirty new clients added each month. It was founded thirteen years ago as a nonprofit community cancer support center.
What types of services are offered by your organization? Our center is purposefully located away from a clinical setting and offers a warm, home-like atmosphere. The irony of our cancer center is that it is a living room. We invite people to come in at their convenience to talk to staff or a volunteer for help sorting out priorities, medical questions, family, work or legal issues. Although we can offer referrals and information, our goal is to give our clients time…time to figure out what it is that is most complicating in their lives because of the cancer.
We offer ten support groups and numerous cancer workshops related to every aspect of living with cancer. Our clients can schedule complementary therapy sessions that can help alleviate the nausea and anxiety caused by cancer itself as well as by surgery, chemo and radiation therapy. They include massage therapy, reflexology, ear acupuncture, Reiki, the Peggy Huddleston "Prepare for Surgery/Heal Faster" program, and therapeutic facials with craniosacral therapy, all free of charge to people with cancer and their caregivers. We also offer classes in writing, painting, yoga, Pilates, expressive movement, T'ai chi, rowing and aqua aerobics along with a knitting group.
Oncology massage was one of Cancer Connection's first offerings and has been a mainstay of our complementary therapy program from the start. It is our most popular therapy. We wish we could offer more appointments. In the words of one client: "I was able to let go of the worries and stress and for an hour and be cared for."
What future directions do you hope to see realized for integrative care services in your area? Cancer Connection is planning an integrative oncology conference for the fall of 2013. We hope to present the scientific foundation for the benefits of complementary therapies for the education of medical professionals as well as the general public.
Massage Therapist
Bambi P. Mathay, LMT
Oncology Massage Therapist at the Zakim Center for Integrative Therapies at the Dana Farber Cancer Institute, Boston
Oncology Certifications: Caring for Clients with Cancer (Tracy Walton), 2003; Massage in the Oncology Setting (Gayle MacDonald), 2004
What drew you to the field of oncology massage therapy? My father became terminally ill with cancer in 1999, and I hired a massage therapist to help him through his illness. He always looked forward to his massages; they put a smile on his face. Towards the end of his life, the massage therapist was not able to make adjustments for him, so I intuitively modified the work to continue providing it for him. This was a very rewarding experience for both of us and further magnified the bond that we already had.
Are there ways in which oncology massage has affected your practice and/or your life? I know that I am a better person both personally and professionally because I work in this field. I feel that being in this field has allowed me to extend the experiences shared with my father to all whom I touch. It has reinforced for me the power of human touch and how I can combine that with my desire to serve and empower people wherever they are in their lives. My life has been so much richer because of all the cancer patients who have taught me all different ways to live, every day, each moment. Although we work with the physical body, this work is truly a giving and receiving of our deeper beings, of spirit/soul.
What do you love most about this work? I am not able to choose one thing that I love most about it. When I am doing this work, I feel like I am where I am supposed to be. I find it an honor to be able to serve people who come to receive massage and trust me during a very vulnerable stage in their lives.
Where do you see the field of oncology massage heading? It seems that the trend is showing oncology massage becoming more integrated into outpatient hospital settings. I would love to see it being accessible and utilized in the inpatient setting where patients could request massage sessions just as they request their food orders. This would mean that insurance will need to shoulder the expenses. I personally want to see massage integrated into people's lives ongoing not only as part of a healing paradigm but also truly as a wellbeing paradigm.
Finding a Trained Practitioner
Ask! You may already be in the care of a massage therapist trained in oncology work. The Society for Oncology Massage maintains a list of approved trainings as well as an online database of practitioners meeting their educational standards. While not all oncology massage therapists choose to be listed in this database, it is a good starting place for locating qualified practitioners. The Spirit of Change Online Alternative Health Directory lists practitioners treating oncology patients in the Cancer Treatment category.
Oncology Massage Resources
• Society of Oncology Massage (S4OM). wwws4om.org. Includes research and practitioner databases.
• National Lymphedema Network (NLN). www.lymphnet.org. (415) 908-3681
• Lympthatic Research Foundation http://www.lymphaticresearch.org/
• "Touch Caring, and Cancer" (DVD). William Collinge, PhD. Available through Partners in Healing http://www.partnersinhealing.net
• Medicine Hands: Massage Therapy for People with Cancer (3rd edition). Gayle MacDonald. 2007.
• The Virginia Thurston Healing Garden, Harvard, MA. www.healinggarden.net, (978) 456-3532. Integrative care, including massage therapy, for those diagnosed with breast cancer.
• Lucy's Love Bus. www.lucyslovebus.org. Support for integrative therapies benefitting pediatric oncology patients.
• Cancer Connection, Inc., Northampton, MA. info@cancer-connection.org, (413) 586-1642. Serving individuals living with cancer since 2000.
• The Abbott Road Project, Westborough, MA. abbottroadproject@gmail.com, (508) 266-8133, ext 2. Bringing together oncology massage therapists for community outreach.
• Simonds-Hurd Complementary Care Center, HealthAlliance Hospital-Burbank Campus, Fitchburg, MA. http://www.umassmemorial.org/healthalliance-hospital/. (978) 665-5800
• Winchester Hospital Community Health Institute, Winchester, MA. www.winchesterhospital.org. (781) 729-9000. Integrative therapies including massage for oncology patients.
• The Leonard P. Zakim Center for Integrative Therapies at the Dana Farber Cancer Institute. Zakim_Center@dfci.harvard.edu. (617) 632-3322.
• The Program for Integrative Medicine and Health Care Disparities, Boston Medical Center. www.bmc.org/integrative-medicine.htm, (617) 414-6795. Includes oncology massage.
• Tracy Walton and Associates, Cambridge, MA. http://www.tracywalton.com. Oncology massage training and consultation.
Beth Terhune, MA, is a licensed, nationally certified massage therapist and certified lymphedema therapist who has studied, practiced, and mentored in the field of oncology massage since 2004. Beth is the founder and director of the Abbott Road Project, building community and no-cost access to trained oncology massage practitioners for individuals on journeys with cancer. Visit www.abbottroadproject.org.