Massive Banks Are Ripping Off Americans; Aspiration Is The New Alternative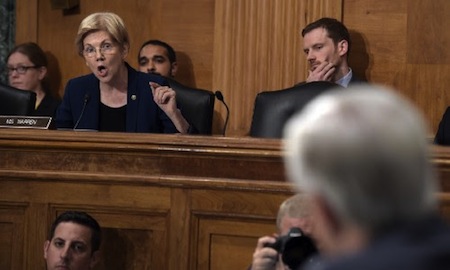 There is little doubt left. America's financial institutions are rigged against everyday people.
We saw it clearly when Senator Elizabeth Warren laid bare what was happening at Wells Fargo: Big banks and Wall Street investment firms too often put their own profit ahead of what's right for their customers.
But while Wells Fargo was creating millions of fake bank accounts to collect fraudulent fees, a new financial firm called Aspiration was showing that banking and investing with fairness and conscience is possible.
The basic idea behind Aspiration is pretty simple: Take everything that's wrong about Wall Street and the big banks — and do the opposite.
Judge for yourself:
No ATM fees ever, anywhere in the world.
A checking account interest rate that is 100 times higher than that offered by Big Banks like Wells Fargo.
Sustainable, fossil fuel-free, firearm-free investment options.
Customers choose the fee they think Aspiration deserves — even if it is zero.
And Aspiration donates 10% of every dollar it makes to charitable microloans for low-income Americans.
Maybe that's why the Huffington Post wrote that Aspiration is "channeling Elizabeth Warren to change the face of banking." And why Ozy declared that "if you feel the Bern," Aspiration is a financial company "you may actually like."
You can quickly and easily sign up for an Aspiration account here.
Thousands of Americans a month are opening accounts with Aspiration. And people are noticing. Aspiration's Summit checking account was named "Best Checking Account in America" by Money Magazine, and Aspiration not only landed on Fast Company's "Fifty Most Innovative Companies in the World" list, but it was ranked number four in Finance and number three in Social Good — the first time a company was on both those lists.
Recently, the Sierra Club partnered with Aspiration to help more Americans divest from big oil and invest in companies with strong environmental, diversity, and employee policies.
There's no reason for you to allow your fees to keep subsidizing big bank CEO bonuses and their anti-consumer lobbying and campaign contributions. With Aspiration, you can get better banking and investing — and a cleaner conscience — at the same time. And it only takes few minutes to sign up.
Change your bank. Change your world. Because the truth is, they both could use some change right about now.
See also:
Think Globally, Bank Locally
Breaking Up With Your Big Bank