Mayan Midwife Center Nears Completion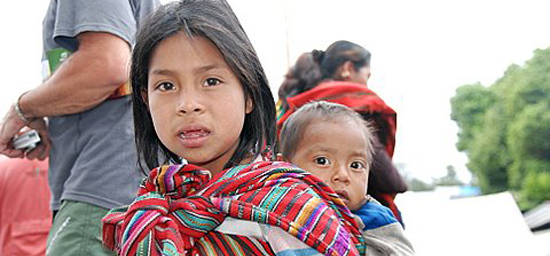 In January 2001, Spirit of Change asked readers to sponsor efforts to build a midwife/health center in Concepcion, Guatemala — home to Felipe and Elena Ixcot, currently residents of Vermont, and honored elders attending the annual Harvest Gathering each year.
The Ixcots arrived in the United States with their four children over 20 years ago as refugees of Mayan genocide in their region of Guatemala. Due to a relatively recent change in political climate and stability, the Ixcots were able to return to their native homeland only four years ago. To their dismay, upon arrival they discovered the extent of the poverty, crisis and pollution which had overtaken their former village.
Without becoming overwhelmed at the amount of help needed and work to be done, the Ixcots focused in on one of the villagers' most critical needs: a midwife health center to service over 50,000 people in the region currently without a medical facility. In Guatemala, the midwife has a central role in society that extends beyond monitoring the health of women during pregnancy and delivering babies. The midwife is an educator, promoting health and healthy relations in families. She is a bearer of the values and traditions of the culture, as well as ancient healing practices and knowledge of herbal medicines.
Many Spirit of Change readers heeded this call and donated generously. One reader in particular — James Carbone of the Wellness Corporation in Shrewsbury, MA — truly took the invitation to heart and has since raised over $50,000 towards this project! He comments, "The center has become the focus of my spare time." In March, 2002, James organized a very successful fundraising auction which netted over $30,000. In July, he will be making his third trip to Guatemala, this time with his 17-year-old son to bring medical supplies donated by Heart to Heart International in Olathe, KS. James' volunteer and financial contributions are proof of the difference just one individual can make to change the world for tens of thousands of others. Because of his efforts and the leadership of the Ixcots, the midwife center is scheduled to open its doors in Fall, 2003.
The center has truly become a beacon of hope for these proud Mayan people. The Guatemalan government has done everything in its power to marginalize their existence, but the center rises against all odds. The midwives and villagers are amazed and incredibly grateful that Americans and others throughout the world care about their plight. As Americans who enjoy comforts and a standard of living never experienced by these people, it is within our power to make a difference in their lives now. A fundraising drive is needed to meet final construction expenses and provide funds for future operation. Due to the efforts of dedicated volunteers, you can be sure that every dollar goes directly towards the project. Even small donations of $5 and $10 add up quickly and are most welcome. In the spirit of birthing this new world of equality, justice and compassion which we envision and create with our actions, we ask the Spirit of Change community for special consideration to once again reach out to generously support a project that supports so many others.