More Green Ideas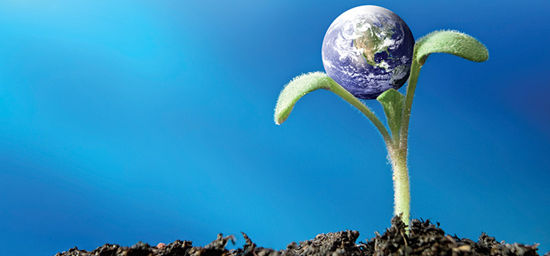 Fire Your Clothes Dryer
The news is in: many of America's clothes dryers may soon be getting a pink slip. One in every three Americans sees the clothes dryer as an unnecessary extravagance.
Every few years, the Pew Research Center asks about 1,000 Americans what they think about various appliances. Three years ago, 83 percent of respondents said a clothes dryer was a "necessity." Since then, something striking has happened; the people that Pew surveys have begun to think differently about energy-intensive appliances. The percentage of respondents who describe a clothes dryer as a "luxury" has more than doubled in just three years to 33 percent.
About a third of Americans have figured out that it takes a huge commitment of energy to run a dryer, all to do something that our great-grandparents knew that the air, given a little more time, could do for free. In many other countries, this wisdom is more widely shared, and drying clothes on a line or a rack is the norm. Whereas 75 percent of households in the US own a clothes dryer, for example, only about half of households in Europe own one, according to the Netherlands Statistical Office.
Given the seriousness of the climate crisis, it's time for Americans to get serious about cutting out "luxury" energy use. Each watt of electricity our homes are using that isn't necessary wastes money and drives the expansion of dirty coal-fired power plants. Green America's Climate Action Program calls for everyone to cut energy use in houses in half over the next five years. Reducing your energy use by 50 percent is doable; it's a reduction of only ten percent every year, for five years in a row.
Firing your clothes dryer would likely achieve the first year's ten percent reduction all by itself, because in many households, the dryer is the third-most energy hungry appliance, after the refrigerator and washer. Air-drying your clothes can reduce the average household's carbon footprint by a whopping 2,400 pounds a year. Even if you aren't ready to completely swear off the dryer, you can begin by becoming a dryer reductionist. Tumble clothes in the dryer for five-to-ten minutes to eliminate wrinkles, then hang them on a rack or line to finish drying.
Source: Green America's "Real Green," Summer 2009. www.greenamericatoday.org
White Roofing
Energy Secretary Steven Chu suggested in a recent talk that global warming could be slowed by a low-tech idea that has nothing to do with coal plants or solar panels: white roofs. Making roofs white "changes the reflectivity…of Earth, so when the sunlight comes in, it's reflected back into space…This is something very simple that we can do immediately," he said.
How well it would do, scientists said, depends on the number of roofs. In his talk, Chu cited new research from his former laboratory, the Lawrence Berkeley National Laboratory in California, which imagined the result of painting about 63 percent of the roofs white in 100 large cities in tropical and temperate areas worldwide. It estimated that would provide about the same climate benefits as taking all the world's cars off the road for 10 years.
A spokeswoman for Chu said the Energy Department is exploring ways to encourage more white roofs on private and public buildings. She also noted that some homeowners who purchased a "cool" roof would be eligible for an expanded tax credit intended for weatherizing homes. In cold climates, however, dark roofs would remain the norm, which can lower heating costs by soaking up the winter sun. See www.energy.gov.
No Child Left Inside
According to E-magazine (www.emagazine.com), Richard Louv underscores the importance of fostering a connection between children and nature in his book, Last Child in the Woods. In it, Louv traces the evolution of a phenomenon he calls "nature deficit disorder," whereby kids raised on a steady diet of video games and junk food may not turn into the great stewards of the outdoors we might hope for. His solution? Get them off the couch and into nature, where they will surely be wowed by what they encounter.
Last Child in the Woods has inspired dozens of "Leave No Child Inside" initiatives around the U.S. since its 2005 publication, and Louv has gone on to found the Children & Nature Network, which works with upwards of 50 regional groups across the U.S. that offer programs connecting children and nature. Parents can find events and activities near them via the group's free online interactive "movement map." See www.childrenandnature.org.
TerraCycle Help Kids Fundraise While Recycling
In 2001, college freshman Tom Szaky founded TerraCycle (www.terracycle.net) in hopes of building a new, more responsible way of doing business. Since then, TerraCycle has revolutionized the recycling industry by making eco-friendly and affordable products from waste materials of hard-to-recycle items such as drink pouches, cookie wrappers, chip bags and yogurt cups from nationally recognized brands including Nabisco, Capri Sun, Stoneyfield Farm, Frito Lay and Mars.
The recycled items are collected as fundraisers by families, schools and organizations through TerraCycle's free packaging return program, and corporate sponsors donate pennies per item collected. The collection programs, called Brigades, not only educate children about recycling, while providing much needed funding to schools and non-profit organizations, but most importantly, they save tons of garbage from ending up in a landfill. Since the products are made directly from used packaging of recognizable brands, children are able to quickly understand the impact of their efforts. The upcycled products are available at major retailers nationwide and online through www.shoponlygreen.com and www.greennationgardens.com.
TerraCycle represents a new generation of company, putting as much emphasis on its social and environmental impact as its profits. Come meet Brigade volunteers and find out more about TerraCycle at the Natural Living Expo in Sturbridge, MA, Sept 26-27 or visit www.terracycle.net/brigades.
Geo Facts
The world is heating up even faster than predicted, and if we don't keep reducing emissions of carbon dioxide (CO2) and other greenhouse gases that are trapping heat in our atmosphere, the consequences could be severe.
The United States produces a fifth of the world's CO2 emissions, about six billion metric tons a year.
The average U.S. household produces about 150 pounds of CO2 a day, which is more than twice the European average and almost five times the global average, mostly because Americans drive more and have bigger houses.
Buildings, not cars, produce the most CO2 in the U.S. The average new house is 45 percent bigger than it was 30 years ago.
If we converted half of all lightbulbs to compact fluorescents, we would reduce CO2 from lighting by 42.4 million tons a years, or 36 percent.
If we turned off home computers when not in use, we would cut their CO2 impact by 8.3 million tons a year, or 50 percent.
For every mile on the road, an average American car pumps a pound of CO2 into the sky.
If we drove our cars 20 fewer miles each week, we could reduce their CO2 emissions by 107 million tons each year, a 9 percent decrease.
If we improved our cars' gas mileage by 5 miles a gallon, we could cut their CO2 emissions by 239 million tons each year, a 20 percent decrease.
It is estimated that the United States could avoid 1.3 billion tons of CO2 emissions a year (a 25% reduction) — mainly by wasting less energy at home and on the highway — using existing technologies that would pay for themselves in savings.
To get the deeper reductions in CO2 levels we need, we must replace fossil fuels faster with renewable energy from wind farms, solar plants, geothermal facilities and biofuels.
Source: "Saving Energy: It Starts At Home," National Geographic, March 2009
Green Buildings Open House
Join in the 3rd annual Green Buildings Open House (GBOH), October 3, 2009 from 10am-4pm. Sponsored by Northeast Sustainable Energy Association (NESEA) in conjunction with the ASES (American Solar Energy Society), its goal is to showcase energy efficiency and renewable energy features in the many advanced buildings within NESEA's 10-state territory. The NESEA Green Buildings Open House offers a unique opportunity for members of the public to see renewable energy and other green building technologies at work; for homeowners and building managers to showcase their buildings; and for green builders, architects, and businesses to connect with the public.
On the day of the event, homeowners and building managers will be on site to describe their green building features and answer questions. Members of the public can learn basic principles of green building, such as designing for solar heating (passive solar), energy-efficient building techniques such as superinsulation and air sealing, safe indoor air quality, and resource-efficient and healthy building materials. Many of the buildings will demonstrate how solar hot water is collected and stored, how photovoltaics can be placed on or integrated into the shell of a building to produce electricity, and how wind can be used to generate power. The NESEA Green Buildings Open House demystifies green buildings, proving that they are comfortable, affordable, and attractive.
Admission is free for self-guided building tours. Visit http://www.nesea.org/greenbuildings/ for more information and a site map of buildings in this year's event or contact NESEA coordinator Pamela Lester at 413-774-6051, ext 14 or plester@nesea.org.
China: A Lesson in Transformation
By John Perkins
No one back in the '70s believed that any country could sustain double digit economic growth for more than a couple of years, and under no circumstances for a decade. China accomplished the impossible. And then it did it again. And again. China's economy mushroomed by an estimated ten-fold. In three decades, the most populous nation on the planet rose from the depths of poverty to become the symbol of what human determination — and capitalism — can accomplish.
We in the US seem to want to focus on China's problems. People constantly point out the negatives, like its greenhouse gas levels that recently surpassed ours (although on a per capita basis our emissions are five times greater than theirs). Driving toward my hotel in the modern Pudang district, I was certainly aware of the low-lying mist that I assumed was smog, but I have to say that I was most struck by something quite different: the profusion of trees. There were dozens of varieties of them, everywhere. Tall, short, deciduous, coniferous, some bursting with colors — red, pink, white, and yellow flowers — they covered a broad center strip that divided outgoing from incoming traffic, lined the sides of the highway, and stretched back as far as the eye could see. Many were tall; all seemed healthy, either naturally suited to the local conditions or pampered. Obviously planted, they were clustered in formations that brought to mind the formal gardens of Versailles. In addition to creating a most pleasant environment for mile upon mile, they performed another function — that of removing carbon dioxide from the air. It was my first inkling of China's commitment to cleaning up its environment.
"Yes," Mandy Zhang, an MBA student at the China Europe International Business School replied. "We are all very aware of the pollution our economic development has caused. We young people are especially determined to turn it around. Trees are one small part of the plan."
Every time I asked them about the environment, the Chinese students agreed that cleaning it up was a priority. I was told again and again that it will happen. Economic growth had been the first goal; now the time had arrived to take care of the problems that rapid development had created. During the six days I was in Shanghai, the government announced that it would levy taxes against polluters, support a company that was developing electric cars by making plug-in stations available around much of the country, and offer rebates of approximately $4,000 (US) to customers who purchased those cars. "When the government says it will happen," I was told time and again, "it will."
The fact that roughly one sixth of the world's population has turned itself so totally around in three decades signals hope for all of us. China is a land of many diverse cultures, ones that throughout history frequently fought each other. It has demonstrated the capacity we humans possess for uniting in order to realize a common cause. Rather than fearing China or criticizing its pollution levels, we can draw on its remarkable example, encourage it to do better, and set our own goals of becoming greener than China at an even more rapid pace.
As my plane lifted off from Shanghai airport, I realized that my visit to China had inspired me with a new sense of hope. What a wonderful thing for all of us — and our children and grandchildren — if the new China motivates us in the US, and every other country, to compete to see who can become the most socially and environmentally responsible society on the planet.
Source: John Perkin's Official Newsletter, June 15, 2009 (http://johnperkinsnewsletter.blogspot.com/). John Perkins is a best selling author and founder of Dream Change and the Pachamama Alliance, non-profit organizations devoted to establishing a world our children will want to inherit.