Mushrooms: Mycological Marvels In Nature And Your Kitchen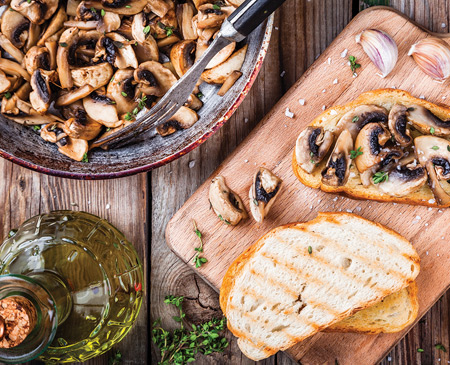 Neither animal nor plant (though related to both), mushrooms occupy their own special place in culinary, nutritional and plant medicinal use and lore. They, like molds and mildew, are fungi; they live off organic matter, not sunlight, like plants.
Mushrooms and other fungi play a critical role in nature's ecosystem. They are master deconstructors and recyclers of energy and nutrients, reducing organic matter to its essential components. They feed the very base of the food chain; a fungal layer coats our entire planet, and acts a bit to the biosphere like the microflora in our lower digestive tract act for us — fungi is, in fact, part of our microflora — clearing, feeding and sustaining the dynamic balance of life.
Fungi's digesting actions ferment beer and bring the probiotic tanginess to sourdough and sauerkraut. These mycological actors also play beyond the kitchen, from creating a range of antibiotic medicines to making a kind of leather to dissolving styrofoam.
Mushroom Nutrition
Because mushrooms have that unctuous umami flavor, they are often used as a replacement for meat. That may explain why many people think mushrooms are a better source of protein than they actually are. While they, like vegetables, do contain some protein, eating them with richer sources like nuts, grains or beans will give you the plant protein boost you seek.
Mushrooms are, overall, delicious little nutrition powerhouses. They are low in calories, modest in fiber and rich in B vitamins and minerals like potassium, magnesium and zinc. Mushrooms are also high in antioxidants like selenium, glutathione (called the mother of all antioxidants since other antioxidants can be synthesized from this master nutrient), and ergothioneine (ERGO). They help prevent oxidative stress, support bone health, detoxification and overall healing. High-antioxidant mushrooms, like maitakis, have shown promise in cancer prevention and treatment.
If mushrooms are grown under light, they can be a rare good source of vitamin D. Observational studies suggest that people who eat mushrooms daily have lower rates of breast cancer and dementia, though this type of study is not definitive. The composition and concentration of nutrients in mushrooms varies widely by variety.
To Gather Or Not To Gather?
Mushrooms grow year round, but are most plentiful in fall. While cultivated mushrooms may be available anytime, most wild mushrooms only appear in autumn. One exception is the morel, which grows in spring. There are also certain mushroom species that you can grow at home using mushroom grow kits.
Mushroom-human relationships can be complicated. Certain mushrooms are psychoactive; they contain chemicals — usually psilocybin — that expands human consciousness. Psilocybin mushrooms have been used for centuries in spiritual context, and more recently, described by botanists like Michael Pollan in modern spiritual psychology.
Certain mushrooms can, unfortunately, as plant educator Pam Montgomery says, heal you dead. If you live in New England, you likely have a friend who has landed in the hospital due to eating the wrong mushroom. Even expert mushroom gatherers occasionally fall prey to confusing an edible mushroom with a poisonous one. So for most of us, that means not to gather, but to enjoy mushrooms from your local market or knowledgeable gatherers. If you do gather and eat mushrooms, use extreme caution and common sense. Be mindful of not overharvesting. If you are interested in learning about culinary and other mushrooms, the Boston Mycological Club is an excellent group; they regularly forage and then identify mushrooms they find.
Varieties
The most common mushrooms available are white buttons. Baby bellas, also called criminis, which are deeper brown and have a bit richer flavor, are increasingly available. Portabella mushrooms are a more mature version of brown crimini mushrooms, with a longer growing period. Portabellas have meat-like texture and flavor and are often used as a vegetarian substitute for meat. Their burger-sized caps are grilling perfection.
A wide range of wild or specialty mushrooms like oyster, maitake, shiitake, and enoki are now available. They tend to take longer to grow or have shorter growing seasons and require more hands-on treatment. They also tend to cost more due to their special handling. Flavors of these varieties range from mild to meaty and earthy; each variety has a unique flavor and nutrient profile.
Cooking Tips
To rinse or not to rinse? If you rinse mushrooms or gently brush the dirt off them (with a special mushroom-shaped brush, of course!) entirely depends on the type of chef that you are. Either way works. Mushrooms have a high water content and rinsing them is quick, but does alter their outer skin; you can feel them become a bit waterlogged. This will impact how they act in the process of cooking. Brushing them off is ideal and maintains their outer layer, but either way you clean your mushrooms, their musky flavor remains.
Toadstools (another name for mushrooms) are versatile in the kitchen and can be sautéed in hot oil until their liquid releases and then evaporates in the pan, or marinated and grilled. Stir-fries are quick, breading or stuffing mushrooms then baking them helps them retain their shape and rich flavor, and roasting them with vegetables emphasizes their sweetness. Dried mushrooms, when reconstituted, can add deep, rich flavor to soups and sauces. Eating mushrooms raw is not recommended because their cells walls require cooking to break them down so they are digestible.
Here is a small collection of my favorite nutrient-dense ways to enjoy a variety of mycological marvels for breakfast, lunch or dinner this fall. You can substitute any mushroom for any other in these recipes, though your end result will also change. Enjoy!
Oyster Mushroom Breakfast Hash
Poaching an egg over vegetables is a warm and hearty way to begin the day.
Serves 2 (30 minutes to prep, 20 minutes to cook)
Ingredients
2 Tbsp olive oil
6 small red potatoes, cut into 4 quarters
1/2 yellow onion, sliced and cubed
1/2 red red pepper, cut into cubes
1/4 cup fresh thyme leaves (2 Tbsp if using dried)
1 cup oyster mushrooms, cleaned and sliced
4 eggs
Salt and pepper to taste
Directions
In a large skillet saute potatoes for 5 minutes over medium heat, then add onions and continue to saute until potatoes are soft and onions translucent.
Add in red pepper and mushrooms. Saute for a few more minutes to mix and warm. Top with thyme.
Crack an egg in each of four corners of the skillet over the vegetable mix. Cover for 3 or 4 minutes to allow the eggs to cook to your desired hardness. Top with salt and pepper, and serve warm.
---
Annie's Hungarian-inspired Mushroom Soup
Dill and sour cream bring out the rich sweet flavor of mushrooms and turnip.
Serves 4 (30 minutes to prep, 60-70 minutes to cook)
Ingredients
16-oz package mushrooms (crimini or white button)
2 Tbsp olive oil
3 large carrots, cubed (cut into bite-sized pieces)
1/2 yellow onion, cubed
1/2 medium yellow turnip, peeled and cubed
2 cups chicken or vegetable stock
About 1 cup fresh dill, chopped
About 1/2 cup fresh parsley, chopped
2 Tbsp grass-fed yogurt or sour cream
Directions
Cube carrots, clean and slice mushrooms, and cube turnip, discarding any waxy covering it may have.
In a heavy soup pot over medium heat, sauté onions in olive oil until translucent.
Add the veggies to the pot and sauté for about 10 minutes, stirring occasionally to prevent sticking.
Add stock and simmer 45-60 minutes. Meanwhile, chop herbs.
Add herbs and yogurt or sour cream. If you'd like a smoother textured soup, cool and run through a blender or use a hand-blender.
---
Mushroom Pate
Here is my variation on mushroom pate. Warning: it's hard to stop eating once you begin!
Serves 8 for appetizers (30 minutes to prep, 1 hour to cook plus time to cool)
Ingredients
4 Tbsp organic butter
3 cups onion, chopped
1 stalk celery, chopped
1 1/2 pounds mushrooms (about 6 cups, any variety), coarsely chopped
1 tsp salt
1 to 2 tsp dry mustard
3 Tbsp dry white wine
1/2 cup wheat germ
1/2 cup walnuts, chopped
8 ounces softened cream cheese
1 to 2 Tbsp minced fresh dill
1 to 2 Tbsp minced fresh thyme
1/4 tsp black pepper
1/4 tsp cayenne
1/2 tsp paprika
Directions
Preheat oven to 350°F. Spray 2 bread loaf pans with nonstick spray.
Melt butter in a large, heavy skillet over medium heat. Add the onion and celery and saute, stirring occasionally, for 5 minutes.
Stir in the mushrooms, salt, and mustard. Cook uncovered over medium heat, stirring, for 5 minutes. Add wine, and cook for another 5 minutes.
Sprinkle in the walnuts and wheat germ, stirring as you go. The wheat germ and walnuts both provide texture and a serious nutritional boost of omega-3 fats and other nutrients. Cook for about 2 minutes longer, then remove from heat.
Transfer the mixture to a food processor, and add the cream cheese, dill, and thyme. Purée until smooth, then add black pepper and cayenne to taste.
Divide the mixture between the 2 loaf pans, and spread mixture evenly. Lightly dust the tops with paprika, and bake uncovered for 45 minutes to 1 hour in the center of the oven.
Allow the pate to cool in the pans for 30 minutes (or chill several hours or overnight) before removing from the pans.
Serve cold with crackers, and alongside olives, cornichon pickles and crudité. This also makes a great sandwich spread.
---
Brown Rice Curry Bowl With Tofu, Shiitakes And Chard
Having a bit of cooked rice or any whole grain in the fridge make this bowl a snap.
Serves 3-4 (30 minutes to prep, 30-45 minutes to cook)
Ingredients
1/2 cup brown rice
1 cup water
1/2 tsp salt

1/4 tsp black pepper
3 Tbsp sesame oil, divided
1 cup shiitake mushrooms, sliced
1 small red onion, sliced
1 clove garlic, minced
8 oz. tofu, cubed
1/2 tsp fresh ginger, minced
2 cups Swiss chard, sliced
1/2 cup Greek-style yogurt
1 1/2 tsp fresh lemon juice
1 1/2 tsp curry powder
1 Tbsp hoisin sauce
1 Tbsp fresh cilantro, chopped
Additional salt and pepper to taste
Directions
Preheat oven to 400F.
In a small pot, lightly toast brown rice in 1 Tbsp sesame oil, then add water and a pinch of salt. Bring to a boil then lower heat to low and simmer until rice is done.
Meanwhile, whisk remaining oil, pepper, ginger, and garlic in a large bowl. Add mushrooms, onion, and tofu and toss to coat. Spread this mixture on a rimmed baking dish and roast, tossing once halfway through and adding in the chard, until lightly browned and tender, 20-35 minutes.
Mix yogurt, lemon juice, curry, and hoisin. Divide this mixture into 3-4 serving bowls. Top with rice, then with tofu mixture. Top with cilantro and enjoy.
---
Wild Mushroom Ragout-Sauce
Here's an easy delicious sauce for pasta, polenta or roasted vegetables.
Serves 2 (20 minutes to prep, 20 minutes to cook)
Ingredients
2 Tbsp olive oil
1 small onion, chopped
1 garlic clove, chopped
1/2 tsp fresh thyme
1 1/2 cups mixed wild mushrooms
1 medium potato, diced
2 Tbsp miso paste
2 Tbsp tomato paste
1 tsp salt
1/4 cup red wine
Directions
In a large heavy skillet, saute onions in oil over medium heat until translucent.
Add thyme, mushrooms, and potato and saute until potatoes are soft.
Stir in miso, tomato paste, wine and salt. Simmer for 10-15 minutes, and serve over pasta, grain or on cooked vegetables.
Annie B Kay, MS, RDN, E-RYT500, C-IAYT is an integrative dietitian, yoga therapist and shamanic plant alchemist, who directs programs and retreats at Kripalu and internationally. She has a telehealth private practice in Western MA. www.anniebkay.com
See also:
A Kitchen Ecology Of Health Resilience
How To Grow Oyster Mushrooms At Home (And Get Plenty Of Flavor And Protein For Free)