Musings: 100th Issue of Spirit of Change Magazine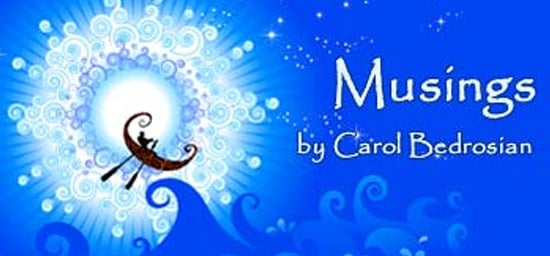 Wow! Here it is…the 100th issue of Spirit of Change magazine! In an interesting twist of synchronicity, this 100th issue closes out our first twenty years of publishing, and we begin the next era with our 20th Anniversary Edition next issue. Please see the ad on page 8 with a call to contribute Your Story to this special retrospective edition.
For those who have been reading Spirit of Change for a number of years, you have witnessed the evolution of an entity in print with a life and soul all its own. It took at least a decade of thrills and spills for me to realize I was merely the handmaiden of change — the human brain, hands and heart giving form to this holistic forum of words and images on a page. It took another five years for me to gracefully bow in acceptance that unbeknownst to me, and sometimes even in spite of me, Spirit of Change would follow a destiny already laid out before it — that is, as long as I was willing to go with the flow of publishing the stories, information and inspiration funneled through my mailbox for print. At times, that flow washed over me like a giant tidal wave of responsibility and reward, while at other times I could barely find a trickle of inspiration, hope or resources to forge ahead. Eventually, I got the message: no matter how fast the water is rising or the winds are blowing, if I stop, listen and pay attention, I'll find exactly the solution and guidance I need to move on. I'll find my oasis.
Not surprisingly, this lesson has steered the course of Spirit of Change even before it was born. It was a group of five women — Marcia Manoogian, Sarah Shonbrun, Laureen Grenga, Sue Bethel and myself — that worked the first year to bring Spirit of Change into being after I was inspired one day, that central Massachusetts needed a holistic magazine. Our little group formed and soon we were busy starting a new publication! However, first we needed a name. As a whirlwind of ideas swirled around us for weeks and even months, we worked without knowing what to call ourselves. As the deadline approached to go public, in desperation we settled on the name New Ideas for lack of anything better to call it. Suddenly, the clouds of disenchantment cleared and Sarah spoke up: Spirit of Change. It was the name of a character in a children's book, Rainbow Boy, that she remembered from childhood. The role of Spirit of Change was to help Rainbow Boy cope with the inevitable changes in life, such as loss, death and disappointment, and the name rang true to the spirit of our new venture as well, resonating loud and clear into the present.
Currently, the popular movie, The Secret, describes a principle known as the law of attraction which states that whatever you focus your attention on brings more of the same into your life. Your thoughts are magnetic vibrations, sending ripples out into the universe attracting back to you exactly what you projected in the first place. Think positive thoughts and you'll reap positive results; think negatively, and you can expect to find only more of the same disappointment in your life.
Yes, it's true; this power of attraction is a law of the universe as surely as the law of gravity keeps us grounded on the earth. However, through my 20-year journey with Spirit of Change with all its mysterious twists and turns and wondrous synchronicities, I've realized that other powers within larger unseen circles are also at work, weaving together threads of people, events and ideas that could never be imagined or orchestrated by a single mind, no matter how powerfully positive or well-intentioned it may be. This I know for sure!
Two years ago, my daughter, Michella — just a toddler when Spirit of Change began — joined our staff fulltime. For as long as I can remember, Michella was clear she wanted no part of working at Spirit of Change; she had her own life to lead, which was understandable and fine with me. So when Michella announced her intentions after experiencing corporate burnout, no one was more surprised — and pleased — than I! Yet I never affirmed, consciously attracted or expected what has turned out to be the biggest blessing of all. There is no greater joy than co-creating your life purpose alongside your adult child, especially when she exceeds your own talents and ambition. At exactly the right moment, Michella breathed new life into my tired efforts, rejuvenating me and Spirit of Change in the process. Who could have planned such perfect timing from twenty years ago? Certainly not I!
A corporate event planner by trade, our 20th Anniversary Expo and Celebration is entirely Michella's creation and party. Without her, it never would have happened, and what an exciting event it will be! Please see page 3 and join us September 28-29 in Sturbridge, MA to celebrate twenty years of SOC history and enjoy the best of New England's holistic community which you've read about for so many years on our pages. There will be something there for everyone to enjoy and we look forward to meeting you all!
Carol Bedrosian is publisher and editor of Spirit of Change Magazine.