Musings: Thank You For 20 Fabulous Years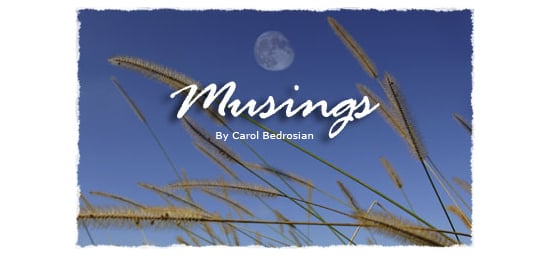 I love New England for the beauty and variety of its changing seasons. My favorite is fall, the season of harvest and abundance, its crisp, cool days full of promise and activity. Surrounded by such a bounty of good friends, food, weather and fun, our thoughts naturally turn to giving thanks.
I am especially grateful this season for having had the opportunity to travel back through twenty years of spirit, history and nostalgia to read the archives of Spirit of Change to prepare this 20th anniversary issue. I only wish I could have shared the entire treasure trove of ideas, images, information and inspiration with you all! With over 1000 articles to choose from, including many in-depth special topics explored, I quickly realized there could be no "best of" Spirit of Change published in one issue, and woefully began the process of selecting and cutting, and cutting some more. True to its nature and namesake, the pool of selections changed frequently and fluidly, even until the last hours of page layout, testing the limits of my faith, patience and good humor.
I find that these tests in my life are good. Each one reinforces the lesson that in going with the flow and trusting life to unfold in its own way, surprising solutions can be revealed in ways I never could have imagined on my own. There's something bigger than me out there — this spirit, this flow — that has a wider perception and intelligence about how things work best and why. The more I follow this spirit of change in my life rather than the stress of change, the more satisfied I am with my results.
With that said, I am grateful to have had such a rich source of material to choose from, and trust that the 30 articles reprinted here are included for a reason. I regret the loss of the other 30 articles I selected but did not have pages for, and plan to publish those online in the near future, courtesy of the amazing world wide web! A common theme through these articles is the inspiration to seek out and feel the spirit in everyday life: in healthcare, relationships, work, life purpose. We are gifted creatures to actually breathe and feel this spirit through our bodies. Chi is our life force energy, and a powerful self-healing tool within us. Compassion is the expression of spirit through our hearts. Our minds are free to explore the spiritual realms of peace, love and joy while still here on Earth. So many gifts are offered to us through nurturing these spiritual connections in our lives; it is an abundant field just waiting to be harvested once we know what to look for. I trust that Spirit of Change will have opportunities to share this spiritual inspiration and encouragement from its archives and new editions for many more years to come.
At this time I'd like to give thanks to the many individuals, groups and organizations that have made our 20-year accomplishment possible:
I thank all the readers for reading these past 20 years.
I thank the advertisers for providing the cash flow to allow Spirit of Change to continue and for providing an abundance of healing resources to the public.
I thank the writers, the artists and graphic designers who put words and images on the pages with beauty, flair and thoughtfulness.
I thank Carlton Chin, the graphic artist who has selected and designed all of our favorite covers for the past 10 years.
I thank Crow and Pumpkin who appeared at just the right moment for this issue to give us an anniversary cover to remember.
I thank many years of office staff who have given their best with heart.
I thank a long succession of family, friends, independent drivers and delivery companies slogging through rain, snow, heat and also enjoying some beautiful rides to bring Spirit of Change to all our distribution points each issue.
I thank the stores, libraries, schools and businesses which allow Spirit of Change to be freely distributed at their locations.
I thank our printer of almost 15 years, Saltus Press in Worcester, MA, who has provided timely service, flexibility and a smooth transition into the digital age of printing in the early 2000's.
I thank the many visionaries, web designers and tech gurus who have guided the evolution of http://www.spiritofchange.org since 2000.
And finally, I thank Spirit, inspiring us with hope to continue and sustaining us with life, love and light unconditionally.
Carol Bedrosian is publisher and editor of Spirit of Change. Visit www.spiritofchange.org.