Observations on Immigration, Health and HIV/AIDS in Guatemala and the United States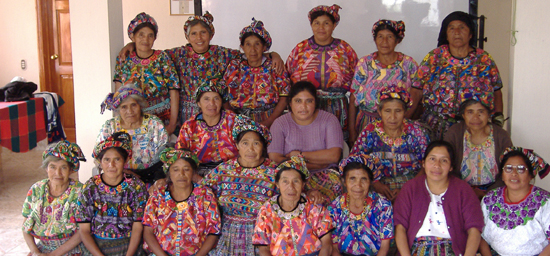 Several months ago I worked in my native Guatemala at a midwifery center, Asociación de Comadronas del Area Mam (ACAM), founded in part by my parents, Elena and Felipe Ixcot, traditional Mayan midwives, and Members of the Midwives of Alliance of North America. I went as a volunteer to help with medical administrative tasks of the center.
While at ACAM I had the opportunity to observe the professional development training the midwives received from the local doctor. Women in rural areas often only receive health care from midwives, thus one of the goals of ACAM is for the midwives to have an understanding of specific gynecological infections and diseases including but not limited to various forms of STDs (sexually transmitted diseases), HIV/AIDS, cervical cancer and other health risks for women.
During one of the workshops, the doctor presented information on HIV/AIDS — the symptoms and the five body fluids that can transmit it. What stood out for me during this training session was the doctor's ability to present complex material in a culturally sensitive manner that was visually stimulating and clear in its objectives. The midwives seemed to enjoy this workshop and were able to successfully list the different ways that HIV/AIDS could be transmitted and explain it in simple terms to other people. However, the most alarming piece of information that this doctor shared with the group was that in Guatemala, married women or women in long-term relationships are a growing at-risk group for HIV/AIDS and other STD infections. Because of the high prevalence of unprotected sex and the growing risk to women, I paid close attention to what women reported to us during their visits.
Many women expressed that the men came back to them and their families after several years of working in the United States. The women said they could not ask the man to wear a condom, but were sometimes hesitant to believe that their partner had not had relations with other women in the United States. Some women asked for contraceptives that could go undetected by their partners such as birth control pills. However, a large number of women were still unaware that these oral contraceptives could not protect them from STDs and HIV/AIDS.
What is the relationship between HIV/AIDS in Central America and the United States? Many people from these impoverished countries come to the United States looking for fair wages and work. An example is the large Central American population that lives in Washington D.C. Having lived in D.C. for the past five years, I have seen the city grow in its diversity. However, many people within the Latino community may be at risk because HIV/AIDS is growing at a disproportionate rate among Latinos in the United States. Of the rates of AIDS diagnosed for all racial and ethnic groups, the second highest is the rate for Hispanics (HIV/AIDS Surveillance Report 2002;14: 1–40.CDC). Our communities are transient and many people go back to their countries, and may be putting their families at risk if they do not know they are infected with HIV/AIDS or other STDs.
HIV/AIDS is such a growing problem both here and abroad that I thought about what I could do to educate others about HIV/AIDS and support the work of curbing HIV/AIDS. I found just the right opportunity through the AIDS Marathon Training Program, and have been training since May 2006 while raising money to support the work of Whitman Walker Clinic. Here in the District of Columbia alone, approximately 1 in every 20 people is living with HIV/AIDS. But this is not a District problem; this is a global problem. The money I am raising will benefit Whitman-Walker Clinic, the largest provider of bilingual HIV/AIDS services in Washington, DC, Maryland and Virginia. The Clinic provides direct medical care, food, housing and other critical AIDS services that help people live until there's a cure. They also provide prevention and education information towards HIV/AIDS reduction.
The connecting came full circle for me. While I run to support those who work tirelessly with people affected by HIV/AIDS, I have in my own way developed a stronger understanding and appreciation of the complexity and migratory nature of this illness and its impact on many communities regardless of national boarders, race, gender and belief systems. As we enter into a time of intricate national and foreign policies, immigration and migration, global health is a real concern for all of us. The growing population of HIV/AIDS patients must be cared for. These two health centers, ACAM in Guatemala and The Whitman Walker in D.C., provide a model for thinking about health, humanity and basic human rights for the population at large.
Ms. Cabrera-Lopez is a Mayan woman, native to Guatemala, who has worked in the health field in several countries. She currently lives in Washington, DC and works in education advocacy. For questions or comments on this article, please contact Ms. Cabrera-Lopez at sept479@hotmail.com.