Ordinary Sacred: The Simple Beauty of Everyday Life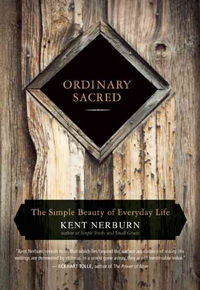 Kent Nerburn
Ordinary Sacred: The Simple Beauty of Everyday Life
New World Library, Novato, California. 2012
As the world rushes crazily along preparing for elections, financial melt-downs and catastrophes, Kent Nerburn reminds us that the meaning in life comes from our humble appreciation of it. Referred to once as a "guerilla theologian," Nerburn's deep concern for the human condition and our responsibility to Earth and to future generations is woven throughout Ordinary Sacred. A simple and gentle storyteller, Nerburn's collection of stories reveals a voice that is genuine and poetic. Small moments create the text of the vignettes presented: the chance encounter of boy on a bicycle, the dance of a kite, a young girl's graduation.
Known as a sensitive, insightful non-Native from his earlier Lakota writings, Nerburn includes a poignant tale of feeling out of place as the only white person at a young man's funeral on the Red Lake Indian Reservation. He recounts the chipped fiber board and dim light of the cold room, the jeans and gray hooded sweatshirts, the cigarette butts.
The family gathers around the body, an old mother wails. She is hugged by many, then lifted in her chair to the front of the room. The powwow drum is carried in. The grieving mother explains the drummers will play four songs for the four directions. "The drum is the circle, and the circle is strong. Strong in all four directions." She invites anyone who has lost someone to come and stand in a circle around the drum.
"It is ok to cry. The circle is strong. It can take your grief." Slowly the circle is expanded, till all are included. The drummers sing ancient songs taught by elders or a bird or a dream. The drumming pace increases, becomes frantic, and "without warning, grief begins to pour forth from all of us…we stand as one …pouring our grief onto that drum."