Pizza Secrets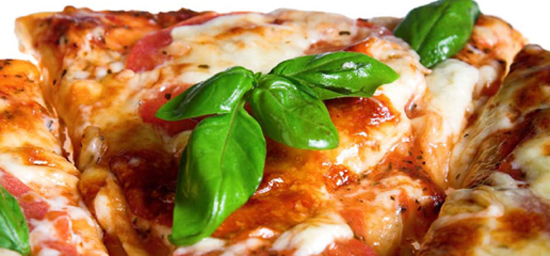 Pizza Secrets
What started out as a quiet, "take care of things we've been putting off around the house" kind of Saturday quickly changed as unexpected guests turned up at our door. They were returning from a trip to the White Mountains and decided to stop by for a visit — just around dinner time. Oh, what timing!
I didn't have anything prepared and grocery shopping was still on my "to do" list. My cupboard was not well stocked and whatever I put together had to be easy, delicious, fast and appealing to varied tastes, including a hungry 8-year old.
Opening the refrigerator I saw a bag of spinach, a container of olives, some mushrooms, an onion, a leftover baked potato, some polenta and a package of tofu. On the counter sat a large, luscious heirloom tomato and in the freezer I had a package of whole wheat pita bread. Pizza! What other food is so universally popular, fast and easy to prepare?
I quickly prepped the ingredients and placed each topping choice in its own bowl, creating a pizza bar. Next, I fired up the gas grill (great for really quick meals) and placed the crusts (polenta slices and pita rounds) to grill. After a few minutes to nicely brown one side, I removed them from the grill and placed them on plates. Everyone selected their favorite crust and topped the grilled side with their preferred toppings. I placed them back on the grill to finish them off and we all enjoyed our personalized pizzas and had a great time.
Checking out what's on hand and creating a meal that's a little unconventional or unplanned is exciting. Great food is always just a creative idea away and entertaining friends doesn't require elaborate planning, hours in the kitchen or phoning for takeout. A great meal really is just a few ingredients away.
I've made many pizzas over the years and have learned some great ways to make them delicious as well as fabulous ways to ruin them. Here are my suggestions for making them rival your favorite take out version.
Making Perfect Pizza Crust
• If using a purchased pizza dough (or one you made ahead and refrigerated), let it come to room temperature before rolling out (about an hour). It's easier to work with and results are better.
• Like a crispy crust? Keep the dough drier. Use a little less water and/or a flour with a higher gluten content; bread flour is a good choice.
• Like a soft crust? Add a little more water and/or flour with less gluten content; regular flour is good.
• To prevent air bubbles in the crust, prick rolled out crust with a fork before baking. Stop at the outer 1" rim of the crust to produce a nice raised outer crust.
• Use a pizza or baking stone if available; a cast iron griddle is a good substitute. Heat pizza stone or cast iron griddle on lower oven rack at 500 degrees for 45 to 60 minutes before cooking pizza (a critical step you can't skip).
• Place your dough on a piece of parchment paper before placing on your baking stone — no need for a cornmeal dusting of the pan or stone.
• Partially bake your pizza crust before adding toppings. It helps ensure everything is ready at the same time. Home ovens don't reach the heat of pizzeria ovens and it's easy to have overcooked toppings and an undercooked crust.
• Think beyond the typical crust; experiment with alternative crusts like polenta, rice, tortillas, flatbread, pita, thickly sliced pumpernickel or rye bread slices, eggplant slices, potato skins, frozen puff pastry, etc. Consider what you have on hand and what you enjoy eating. Take your pizza beyond the usual and have some fun with it.
Polenta Pizza Crust
Making polenta is easy and it's handy to have some in the refrigerator. I've cubed it and baked it to use as croutons in a salad, grilled slices to serve with soups or salads and, of course, as a pizza crust. The ratio is one part polenta to three or four parts liquid. Water or vegetable stock can be used.
6 and 1/2 cups water
Pinch of salt
2 cups polenta or corn grits
1/4 cup nutritional yeast
Optional: half cup of corn kernels, oregano, etc., whatever you like for additional seasonings
1. In a saucepan, bring water and salt to a boil over medium heat. Add polenta and nutritional yeast and begin to stir (or whisk). Keep an eye on the polenta and lower the heat if it begins to bubble and burst out of the pan. Continue stirring until the polenta has absorbed all the water and the mixture is thick. Stir in any additional seasonings.
2. Place a 9 X 13 baking pan under the faucet and wet the interior surface. Pour out the water. Pour the cooked polenta into the pan and smooth the surface so it's evenly distributed.
3. Let cool completely. When cooled, cover with plastic wrap and store in the refrigerator until ready to use.
Add Toppings and Sauce
• Use fresh ingredients as often as possible for best flavor.
• If using canned toppings, strain them before adding in order to eliminate excess moisture.
• Some of my favorite toppings include spinach, artichoke hearts, olives, mushrooms, onions, garlic, potatoes, pine nuts, corn, peppers, broccoli, kale, basil, fresh tomatoes, dried tomatoes, beans, eggplant, tempeh, and tofu.
• Purchased pizza or spaghetti sauce is always handy to have in the cupboard.
• Canned tomatoes, strained and crushed, adding garlic, onions, oregano and a splash of balsamic is easy and produces a tasty sauce.
• Try pesto, BBQ sauce, thinly sliced fresh tomatoes.
Pesto
It's hard to beat the taste of freshly made pesto whether on a pizza or tossed with pasta. It's super fast and ridiculously easy to make.
1/4 cup raw pine nuts
2 cups fresh basil leaves, packed
1/2 cup extra virgin olive oil
2 tablespoons nutritional yeast
2 cloves garlic
1/2 teaspoon sea salt
Toast the pine nuts in a dry skillet over medium heat just until they begin to brown, about four minutes. Toss all ingredients in food processor or blender and puree until almost smooth.
Cheese Alternatives
People are usually amazed that there's a tasty alternative to cheese. Good vegan cheeses are available in stores. Daiya shredded cheese and Follow Your Heart are two really good choices available in most natural food stores. Their flavor tends to blossom when melted, so don't judge the flavor until you've tasted it cooked. At home I'll regularly make some vegan cheeses. They don't take long to make and they're really delicious. I tend to use unsweetened almond milk for most recipes, but feel free to substitute your favorite non-dairy milk.
Easy Versatile Cheese Recipe
I'm not sure of the origin of this recipe, but it's a great addition to pizza.
1 cup plain unsweetened almond milk
1/3 cup nutritional yeast
2 tablespoons corn starch dissolved in 2 tablespoons cold water
1 1 1/2 teaspoons lemon juice
1 teaspoon Dijon mustard
1/2 teaspoon garlic powder
1/2 teaspoon sea salt
1/4 teaspoon tumeric
1/3 cup raw cashew butter
Combine all ingredients in a blender and process until consistency is smooth. Place contents in a saucepan and cook over medium heat until it just reaches the boiling point. Stir until mixture thickens, about 30 seconds. Serve.
Vegan Feta
A quick and easy vegan substitute for feta cheese that's a flavorful addition to grain and pasta salads, as well as pizza.
1 package tofu, extra firm
2 cloves garlic, chopped
1 teaspoon dried basil
1/2 teaspoon dill weed
1 teaspoon dried oregano
1 tablespoon lemon juice
3 tablespoons nutritional yeast
Pinch of salt
1. Slice tofu lengthwise into thirds and place in a single layer on a clean, folded kitchen towel. Top with another clean, folded kitchen towel. Paper towels can be used in place of kitchen towels. Place a baking sheet or pan over the top towel and add a few cans to weigh it down. You're going to be squeezing as much liquid as you can from the tofu.
2. Allow tofu to sit for about 10 minutes; change towels if they become saturated. Place drained tofu in a bowl and crumble it with your hands until it's in small chunks. Toss in the garlic, oregano, lemon juice, nutritional yeast and salt.
Pesto Pizza
This is so simple and delicious, and it's a fabulous choice for grilling. You can also get great results from your kitchen oven. Use your favorite prepared pesto from the store or try my favorite recipe above. I tend to go heavy on the pesto, so decrease the amount if you like a lighter touch. Ingredients listed for one pizza. Increase the amounts accordingly per pizza.
Pizza dough, about a quarter pound of your favorite dough per pizza
1 teaspoon olive oil to brush crust
1/3 cup pesto
1 plum tomato, thinly sliced
1/4 cup feta cheese (recipe above)
Freshly ground pepper, to taste
Fresh basil, whole leaves or sliced into thin ribbons
For grilling: heat to medium-high about 20 minutes before cooking.
For oven: heat to 500 degrees 45–60 minutes before ready to cook.
1. Roll pizza dough into an 8-10 inch round crust. Let crust rest for 5-10 minutes before cooking. Place crust directly on grill grate. If using the oven, place on parchment paper and then on heated stone or cast iron griddle.
2. Close grill cover and allow crust bottom to brown slightly (3-4 minutes). Open cover and flip crust over using tongs. Spread grilled side of crust with pesto and top with tomato slices. Add crumbled feta and sprinkle with freshly ground pepper to taste. Cover grill and continue cooking for another 3 or 4 minutes. Remove from grill and garnish with fresh basil.
3. In oven, let crust partially cook about three minutes. Remove from oven; no need to flip the crust as with the grilled version. Spread the pesto and top with tomato slices, feta and pepper. Return to oven for another 4 minutes. Remove from oven and garnish with fresh basil.
Southwest Pizza
Here's a super healthy pizza that's packed with flavor. A thin whole grain tortilla keeps it light. We're replacing the more traditional pizza sauce with mashed sweet potatoes. It provides a nice contrast to the seasoned black beans.
1 teaspoon olive oil
1 onion, chopped
2 cloves garlic, minced
4 cups black beans, drained
1 tablespoon chili powder
2 teaspoons ground cumin
Dash of hot sauce, or to taste
8 large whole grain tortillas
4 sweet potatoes, baked and mashed
1/2 cup roasted red peppers
1 cup corn kernels
2 cups vegan cheese (purchased or homemade)
4 scallions, thinly sliced
1. Preheat oven to 350 degrees.
2. Place olive oil in skillet and heat over medium flame. Add onion and garlic and sauté until onion is translucent. Add beans and heat for 5 minutes. Add chili powder, cumin and hot sauce. Stir and mash beans until most are lightly mashed. Mixture should be chunky.
3. With cooking spray, lightly coat baking pans. Place tortillas in a single layer on pan. Evenly spread the mashed sweet potatoes over the tortillas. Top with roasted red peppers and corn.
4. Bake in oven for 10 minutes or until the cheese is melted and bubbly. Garnish with scallions.
Michelle Hirsch lives in southern NH and teaches whole foods cooking throughout New England. She is a graduate of the world-renowned Kushi Institute where she also worked developing curriculum. Michelle is the author of Venturesome Vegetarianand can be contacted at mphirsch@yahoo.com.